PokerStars.net APPT Auckland Day 2: Grigg Soars Above All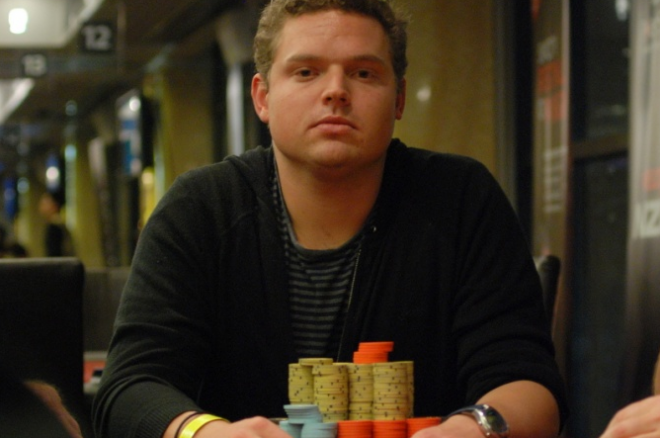 Unlike the the opening two days' flights, not only did both Day 1 flights merge for Day 2 action of the PokerStars.net Asia Pacific Poker Tour Auckland Main Event, but the clouds did also, as an onslaught of rain poured from the heavens to welcome players back to the SKYCITY Auckland Casino.
With more than half the field exploring the wonderful sights Auckland has to offer, it was still business as usual for the96 that returned with hopes and dreams of being crowned the 2010 APPT Auckland Champion. Although that still wouldn't occur until Sunday, as players began to unbag their chips, many were mentally preparing how they would jostle, navigate and bluff their way through the strong and predominately local field.
PokerStars Online Qualifiers Noah Vogelman and Nauv Kashyap both stood in the best shape to continue their charge up the leaderboard, but it ANZPT Gold Coast Champion Kashyap was the one who leapt out the gates the quickest as he knocked out a player here and there to take the lead from Vogelman and push over the 200,000-chip mark. However, a string of pots didn't go his way, so the practicing Dentist was forced to sit tight as play neared the money before eventually joining his many victims at the rail.
Team PokerStars Pro Lee Nelson didn't add to his impressive home-soil record of three wins from six final tables as he was rivered to the rail by fellow tournament veteran Leo Boxell. Although Boxell's day was a relatively quiet one, he finished the day stuck in the middle of the pack alongside fellow Aussie Millions final table member Julius Colman who quietly navigated the day in his trademark black hat and shades.
As many stars such as APPT Macau Champion Victorino Torres and fellow final tablist Cole Swannack, alongside Joel Dodds, Andrew Hinrichsen, Ricky Kroesen, Richard Lancaster and Mike Kim, it was one of the shortest stacks in the room at the start of the day who attracted the buzz.
Having recently moved to Melbourne, Tom "tollgate" Grigg began the day with just 16,400 in chips – less than what he began the tournament with! Slowly building over the first few levels, Grigg won a five-bet pot against Kashyup with no showdown before soaring over the 100,000-chip mark mainly courtesy of a successful turn check raise.
Grigg then saw his
win a substantial pot against Ropati Toleafoa's
on a final board of
to take him to over 165,000 before Grigg check-called his opponent Zack Lowrie on a board of
with
to best Lowrie's
as he soared to over 350,000 in chips. Just as play neared the final level, Grigg captured one more monster pot when he flushed out an opponent to tick over the 500,000-mark to end the day on top of the leaderboard.
Top 10 Chip Counts
Tom Grigg (AUS) – 546,300 in chips
Santi Soriano Ramos (ESP) – 265,300
Danny Leaoasavaii (NZ) – 245,800
Srdjan Mitrovic (NZ) – 245,200
Lance Climo (NZ) – 217,100
Noah Vogelman (USA) – 195,900
Ropati Toleafoa (NZ) – 194,500
Tamas Lendvai (HUN) – 166,800
Ardmore Vakalahi (NZ) – 159,600
Aaron Sue (NZ) – 151,900
Although play ended just four places shy of the money with 28 players bagging their chips, Grigg is in fantastic shape with sightly better than one-eighth of the chips in play and more than double his nearest rival to mount a charge at his second APPT final table (following his APPT Sydney showing in 2009).
PokerStars Online Qualifiers Santi Soriano Ramos (265,300), Srdjan Mitrovic (245,200) and Vogelman (195,900) are within striking distance while New Zealanders Danny Leaoasavaii (245,800), 2009 eighth-place finisher Lance Climo (217,100) and Toleafoa (194,500) will be looking to keep the title on home soil. Throw in Colman (120,700), Boxell (120,500) and a mix of Australasian players; and the $123,058 (NZ$170,000) first prize, coveted trophy and title of APPT Auckland Champion is still anyone's to snatch!
The PokerNews Live Reporting Team will be at SKYCITY Auckland tomorrow from 12:15 p.m. local time providing continuous live updates of all the Day 3 action as it plays down until just a final table of nine remain in the 2010 PokerStars.net APPT Auckland Main Event!