The Pigskin Diaries Vol. 4: Last-Minute Intel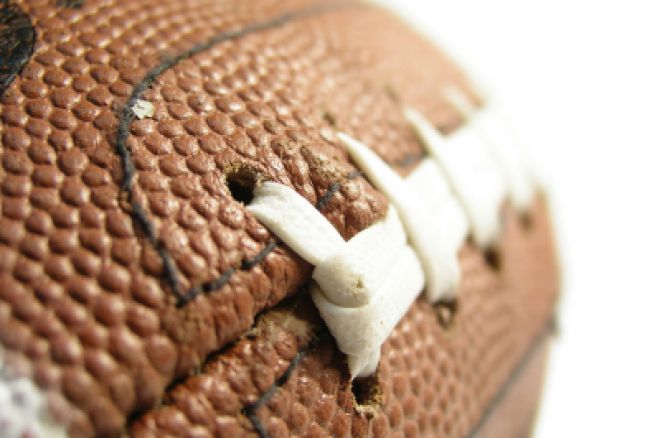 When next we meet, the NFL regular season will have kicked off and we will have hurled ourselves headlong into the 17-week (fantasy) football season. If you've already got your fantasy draft tucked soundly under your belt, it's time to kick back for a week and watch the waiver wire go by. We'll get to a few potential last-minute pickups for you guys in just a bit, but there's a more pressing issue for some of us.
If you've waited until the very last moment to conduct your draft, you might not have the first idea of who will be suiting up for you in Week 1's games. It's time to get your ducks into rows now, though, and if you're smart, you've been using this lag time to gather intel and scratch together some cheat sheets to help ensure draft day domination. What's that your mumbling about? You haven't even been watching the games yet? Sigh — that's all right, we're here to help again.
Last week, we gave you a draft guide to give you some general guidelines for developing your team. You'll definitely want to browse back over that before your draft day, but the league picture is already beginning to change in some places. This week, we dig into some of the roster developments that have been on the radar during this final week of the preseason, and we'll dig deeper into the depth chart to help you round out your roster with some of the easily overlooked players who have big upside.
Stock Rising
Ryan Mathews, RB, San Diego: We'll admit we probably had him ranked a bit low as the number 10 RB on our draft guide. Mathews will be the Bolts' every-down back this year, and coach Norv Turner says he wants to give him close to 300 carries. Even with 2009's sputtering ground game, the Chargers like to run the ball when they're close to the goal line, and Mathews should see his fair share of 2-yard touchdown trots in 2010. Add an explosive second step to his arsenal of weapons, and Mathews could be a top seven or eight rusher this year out of nowhere.
Darren McFadden, RB, Oakland: His other half, Michael Bush fractured his thumb on Saturday's game against the 49ers and needed to have a bit of surgery. The Raiders are hush-hush on a timetable for his return (and we're not doctors), but having to stick it all back together with screws and duct tape can't be a good sign for Bush. McFadden therefore gets a big boost up the draft board, and it's likely he'll see nearly all of the carries in Week 1 and possibly even for a bit longer than that.
Clinton Portis, RB, Washington: Donovan McNabb is nursing another pesky injury, but we still foresee a fairly potent air attack with Santana Moss and Devin Thomas as his go-to wideouts. All of that attention should bode well for the seemingly forgotten Portis. He might not be a top ten back anymore, but he's certainly not the 34th-best back in the league as he's being drafted right now. Portis could be one of the best value players on the board in the late rounds, and if that's the case, you can entirely disregard any talk about his health or his age (he's only 29, you know). Portis in Round 7 is the bargain of the decade.
Matt Forte, RB, Chicago: Okay, we're really not that high on Forte this year to begin with, but like Portis, he's proving to be some outstanding value in many league's drafts. Maybe it's still some lingering backlash from those who overdrafted Forte last year. Whatever is causing his tumble, if you can snag him sometime after the early fourth round, he might be a solid addition to your core of backs. Consider this, too, the last four running backs in Mike Martz offenses have all scored more than eight touchdowns annually.
Derrick Mason, WR, Baltimore: Okay, so the Ravens have a new kid in town in Anquan Boldin, but that might not be such a bad thing for old reliable Mason. Even at age 36, he's working off back-to-back-to-back 1,000-yard seasons, and his beefy frame makes him a hard matchup for some of the conference's defenses. Joe Flacco is well familiar with his favorite target from a season ago too, and even losing a few touches to Boldin shouldn't hurt Mason's numbers this year.
Carson Palmer, QB, Cincinnati: Another guy that seems to get swept under the rug a bit. We don't know if we like him enough to pencil him in as our number one starter necessarily, but the number of weapons he has at his disposal certainly merit some consideration. Palmer could be a perfect wait-and-see pick if you've got room on your bench to give him a couple weeks to show us what he has for the Bengals in 2010. Consider that before his injury in 2008, Palmer was working on back-to-back 4,000-yard seasons.
Stock Falling
Maurice Jones-Drew, RB, Jacksonville: It's not falling far, don't worry. But still, there are still a lot of murmurs about this nagging little knee injury Jones-Drew is fighting through. Chances are good he'll be a go for the start of the season, but the nearness of the hour means you don't have much time to wait and see how he's healing. There's plenty of talent atop the running back draft board, so you may want to think about bumping guys like Ray Rice and Frank Gore up and skip on taking a chance with Jones-Drew.
Phillip Rivers, QB, San Diego: The Vincent Jackson conundrum is still lingering in San Diego, and it looks like Rivers is going to have to get used to his new top receiving options instead. Enter Ryan Matthews (who looks like he has the makings of a franchise back) and throw some more Darren Sproles into the mix, and you'd have to figure Rivers will struggle to put up the same big numbers he has for the past two years. He's still a legit #1, but guys like Tony Romo seem to have a bit more upside right now. Not having Jackson around is a big blow for Rivers and the San Diego offense.
Kevin Smith, RB, Detroit: After tearing his ACL in week 14 last season, his team drafted Jahvid Best to be their new number one guy. We were optimistic that Smith would be in a position to share a lot of that workload this year, but he's not healing as quickly as he had hoped, and the team says they may have "a tough decision" to make regarding his future when the final roster cuts are submitted. That seems to indicate that Best is far and away the number one now, and even a healthy Smith probably won't be getting much work in the Detroit backfield.
New Orleans Saints, Defense: Safety, team anchor, and teeth rattler Darren Sharper is likely going to miss the team's opener and possibly more action thereafter. That's a significant hit to the Saints' squad, though they should still be an acceptable draft pick nonetheless. On the flip side, this is fantastic news to owners who have Brett Favre and the Vikings receivers, and it could facilitate Adrian Petersen busting off a big one on opening Sunday.
Green Bay, Defense: Cornerback Al Harris couldn't get back on the field quickly enough to stay off the Physically Unable to Perform (PUP) List. He's going to miss the first six games for the Pack, and they've suddenly got some real concerns in that defensive secondary. They're not our number three defense any more, and they might not even be worth a look on draft day. Their early schedule isn't too troublesome, but you could probably do better with any of the other top ten squads for the first half of the season.
Sidney Rice, WR, Minnesota: It turns out the injury was a bit worse than everyone thought. The Vikings took a big hit as their number one receiver announced that he needed hip surgery, and he'll be out for at least the first six games of the season. It's the PUP List for Rice, and it's the "do not draft" list for you. Conversely, Bernard Berrian's draft stock has gone up considerably.
Not-So-Trivial Tidbits
Matt Leinart is apparently out as the starter in Arizona, and he may be out more than that. Despite Leinart's eye-opening numbers this preseason, coach Ken Wisenhunt seems to be giving Derek Anderson the edge in the depth chart, and Leinart couldn't seem to keep himself from complaining about it. Rumor has it the Cards are willing to deal Leinart now and give Anderson the green light. Either way, Kurt Warner isn't around any more, and there will likely be a bit of a break-in period for Larry Fitzgerald and his new QB, whomever it ends up being, especially if this drama continues to linger.
Donovan McNabb continues to be a mid-range pick on most people's draft sheet, and we're big fans of McNabb and his second shot in Washington. Still, there's another bothersome ankle injury on the scope, and it was bad enough that he needed to hobble around in an air cast at one point. That's got us worried and we're reminded that he's only played one full season since 2004. Draft with caution.
Carolina WR Steve Smith still hasn't seen on-field action this preseason as he recovers from an arm injury and a little stint on the PUP list. He's listed as questionable for the Panthers' final preseason game and, although he's expected to be ready for week 1, it would be a good idea to keep an eye on his situation as it impacts your other fantasy players.
We've been keeping a good watch on Denver RB Knowshon Moreno's hamstring. Figuratively speaking, of course. It has kept him out of the preseason, but he says he's at about 80 percent right now and should be good to go when he's called on. You may not see him in the Broncos' final preseason game either, but he should be set for opening day, and he might be a good late-round addition to your RB core.
DeSean Jackson has had two separate small injuries to his neck and back this preseason, and he just had his wisdom teeth removed on Monday to boot. The Eagles are resting their starters this week anyways, however, and a long week to relax should mean Jackson is set to go for the season opener against the Packers. It's something to keep an eye on, but it shouldn't keep you from insta-drafting Jackson if you have the chance.
In other Eagles news, Brent Celek has pretty much been a no-show this preseason. We have him as our number three TE on the board, but his lack of preseason production has us scratching our heads a bit. Still, we know QB Kevin Kolb and Celek have magical chemistry, and Andy Reid likes to hide a lot of his playbook during the exhibition games anyways. So we're going with our gut here, and you should expect to see Celek's production meet or exceed expectations once the regular season gets under way.
Sleeper Alert!
If you're in a deep league, the late rounds will see you hunting for a few unfamiliar faces to fill out your roster. There are always some potential breakout performers lurking around down there, and we're here to help you hunt them out. We think these guys have a chance to put up big numbers from the late rounds this year, and being able to spot them early is often a big key to success in leagues that are especially deep.
Jeremiah Johnson, RB, Houston: Arian Foster became a lock for the number one spot on the Texans depth chart when Steve Slaton went out with a turf-toe injury in their last preseason game against Dallas. Rookie Ben Tate is out for the year, and Johnson now looks like a possible number two for Houston. Slaton says he'll be back soon, but Johnson has looked eerily similar to (if not a little snappier than) Slaton, and he might be a good lay-in-waiting kind of bench pickup in some of the deeper leagues. He has a great name, too, if that helps sway the decision at all.
Kareem Huggins, RB, Tampa Bay: Last year's number one and two Derrick Ward apparently showed up to camp out of shape, and he was just let go earlier this week. Huggins, on the other hand, has been a stud during the preseason, and he has firmly cemented himself into the second spot in that rushing attack. He's now directly behind the oft-injured Cadillac Williams, and he figures to see some good action for the Bucs.
Malcolm Floyd and Legedu Naanee, WRs, San Diego: Vincent Jackson's absence doesn't seem to be coming to any speedy resolution, and it's looking more and more like he'll be missing for a big chunk of the season – and whether or not he even suits up for the Chargers again still remains to be seen, for that matter. Rivers should find Floyd to be his new favorite target to open the season, and the explosive Naanee could benefit from the extra attention given to Floyd as well.
Well, there you have it. We hope the last four weeks have prepared you for your draft and for the season ahead, and we'll be right here with you for the whole journey. Next week we'll be back with the preview for Week 1. You'll also catch a glimpse of the PokerNews Pigskin Invitational, our own fantasy football league in which your author will soon be rising to epic and glorious domination.
See you in the regular season!
Football fans, we'd love to incorporate some of your thoughts into our weekly column as well, so if you have any questions, comments, or if you'd just like to berate us for how badly our advice has ruined your draft, drop us a line at editor@pokernews.com and remember to follow us on Twitter for up-to-the-minute news.