The Pigskin Diaries Vol. 6: Aaaaand They're Off!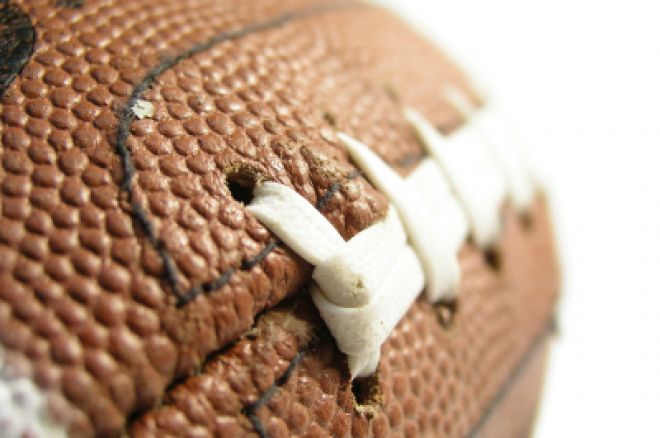 All right, how'd it go? If you've somehow managed to start the season off properly and pick up a win in Week 1 of fantasy football, chances are you were spreading a little trash talk around the water cooler on Tuesday morning. You're feeling pretty damn confident about yourself and your team at this point, and you're about two more consecutive wins away from thinking you should be the one writing this here article. Nobody needs to tell you anything; you scored the most points in your league, and you don't even need to bother glancing at the waiver wire during the midweek scramble. Fuhgeddabodit.
And then there's the other half of you. Oh, and me too, I'm with you losers. The ones who get to steam at 0-1 for what will surely be an eternally long week of torture. We're the guys who started the Vikings wide receivers last week on a hunch and ended up sobbing in bed on Thursday night with just one lonely point to show for our poor decision. We're the ones who were banking on Shonn Greene to light it up, but he had us seeing red after butterfingering his way to negative numbers against the Ravens' defense. We figured we'd give Arian Foster a week on the bench to prove his mettle, and the league-leading 41 points he put up would have left our opponent drawing dead even before the Monday matchups. We can only hang our heads in shame and scan the waiver wire for a lifeline.
For me, it was a loss in the most brutal of ways. My Week 1 matchup was against Remko, our beloved Dutch colleague from PokerNews.nl. Well, he used to be beloved, anyways. Then he somehow nursed a tie out of his vastly inferior lineup to match me at 90 points by the end of the week. Our league tie-breaker reverts to QB points, and Remko and Phillip Rivers pipped me and Eli Manning to pick up the stunning Week 1 victory. I was/am gutted. Come on, Eli!
The good news is that we all get to do it all over again this week, and there is a lot of compelling stuff going on around the NFL. Like the first few levels of a poker tournament, Week 1 of fantasy football is a sort of feeling-out period to see if your preseason and draft-day intuitions are in tune with reality. Now it's time for Week 2, and it's time to refine your lineup and start filling any holes left by last week's sluggish performers or the recently injured.
So then, with the full disclosure that I lost in Week 1 of the PokerNews Pigskin Invitational, and with a blanket statement that I apologize in advance for any ruination I bring to your chances of a win in Week 2, I give you this week's edition of Hold'em or Fold'em.
Hold'em
Michael Vick, QB, Philadelphia – There's still no official word on the status of "starting" QB Kevin Kolb, so we still don't know if Vick will be taking all the snaps this week. And it really doesn't matter. Vick put up the seventh-highest point total last week with an impressive mix of running and throwing. That was against the stingy Packers' defense, too, and Vick's Week 2 matchup on the turf in Detroit makes him a must-start (or a must-pick-up) this week.
DeSean Jackson, WR, Philadelphia – See Michael Vick. See Michael Vick throw. Throw, Michael Vick. Throw!
Devin Aromashodu, WR, Chicago – This one's reserved for deeper, 3-WR leagues primarily, but Aromashodu is definitely a solid guy to have around your team. Despite being the Bears' #3 receiver on the depth chart, Aromashodu led the team in targets last week with 10, and he seems to have a good relationship with QB Jay Cutler. If you've got a spot for a ten-point wide receiver this week, give Devin a look.
Ahmad Bradshaw, RB, New York Giants – Brandon Jacobs looks a somewhat big and sluggish this year, and Bradshaw has already begun to emerge as the real #1 back for the G-Men. He'll face off against the Colts (minus Bob Sanders) this week, and even on Friday, they're still reeling from the whoopin' Arian Foster put on them. Indy's run defense is most certainly a question mark, and Bradshaw could well put up a top-five performance among running backs this week.
Kansas City, Defense – They're available in the majority of leagues, and they have a Grade A matchup this week against Cleveland. The Browns have some serious QB concerns (whether Jake Delhomme is in the lineup or not), and their running backs had slippery fingers last week as well. Dexter McCluster is always a threat to break one open on Special Teams too, and this squad is a solid pickup if you're hunting for a defense this week.
Fold'em
Lee Evans, WR, Buffalo – He's the most skilled player the Bills have on offense. And it's not enough. We benched Evans last week as he put up a paltry three points, and he's riding the pine again this week. If he can't find the end zone or a 100-yard day of atonement, he might be available from the waiver wire come Tuesday morning. It's not his fault, though.
Percy Harvin and Bernard Berrian, WRs, Minnesota – We wanted to believe in that Vikings pass offense, but they didn't even show up last Thursday night. What passing offense they did muster pretty much all went throught tight end Vinsanthe Shiancoe. He and Adrian Petersen are the only two Vikings we'd have on our fantasy teams right now, at least until Brett Favre (dang, we almost got through a whole article without mentioning him) proves he can still throw a deep post pattern.
Randy Moss, WR, New England – It's never easy to suggest you bench Randy Moss, but if there ever was a week to do it, this is the one – provided you have some other reasonable options this week. As a Patriot, Moss has played four games against the New York Jets, and he's put up 106 yards. Total. He does have two scores in those games, and he's probably a slight favorite to score again this week, but it's really a flip. Revis will have Moss on lockdown come Sunday and he should struggle to get more than 50 yards through the air. You could certainly do worse that just start him out of habit, but guys like Pierre Garcon and the other Moss (Santana) would probably get our nod ahead of Randy this week.
Tim Hightower, RB, Arizona – Beanie Wells should be back healthy in time for Sunday's game, but that's really irrelevant. Hightower's two fumbles last week are a bad omen, and Coach Ken Wisenhunt was not at all impressed with that stat. Pass on Hightower this week unless you're just all out of other options.
Injury Report
Kevin Kolb, QB, Philadelphia – You don't just bounce back from a concussion in six days, and Kevin Kolb hasn't shown much progress since taking that hit on Sunday. Kolb's been away from the practice field all week, and although he still listed as questionable, there's not much chance he'll be in the lineup this weekend.
Matthew Stafford, QB, Detroit – Stafford sprained his throwing shoulder and will likely miss a few weeks under center for the Lions.
Jake Delhomme, QB, Cleveland – Delhomme is going to be a game-time decision for the Browns after injuring his ankle last week. He played the full game with one bum wheel, but he's been sidelined from practice since then. The team didn't disclose the results of the MRI, but Seneca Wallace has been the one taking all the snaps in practice this week, gearing up for a likely start on Sunday.
Early Doucet, WR, Arizona – Doucet is out of the lineup this week nursing a groin injury. If it's just a strain, it could be all good for Week 3, but if it's a sports hernia as suspected, his absence could be more long-term.
Percy Harvin, WR, Minnesota – This is becoming a trend. Harvin missed some of the midweek practices with a hip injury, and his status is still uncertain for this week. Even if he is 100 percent come Sunday though, you're still going to want to keep him on the bench this week.
Anthony Gonzalez, WR, Indianapolis – He's out with a high-ankle sprain, and that's more often than not a multiple-week problem. Scratch him for now.
Beanie Wells, RB, Arizona – His Week 2 status is still in question after sitting out the Cards' season opener. Wells did return to full practice this week, but it remains to be seen whether or not the deep tissue bruise is ready to hold up and heal enough to get him back in game action. He's still a question mark until game time.
Matt Forte, RB, Chicago – The NFC's Player of the Week appeared on the midweek injury report with a knee issue. It seems minor based on the practice time he's seen this week, but you'll want to keep an eye on Forte's status as the game draws closer.
Pick'em
Pittsburgh @ Tennessee – It might be a tough day for Chris Johnson on the ground, but the Titans should have enough power to put up enough points for their defense to protect. That Steelers' offense wasn't exactly a well-oiled machine last week, though they did squeak out a win in a pitchers' duel with the Falcons.
Miami @ Minnesota - We might be picking this one with our hearts more than our heads, but that lackluster offensive performance from the Viks has us really doubting them for now. We'll be ready to jump back on the bandwagon if they can take care of business at home this week, but they've still got a lot to prove right now. I think the 'Phins are going to cover the 5.5-point spread and then some.
Arizona @ Atlanta – The Falcons are a touchdown favorite this week, and that might be a tad generous. We might take Arizona +6.5, but we like the Falcons to win this one straight up. There are just too many questions for the Cards right now to give them any benefit of the doubt.
Baltimore @ Cincinnati – We weren't surprised to see the Bengals put up 24 points against the Patriots last week, but we'd be surprised if they did it again this week. Baltimore wasn't especially impressive against the Jets either, but this matchup favors them by a big margin. We have them covering the 2.5-point spread pretty easily.
Kansas City @ Cleveland – The Chiefs' showing last week may have been a fluke (it was), but we still like them in this matchup. Cleveland is a two-point favorite right now, but they looked shaky enough last week and have enough lineup concerns this week for us to predict a 2-0 start for K.C.
Chicago @ Dallas – The 'Boys are a big favorite this week, and we'll tick their box for the win as well. This one makes us nervous, but we're probably a bit too high on the Bears and a bit too low on the Cowboys in general. This matchup should tell us a lot about these two teams going forward, and whether or not their Week 1 showings were an accurate foreshadow of the remaining season.
Philadelphia @ Detroit – Kolb, Vick, it doesn't really matter who's under center this week for the Eagles. Detroit is not the pushover it once was, and Shaun Hill isn't the laughing stock he could have been, but Philly should be able to drive away from Ford Field smiling this weekend.
Buffalo @ Green Bay – The Pack by a mile. Stop Lee Evans, stop the Bills. This one could be the blowout of the week even without Ryan Grant in the backfield.
Tampa Bay @ Carolina – This one's always a good divisional matchup, and neither team has really shown us much yet. The recently-concussed Matt Moore didn't look all that good before he got his brain rattled, and we've got a hunch that Carolina offense is going to struggle for a couple weeks at least.
Seattle @ Denver – This one should go to the Broncos, if logic rules. But based on the performances of these two teams last week, it's awfully hard to pick them. We like Seattle in the upset, but this could definitely be an insert-foot-in-mouth sort of pick.
St. Louis @ Oakland – Oakland at home should be good enough to pick up the W. Don't expect much offense in this one, though.
Houston @ Washington – If you can put up 34 points against the Colts, you gotta like your chances against the Redskins. Arian Foster has exploded onto the fantasy football scene, and he should have another big week. This is another tough call (because Washington looked decent in a tough game), but we'll take the favorites to pick up a close win on the road.
New England @ New York Jets – It's going to be a tough day for Tom Brady, and Randy Moss will pretty much be unreachable on Revis Island. If Shonn Greene can find his hands again, the J-E-T-S should have enough firepower to hold off the Pats and get back to .500 on the season with a Week 2 win. The Pats are a slight favorite on the big board, however.
Jacksonville @ San Diego – Gulp. The Chargers embarrassed us and themselves last week, and we're going to figure it was a fluke. Rivers and company have a good matchup in which to rebound against the less-than-stellar Jaguars and that Swiss cheese defense they employ.
New York Giants @ Indianapolis – The Manning Bowl. Another really difficult interdivision contest to figure. We'd rather just take the over on the points for this game, but if we were forced to pick a side, we'd take the favored Colts to squeak out a high-scoring win.
New Orleans @ San Francisco – Monday nights are always fun in San Francisco, but the Saints are marching into town to spoil the late-summer evening. San Fran is a team on the rise, but the defending champs just have too many weapons for them to deal with right now. We like the Saints by at least a touchdown.
Football fans, we'd love to incorporate some of your thoughts into our weekly column, so if you have any questions, comments, or if you'd just like to berate us for how badly our advice has ruined your draft, drop us a line at editor@pokernews.com and remember to follow us on Twitter for up-to-the-minute news.