The Pigskin Diaries Vol. 5: Let There Be Football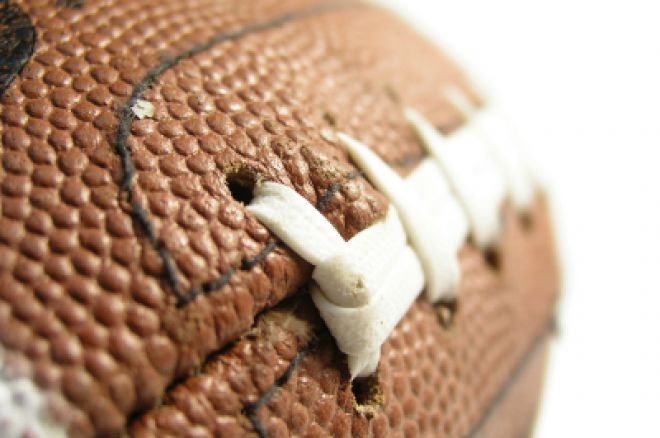 All right, it's football time, boys and girls. The regular season is officially under way, and we can finally shift our fantasy football focus from the draft/don't-draft list to a weekly sit/start list come Sunday – or Thursday, as was the case this week. You've (hopefully) spent hours scouting and preparing and scrolling tediously through the feed on the newswire, gathering tidbits of useful intel. We've tried to give you plenty of tools to help you along, too, and you've used them to build yourself a competitive team. On paper, that is.
On paper, your team looks like a lock to win the division. On paper, your team is the most well-composed and promising team in your league. The annoying Patriots fan in the cubicle next to you doesn't stand a chance against you. You've got veteran leadership in the skill positions, a promising young quarterback, and the Eagles defense as your fallback. Game over. You're already practicing your strut in front of the mirror and littering your league's message board with premature trash talk.
But things don't always shake out as you envision. If this is your first season playing fantasy football, this will all become frighteningly clear sooner than you'd like to think. You're in complete control of your team. You're the man, dog. You're the guy calling all the shots, and your team's fate lies in your well-prepared hands. This is fantasy football, however, emphasis on fantasy. In all likelihood, you're really going to screw up. You'll bench guys just before they have monster days, and your waiver-wire fliers will turn out to be busts. You'll give up skill to fortify another position, and your new team member will lose his starting gig as soon as you press the "Accept trade" button. You might even find your squad riddled with injuries and in need of emergency support — something nobody could foresee. Just like poker, sometimes the easiest and most obviously +EV play just ends up costing you a big pot.
With that in mind, and with some reservations of our own, we'll have a go with our first sit/start list of this young season. The opening week is our first chance to get a look at these guys at full game speed and in full competition mode, so any predictions that anyone has made thus far are all still mere theory — until now. Game day decides all, and it's time to start searching for this year's Jamaal Charles hiding somewhere deep in the depths of your roster.
Hold 'Em
Kyle Orton, QB, Denver – It's not the first time we've been regrettably sipping on the Orton Kool-Aid to start the season, but his bum rap is admittedly worse than his actual numbers. He was in the top half of the league QB ratings last year for fantasy football, and he opens up the season with a confidence-building matchup against the never-worse Jacksonville defense. The Jags have Rashean Mathis — and that's about it. Don't look for Orton to light it up, but we're willing to take a shot on him in Week 1 again this year.
Jabar Gaffney, WR, Denver – Maybe it's partly Kyle Orton's fault, but Gaffney is vastly underrated in fantasy drafts this year. Check out your waiver list and get him right now if your league is one of the three-quarters of those in which he's still available off waivers. Gaffney is now the #1 receiver in a shaky but pass-happy offense, and his fantasy numbers should see a corresponding boost this year.
Jerome Harrison, RB, Cleveland – So, the Browns lost their starting back for the year at the worst possible time. Harrison was the #2 guy, and the late news meant none of the other backs had a chance to compete for the starting job. That should be just fine with you if you were lucky enough to draft him. Harrison put up some monster numbers in the last few games of 2009, and with the Browns relying so heavily on him this week, he should absolutely be a qualified #1 RB for your team — not to mention the fact that they're playing Tampa Bay on Sunday.
Mike Wallace, WR, Pittsburgh – This guy might fall a bit into the sleeper category, but it's a good matchup-specific pickup if you're looking for one more receiver this week. Steelers starting QB Dennis Dixon (sleeper watch too!) will be taking some shots downfield, and Wallace could be a big beneficiary of the Falcons' shoddy deep-ball defense. If he can snap off a 50-yard touchdown as he has every potential of doing, that's how you manufacture a quick double-digit fantasy score from an underrated player.
Arizona, Defense – This one has us a little confused. A look at the overall numbers sees that Arizona's defense is available in a huge majority of leagues. If you can snag them for this week, they have a great matchup against the St. Louis Rams. The Cards dominated the two match-ups they had last year, and if you're not happy with your current squad, you may consider ditching them for the potentially top-ten Arizona defense.
Fold 'Em
Anquan Boldin, WR, Ravens – Perhaps nobody has garnered more conversation or speculation this off-season than this Ravens new deep threat. He has a lot of naysayers talking smack about his potential this year, and we're still undecided on that part. What is for certain is that he'll be matched up with Darrelle Revis this week, and even Boldin is going to have trouble escaping Revis Island.
Reggie Wayne, WR, Indianapolis – If this were 2006, Wayne would be fighting for the overall #1 WR spot in the fantasy world. Fast-forward four years, though, and you'll find a mediocre, aging receiver who is now just one bullet in a huge arsenal of offensive weapons in Indiana. He historically struggles against week-one opponent Tennessee, and his team will likely spend most of the day rushing the ball up and down the field anyway. It wouldn't be a terrible misstep to start Wayne this week, so consider yourself duly warned.
Michael Turner, RB, Atlanta – This is another tough call because Turner is a long-standing fantasy stud. This week, however, he'll take on a tough Pittsburgh defense that allowed just two rushing touchdowns at home all last season. They were third in overall defense, and they're even stronger this year, and it's just simply not a good matchup week for Turner.
Injury Report
Brett Favre, QB, Minnesota – For a moment, everything was all groovy in Minneapolis when this knight in shining armor came riding into town in a black SUV. After just one game run-through, however, Favre needed a shot of WD-40 in his thrice-repaired ankle. That should help the old man deal with the issues of pain and mobility, but it's certainly a stop-gap repair at best. All eyes were on Favre hobbling around the offensive backfield in the season opener, and they'll continue to be watching for the foreseeable future.
Larry Fitzgerald, WR, Arizona – On Wednesday, the Cardinals welcomed their starting wideout back into the huddle after several weeks of rehabbing his sprained MCL. Fitz was taking full contact late in the week's practices, though, and looks like he'll be good to go come Sunday. What's more, he could be a stellar fantasy start.
Beanie Wells, RB, AZ – When Fitzgerald returned to the practice field, stud running back Beanie Wells was nowhere to be found. After shaking up his knee in the final preseason game, Wells is downplaying what has to be an actual concern considering the practice time he's missing. We still expect to see him in the starting lineup for the weekend, but this is something you'll want to keep an eye on between now and then.
Dez Bryant, WR, Dallas – Bryant came off the Cowboys' injury list this week and has been back in practice eager to show the healing status of his high ankle sprain. Consider him a full go and an automatic start in your lineup if you have him this week.
Maurice Jones-Drew, RB, Jacksonville – The big concern with Jones-Drew's knee is that we don't know whether to be concerned or not. The team and the player have both been awfully hush-hush about the condition of his alleged bum knee. There were even whispers of surgery at one point, and Jones-Drew's fantasy stock fell a bit as a result of the ensuing nervousness. A good sign came this week, though, when his name dropped off the injury list. He'll be on the field on Sunday, and you'll have your chance to see how the knee looks for yourself.
Knowshon Moreno, RB, Denver – At this point, it's hard to tell which running backs are legitimately shaken up and which ones are just getting those first few bruises under their belts in preparation for a long season. Moreno has missed most of the preseason with a hammy, but he's back in full practice and back in the starting lineup for Sunday's game. You'll want to keep an eye on how that leg holds up over the course of the first few weeks, but he's a go for now.
Michael Bush, RB, Oakland – There was indeed some thumb surgery for Michael Bush, but his healing has impressed the coaching staff in the last week. Coach Tom Cable told the newspaper that there was a real chance Bush could be on the field during week one, but we'd expect him to see limited carries even if he does suit up. This week's probably a good one to rest him on your fantasy team too, but it looks like he'll be back in contention for one of your roster spots rather shortly.
Pick'Em
Miami @ Buffalo – The 'Fins are eager to get rolling with year two of the Chad Henne offense (this time sans Pat White), but the Bills are a much improved team in 2010. Still, we've got the 'Fins to win the AFC East this year, so I'll pencil them in for an opening win in Buffalo.
Detroit @ Chicago – We'll bite on the Bears again, at least for one week. Orton has shown some promise in the 2010 calendar year, and opening the season against the Lions should be a good confidence boost for any offense, even the Bears talent-level-still-TBD squad.
Oakland @ Tennessee - Regardless of what transpires with Michael Bush's availability over the weekend, the Raiders should be fine on the ground. The problem is, um, the rest of the positions on that offense. An unproven quarterback and some bad defensive matchups to boot mean the Titans should cover the six-point spread with relative ease. It is the largest of the week, however.
Cincinnati @ New England - We've got Cincinnati on sleeper watch this week, but we'd sure like a week or two to look at them before we become believers. The Pats just don't lay eggs at home, and Carson and Company will have a tall task to keep it close. There's not enough action to throw any money on the Bengals, but it wouldn't shock us to see some odd-looking numbers in this box score after the game.
Carolina @ New York Giants - You have to like New York at home to open the season. The Panthers look like they'll have Jonathan Stewart back to begin their year, and he and D'Angelo Williams are the best one-two punch in the league. It stands to reason that the Giants' run defense is going to make Matt Moore beat them through the air, then. He'll struggle to do that in all likelihood, and the G-Men should pick up a W in this one.
Atlanta @ Pittsburgh - Atlanta is about a two-point favorite heading into the weekend, and we like that number. The Steelers are going to take some shots this week with their flier of a starting quarterback, but Dixon could well be up to the task and respond with a solid performance. In the end, though, the Falcons should find the numbers they need to take care of this matchup.
Cleveland @ Tampa Bay - We'll give Cleveland our nod this week as an upset pick, though they're awfully hard to figure out. Their defense showed good promise toward the end of 2009, but their offense is still very much an undetermined factor for 2010. Look for Harrison to have a massive day on the ground, though, and we like the Browns to win their season opener for the first time since 2004.
Denver @ Jacksonville - The Jags are a bit of a favorite as the lines stand right now, and once again, we may be a bit drunk on Denver to start the season. We like them to notch the win this week on the road, though we reserve the right to totally bail on the Broncos in a couple weeks if they disappoint again. When you match them up against the Jags this week, though, they just seem to have a lot more offensive weapons to work with, especially given David Garrard's shaky ways these days. Our money is on the Broncs. And we're sweatin' it.
Indianapolis @ Houston - Don't give this one a second thought. Peyton and friends with ease.
Arizona @ St. Louis - Beanie Wells' playing status is still a bit hazy, but the overall picture is plenty clear enough to pick the Cards over the Rams in their opener. Even the four-point edge seems a bit soft for the favorite, and we like Arizona by at least a touchdown on Sunday afternoon. Blowout potential, for sure.
Green Bay @ Philadelphia - This one has the trappings of a "game of the week" type contest, and these NFC early-season battles seldom disappoint. Everyone seems confident in Kevin Kolb's abilities to lead his Eagles team through the division, but we're going to need a bit more proof before we're willing to bite. Aaron Rodgers, on the other hand, is a proven five-star fantasy stud and a clear team captain, and he should make good use of the tools at his disposal to get his team a win on opening day. Green Bay wins a good one here.
San Francisco @ Seattle - Frank Gore, Alex Smith, Vernon Davis, Michael Crabtree. The Niners have solid leaders at each of the main offensive skill positions. On the flip side, the Seahawks are really still searching for their identity, and Matt Hasselbeck is still grasping to become the brilliant quarterback he has occasionally shown the potential to become. Here's a tip: When the second and third projected fantasy scorers on your team are your tight end and your kicker, you're going to struggle. We like San Fran and Frank Gore running away in this one.
Dallas @ Washington - Ah ha! We've got a brilliant NFC East battle to start this season off, and this one is going to have season-long implications in that competitive division. Whether or not you believe in Tony Romo, that team is considerably more comfortable and established than their opponents on both sides of the ball. The McNabb factor is very much still an unknown in Washington, and this one should go Dallas' way when it's all said and done. These early divisional battles are awfully hard to figure sometimes, though.
Baltimore @ New York Jets - It's the week of the road team, apparently. As far as the AFC goes, this one is the game to watch this week. The Ravens come into New York with something to prove, and they have plenty of secondary weapons to diffuse the effect of Revis on his half of the field. This one is pretty much a coin flip, but we've always been big on Joe Flacco and Ray Rice, and we'll lay our money on the Ravens to cover the field goal spread. Cue the flaming.
San Diego @ Kansas City - San Diego is our early pick to win the Super Bowl this year, and we've already got them at 1-0 heading back home to face Jacksonville in the second week. Monday night will be a great stage for the Chargers to scalp the Chiefs and close out the first week of the season.
Football fans, we'd love to incorporate some of your thoughts into our weekly column as well, so if you have any questions, comments, or if you'd just like to berate us for how badly our advice has ruined your draft, drop us a line at editor@pokernews.com and remember to follow us on Twitter for up-to-the-minute news.