The Pigskin Diaries Vol. 7: Injuries, Third-Stringers, and a Guy Named Favre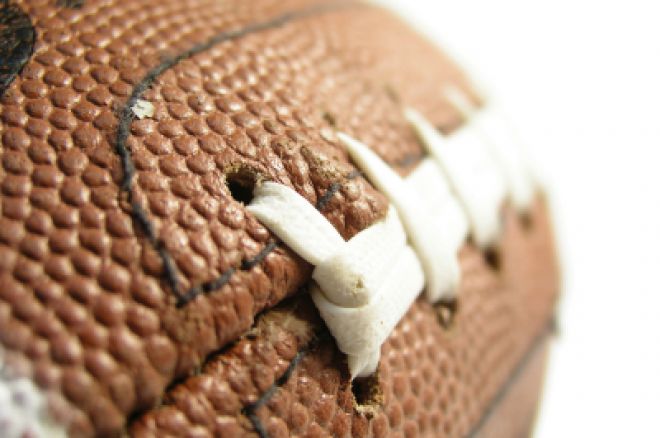 It's a busy time for the PokerNews Team, and we haven't had much time to fiddle with our fantasy rosters this week. Still, the league picture is starting to get a bit clearer after two full weeks of football, and it's time for the latest edition of Hold'em or Fold'em!
Hold'em
Shonn Greene and/or Ladanian Tomlinson, RB, New York Jets: The Jets running game is clicking (as of last week), and either of their two backs could go off for big numbers this week. The only gamble is which one of them will put up the points.
Santana Moss, WR, Washington: Sixteen catches over two games is the number that catches our eye, despite his relatively mediocre fantasy numbers. Still, if you add a touchdown or two to his stats, he becomes a legit threat on your roster. Donovan McNabb looks for him early and often, and Moss will eventually be dancing in the end zone while you do your own victory dance in your living room for keeping him in your starting lineup.
Hines Ward, WR, Pittsburgh: He seems to have great chemistry with QB Charlie Batch (if Leftwich can't go), and the two are becoming comfortable in their roles. This week's matchup pits them against the depleted Tampa Bay defense, and we like Ward's chances of busting a big one and finding the end zone at least once. The only potential hiccup is that he appeared on the Steelers' midweek injury report as questionable with a calf strain, but he should be just fine on Sunday.
Jeremy Maclin, WR, Jacksonville: Michael Vick's favorite number to call (other than his own). He's got a pair of touchdowns this season, both from Vick's arm. Maclin is on our hot list right now, and he might be on the verge of blossoming into a seriously dangerous #1 receiver, if he's not there already.
Dustin Keller, TE, New York Jets: We love this Dolpins/Jets matchup this week, and we especially like it for Keller. The Jets are likely going to be minus Braylon Edwards after his DUI early in the week. Add to that the fact that the 'Fins gave up more than 100 yards to the Vikings' tight ends last week, and this should be a great week for Keller's fantasy stats.
Kansas City, Defense: No, we don't love the Chiefs' defense that much. Actually, maybe we should, though. They've put up double digits in both of their first two games, and this is a favorable home matchup against a San Francisco team working on short rest. Oh, did we mention they're the third-best defense in the fantasy world right now? And they're still available in about 85 percent of leagues. Snag 'em!
Fold'em
Brett Favre, QB, Minnesota: At some point, he's probably going to make us look bad for being so down on him. But then again, maybe not. Favre has shown no spark yet this year, and his receiving corps isn't helping him out either. Harvin has been in and out of practice this week, as well, and Favre is really wearing on our patience. If he can't put up some gaudy numbers against the Lions this week, he's going in the trash bin.
Matt Ryan, QB, Atlanta: He's always been a sluggish road performer, and that Saints' defense has traditionally caused him problems as well. He threw for one TD and three picks in their matchup last year, and Ryan's weapons are a bit depleted. If the Saints can shut down Roddy White, they can shut down Matt Ryan. If you've got another option at QB, this is the week to let Ryan ride the pine.
Terrell Owens, WR, Cincinnati: We gave him a chance to return to his old form with his new team. No dice so far. He's riding our bench until there are significant developments in his favor.
Brandon Jacobs, RB, New York Giants: If you're going to go hurling your helmet into the stands, you
better be a stud on the field. Jacobs hasn't been thus far, and he's on his coach's naughty list. Ahmad Bradshaw should be getting almost all the work for now, though we wouldn't be particularly keen to start either of them against the Titans' defense this week.
Injury Report
Knowshon Moreno, RB, Denver: He's listed as out with a hammy for Sunday's tilt with the Colts.
Dennis Dixon, QB, Pittsburgh: Knee surgery. Six weeks. Out.
Byron Leftwich, QB, Pittsburgh: He looks like a go for this weekend, but saying his knee "should be fine" does not exaclty instill confidence. He's listed as probable, though.
Andre Johnson, WR, Houston: He's going to stay as questionable on the injury report, but all signs point to Johnson being able to go on Sunday. It's a big game, and they need him against the Cowboys.
Jake Delhomme, QB, Cleveland: Okay, first of all, you better not have him on your fantasy team. If you do for some reason, though, bench him at once! Delhomme is still out of practice, and he'll likely be passed over for Seneca Wallace once again this week.
Jerome Harrison, RB, Cleveland: He's listed as questionable, but he's been out of practice all week, including Friday. It seems unlikely that he'll have a big impact even if he can go this weekend.
Ryan Matthews, RB, San Diego: Matthews shows up as questionable on the midweek injury report, but we're not buying it. The words "high ankle sprain" are dangerous words for a running back, and the safe money is on Matthews being a bench warmer this weekend.
Dez Bryant, WR, Dallas: He participated in practice late this week but not full contact. He's questionable with bruised ribs.
Steve Breaston, WR, Arizona: Another limited participant in midweek practices, Breaston is questionable for this week.
Jason Witten, TE, Dallas: Witten has been back on the practice field this week, and he seems to be fine after sustaining a head injury last week. He should be good to go for Week 3, but head injuries are never easy to dismiss.
Joseph Addai, RB, Indianapolis: He's listed as probable this week, but he was half-and-half during practice on Thusday. Keep an eye on his status as the weekend gets closer.
Pierre Garcon, WR, Indianapolis: The hammy is acting up, and Garcon has been sitting out of practice until late in the week. It's still tender, though, and Garcon is a Q for this week.
Michael Turner, RB, Atlanta: Groin problems are no fun when your job is to run up and down a field, but Turner seems to be healing well enough to go at full strength come Sunday.
Pick'em
Dallas @ Houston: We'd sure like to pick the Cowboys in this one, but they haven't given us any reason to believe in them. The Texans, on the other hand, are already looking like a playoff team here in the first few weeks of the season. They've now won six consecutive games dating back to last year, and they're on the warpath in 2010, as well. This one has potential to go either way too, but we're very much on the Houston bandwagon right now.
Atlanta @ New Orleans: Maybe the hardest game of the week to figure. Ryan struggles on the road, but the Saints' defense is not as good as their stats show this year. Add to that the fact that the opponents are actually out-gaining the Saints' supposedly potent offense and you can see where they could be in some trouble if they don't come out and storm the gates. Someobody's going to put New Orleans in their place early this season, but we're just not sure the Falcons can muster it this week.
New York Jets @ Miami: The 'Fins are (somehow) a slight favorite to top the Green Machine this week, and we like that a lot. The absence of Darrelle Revis means a lot of open space for Chad Henne and company, and the Jets' run defense is still a bit of a question mark. We'll take Miami in a close one.
Tennesse @ New York Giants: Both teams look strong in some areas and awfully shaky in others. Flipped a coin. Came up Giants. We're not betting this one, though.
Philadelphia @ Jacksonville: David Garrard was so abysmal enough last week (four picks) that the Jags benched him this week. And then his backup tore a ligament, so Garrard gets the unintended nod once again this week. That Eagles' defense knows what to do against Garrard, and the Michael Vick/DeSean Jackson tandem should have plenty of chances against a really gaping defense. We like the Eagles with ease in this one.
San Francisco @ Kansas City: Coach Mike Singletary says his team is better at 0-2 this year than they were at 2-0 last year. We're not so sure about that, but we're also not so sure about the Chiefs. Both of these teams are loaded with rookies, and it's going to be one of those ugly, lazy matchups that might come down to a field goal. This one's a bit of a coin flip, so we'll take the home team barring any unforeseen developments.
Detroit @ Minnesota: Nothing helps turn around an 0-2 season start than facing the Lions in Week 3. We think the Lions are headed in the right direction, but this one is not a favorable matchup for them. The Viks are a huge favorite this week, and they should be able to get a W under their names finally.
Buffalo @ New England: Ryan Fitzpatrick, Trent Edwards, it really doesn't matter who the Bills have under center this week. Word is, it'll be Fitzpatrick, and that Patriots' defense must be licking their chops. Fitz is 8-14 as a starter with 21 touchdowns and 27 interceptions. Those pesky AFC East matchups can be hard to figure sometimes, but not this time. Pats by two, maybe three touchdowns.
Cleveland @ Baltimore: We're still waiting to see the real, potent Ravens team that we expected, and this is a good week for them to get back on track. The Browns were outscored 50-3 in the two meetings last year, and there's nothing new and improved about the Browns enough to think that trend will change this week. Flacco and Co. get it done at home.
Pittsburgh @ Tampa Bay: As long as Charlie Batch can keep from losing this game for his team, the rest of his pals should be able to shoulder the load. Batch's plan will be a simple one. Hand it off, throw to Hines Ward, hand it off, go root for his defense. Repeat.
Cincinnati @ Carolina: Until the Panthers prove that their quarterback can complete at least close to half of his passes, we have very little faith in them. Not that the Bengals are all that stellar either, but they will be facing a rookie QB making his first start this week. Jimmy Clausen is out of Notre Dame and into the wolves' den of the NFL, and you don't often come out smelling like roses as a first-time starting quarterback in this league. Game plan: fill the box with linebackers, double-cover Steve Smith and pencil in a win.
Washington @ St. Louis: Love him or hate him, McNabb seems to be fitting in well with his new crew. The 'Skins are down to just Clinton Portis (after releasing Larry Johnson this week) in the backfield, and that's not necessarily a great thing. Still, that veteran team knows how to win tough games, and the Rams — well, they don't. 'Skins win.
Oakland @ Arizona: Oakland is going to be a better team than they are now at some point. How's that for a poorly-veiled compliment? That time, however, is not now. It's never a good sign when a team can't decide if either of their quarterbacks are good enough to start a game for them. Maybe when Michael Bush gets healthy, Oakland can let him run the offense. Until then, it's Bruce Gradkowski, and that lack of name recognition (and general skill) doesn't exactly instill confidence in us or his teammates, we'd imagine. Despite problems of their own, the Cards should have enough to take care of the Raiders.
San Diego @ Seattle: A pair of 1-1 teams struggling for a foothold in their division. That might sound like your fantasy matchup this week, for that matter. We like the skill players for the Chargers in this matchup, even without Ryan Matthews. We've always been Matt Hasslebeck fans, but he's going to have to start doing better than he did last week if he wants to keep his job in this benching-happy league.
Indianapolis @ Denver: This game is a bit overshadowed by the apparent suicide of Broncos' receiver Kenny McKinley. Unfortunately for the Broncos, they've become more used to this than they'd like, having dealt with the death of a teammate three times in the last four years. The Colts (read: Peyton Manning) are clicking so far this season, and we like them in this traditionally exciting matchup. We're looking forward to watching this one — and betting on the Colts.
Green Bay @ Chicago: One team is impressively 2-0, and the other is just 2-0. The Bears beat the Cowboys with help from the Cowboys themselves, then just squeaked out a win over the Lions on a rulebook game-saver. The Lions. And they juuust escaped. From the midweek chatter, the Pack seems to be taking this game a little more seriously than their opponent. Not that the Bears are overlooking it, but they're heavy on the "just another game" routine. Well, it's not. It's that classic divisional battle, and it tends to be an indicator of who's who in that league. We're picking the Pack.
Football fans, we'd love to incorporate some of your thoughts into our weekly column, so if you have any questions, comments, or if you'd just like to berate us for how badly our advice has ruined your draft, drop us a line at editor@pokernews.com and remember to follow us on Twitter for up-to-the-minute news.