Las Vegas Life with Kristy Arnett: Pick-Up as an Art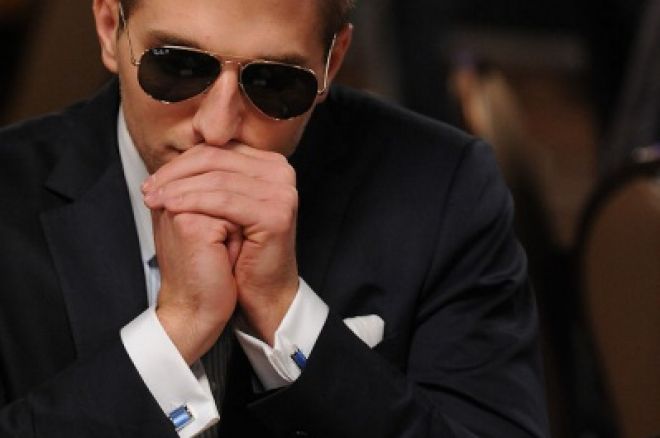 Las Vegas is the most unique city in the world when it comes to nightlife. If you took a safari through the jungle that is the Sin City club scene, you'd observe an abundance of spray tans, silicone, and flashy displays of money that are used as tools to attract mates. I think it's safe to say that, for the most part, patrons of these clubs are looking more for lust than love. They are looking for fleeting fun rather than longevity and commitment. Of course, as in any situation, there are a bevy of exceptions.
I'm sure that numerous times, two people have locked eyes from across the dance floor, claimed love at first sight, tipsily got hitched in one of the many drive-through marriage chapels, and lived happily ever after as soul mates. Or at least a couple people have exchanged phone numbers, began dating, established a trustworthy and stable relationship, and then lived happily ever after. Either way, in all cases, there's always a step involved which is the initial contact. This of course, is usually done by the male. Last week, I caught up with new World Poker Tour commentator Tony Dunst to talk about ways in which men can approach women.
This week, he discusses what men can do to be more attracted to women.
As a woman, I can attest to many of the points Dunst makes in these videos. When I went over to shoot these videos, he asked me what I thought about a blog he wrote last year which was a more in-depth guide to picking up women. I said, to be honest, I loved it. Women can be scary! There's nothing wrong with having a framework to get the conversation started. The one main point that both of us agree on though, is that there must be some honesty between both parties as far as what each other is looking for (ie. one-night stand or a relationship). Once that can be agreed upon, there are no worries of anyone getting hurt.
Hot Spot Pick of the Week: Steel Panther at Green Valley Ranch or the House of Blues
Speaking of places to pick up women, my hot-spot pick of the week is an epic Steel Panther concert. If you've never heard of Steel Panther, you have no idea what you're missing. Picture this: long teased hair, pink leopard tights, sex-crazed rockers performing glam rock and 80's cover music. Quite a few PokerNews employees including Editor-in-chief Matt Parvis, head blogger Donnie Peters, hostess Lynn Gilmartin, the Nightly Turbo's Elaine Chaivarlis, and I all love Steel Panther madness.
For those of you who want to check them out, the band takes the stage every Friday night at the House of Blues (doors open at 9 p.m.) and every Saturday night at Green Valley Ranch (doors open at 11 p.m.). At the House of Blues, tickets cost $16 but at GVR, admission is free. This was my pick of the week because I was reminded that at a Steel Panther concert was the first time I met Dunst. He quite successfully hit on one of my girlfriends. That same night, there were three girls making out on stage - just the sort of thing that happens at those concerts.
Free Money
Let's not forget that you'll probably want to play poker too if you're in Las Vegas. If you are in town and want to play cash games, there's really no better place to go this month than the Wynn because the poker room is giving away $50,000 in free money. All you have to do is log-in at a cash-game table with a player's card or accumulate three tournament entries to qualify. For every hour you are sitting in a cash game, you receive an electronic entry into any of the numerous $500 drawings that occur throughout the month. These drawings take place every Monday through Friday at 11 a.m., 2 p.m., 5 p.m., 8 p.m., and 11 p.m. You must be actively playing in a tournament or logged in playing a cash game to win. Players are responsible to make sure the dealer clocks them in. For more information, you can call the poker room at 702-770-3090.
If you want to get over to Las Vegas this year you can qualify for future WPT events at PartyPoker and do it for free with our exclusive $50 Free No Deposit Sign Up Bonus