The Nightly Turbo: Mizrachi Teaches, Rosenkrantz and Caby Filming Poker Documentary, and More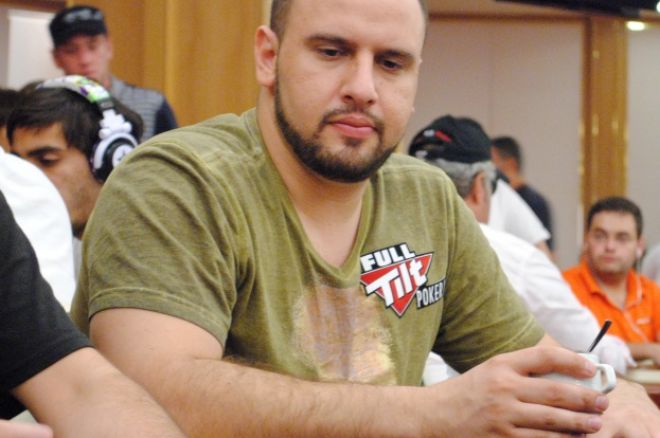 We see you've made it through the weekend and now its back to the daily grind. Luckily, we've got some news to help get you through the day. So what's in store in tonight's Nightly Turbo? Well, Michael Mizrachi is set to teach his first DeepStacks Live course this week, there's a poker documentary being filmed, and more. Enjoy!
In Case You Missed It
If you didn't already know, the World Poker Tour is in Las Vegas for the Festa al Lago. Only 41 players made it through Day 3. Wondering who's taking the chip lead into Day 4? Check out the recap.
Sunday is poker's biggest day on the virtual felt. Nine players pocketed six-figure scores Sunday, and we know you're dying for the results. The Sunday Briefing has you covered.
Miss any of the PokerStars.net Big Game last week? We didn't. Here's the recap of how it all went down.
November is just around the corner, which means we're that much closer to finding out who will become the 2010 World Series of Poker Main Event Champion. We'll be profiling all of the November Niners up to the Final Table. First up is Jason Senti.
Kristy Arnett caught up with some online poker phenoms at the WPT Festa al Lago to bring you the latest edition of the Sunday Grind. Find out what they had to say about getting into big buy-in multitable online poker tournaments.
Learning From a Pro
2010 World Series of Poker November Niner Michael "The Grinder" Mizrachi is headed to South Florida to help players work on their game. On Friday, Oct. 22, The Grinder will be leading a one-day Power Poker course at Studz Poker Club at the Calder Casino and Racecourse. Other instructors include Tristan "Cre8ive" Wade and Matt Graham.
"There isn't a better person in the world than South Florida's own Michael Mizrachi to teach his fellow Florida poker players how to win consistently at no-limit Hold'em, and there isn't a better place for them to learn than Studz," Chris Torina, CEO of DeepStacks Live said.
The $500 course will teach players advanced betting strategies, how to exploit table position, and how to calculate odds and outs. On Saturday, the $225 buy-in Grinder Classic will take place, giving players the opportunity to play against Mizrachi in a $25,000 guarantee tournament.
Sound like this is right up your alley? Check out DeepStacks.com for more.
BOOM
Jay Rosenkrantz and Taylor Caby have joined forces to produce a feature-length documentary about the online poker boom. The working title for the project is aptly entitled - BOOM. The two have teamed up with "From Busto to Robusto" filmmaker Ryan Firpo for this endeavor.
From Rosenkrantz's blog. "Our goal: to use key events to chronicle the evolution of online poker and examine its impact on the lives of a handful of online poker players from around the world. We'll be exploring the nuances of the subculture, from 2p2 to poker training sites, along with the psychological implications of the online poker lifestyle and the themes that have made poker so popular throughout time."
Currently, they are finishing up fundraising for the project, with the production budget coming entirely from high stakes poker players and leaders in the poker community.
Rosenkrantz's blog, Dangerlion.com has more.
WSOP on ESPN
It's time again for another episode of the 2010 World Series of Poker on ESPN. The first hour, beginning at 9:00 p.m. Tuesday, focuses on Day 7 and the final 48 players. In the second hour, it's all about momentum and the final 40 players who are inching closer to that coveted seat at the Final Table.
PokerStars.net Big Game
The PokerStars.net Big Game is coming at you this week with a fresh batch of episodes and a brand new Loose Cannon. Elizabeth Houston, a 28-year-old from British Columbia is taking that seat hoping to become the player with the most winnings at the end of the season so she can take home the $50,000 North American Poker Tour Passport.
She has quite the task ahead of her, however, with Daniel Negreanu, Joe Hachem, William Reynolds, David "Viffer" Peat, and PokerNews' own Tony G (who, we've been told we need to keep an eye on this week) all seated at her table.
Check your local listings for air times and learn how to qualify at TheBigGame.PokerStars.net.
Let's Make a Deal
At the Foxwoods World Poker Finals last week, a deal was made in the $400 Deep Stack. Now, normally when we say this, you assume that it was at the final table. Not this time. A 23-way deal was struck and the prize pool was split. The tournament attracted 956 players, with first place taking home $68,158, but the final 23 decided to forego that first-place prize and go for a chop. Fifth place through 23rd made $10,091 and second through fourth took home $12,000. The winner, John Agelakis, pocketed $12,011, yes, just $11 more than second place.
FoxwoodsLive.com has updates from all the events happening at the Foxwoods World Poker Finals.
Following us on Twitter is a really good idea. Another good idea? Facebook.