The Nightly Turbo: World Poker Tour Breaking Records, World Series of Poker Preview, and More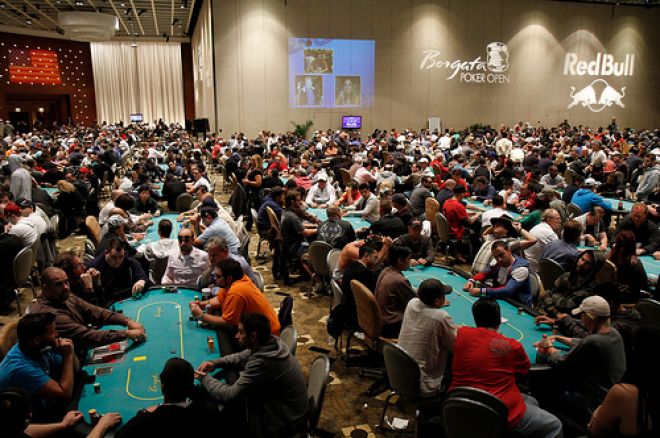 If you were looking for the day's top poker news stories, look no further, you've found them. Tonight on the lineup we have news on the record broken at the World Poker Tour Borgata, your sneak peek at tomorrow night's episode of the WSOP on ESPN, and more.
In Case You Missed It
Plenty of online poker tournaments took place yesterday; it was Sunday after all. Wondering what the results from some of the biggest tournaments on the virtual felt were? Check out the Sunday Briefing for more
The 2010 PokerStars World Championship of Online Poker is into its second week. Sunday, the $25,000 High Roller Heads Up event crowned a winner, as did two other WCOOP tournaments. We've got the results for you in the WCOOP Day 15 recap.
The PokerStars.net Million Dollar Challenge is back for its second season. Did you miss Sunday's episode because you were too busy grinding online? Don't worry, we didn't miss it, and that's how we can bring you this recap.
WPT Borgata Update
The World Poker Tour Borgata Poker Open kicked off on Saturday, and through two Day 1 starts, the field surged to 1,042 players - the largest field in WPT history. Plenty of well-known pros were part of the record-breaking field, including Vanessa Selbst, Tom Marchese, reigning champion Olivier Busquet, Mike Sexton, and Gavin Smith.
The chip leader heading into the second day of play, which kicked off Monday at 11 a.m. EDT, is Vincenzo Abate. Plenty of poker is still to be played, though, and the field remains massive with 641 players coming back, all with eyes on the title and $733,802 first-place prize. Busquet is still in the mix but will need to work hard to defend his title as he started the day below average with a chip stack of 29,100.
Coverage from the World Poker Tour Borgata Poker Open can be found on WPT.com.
Qualify for future WPT events and play in our $2,000 Deposit Freeroll at PartyPoker.
*Above photo courtesy of the WPT Blog.
For Your Viewing Pleasure
The2010 World Series of Poker on ESPN is back this week with Day 5 coverage. In the first hour, one of the chip leaders featured is online phenom Phil Galfond, giving producers the perfect story line: online young guns versus the old guard. In the second hour, it's more of the same as the field continues to be whittled down.
Rennick Sentenced
Last year, Douglas Rennick was indicted on charges of bank fraud, money laundering, and various other illegal gambling offenses, including processing $350 million for online gambling sites. This past May, he pled guilty to one count of processing offshore bets of U.S. citizens.
Just last week, Rennick's sentence was handed down: he received six months probation and had to forfeit $17.1 million to the feds — a particularly light sentence in relation to the crime. In New York, Rennick was looking at a maximum sentence of 55 years plus forfeiture of hundreds of millions of dollars. There is plenty of speculation as to why his sentence was so relaxed, but no one can say for sure. All we can say is, he better count his lucky stars.
Read more at CompatiblePoker.com.
A Donk Stops by TwoPlusTwo
Thanks to the Cake Poker Blog for this little gem. The dialogue between these two animated dogs just brought us a laugh this morning and we couldn't keep it to ourselves. Enjoy.
"Phil Ivey is the Tiger Woods of poker. You know why people always compare them?...Because they both have a last name that is something green that grows in the ground."
Britain's Best
PKR has been named the U.K.'s most successful technology company in the 2010 Sunday Times Tech Track 100. Tech Track 100 ranks Britain's private tech companies with the fastest-growing sales over the last three years. From 2006 to 2009, PKR's sales had a yearly growth of 356.44 percent, with revenues increasing from £347,000 to over £33,000,000.
"We're absolutely delighted to be ranked number one in the 2010 Sunday Times Tech Track 100, it's a hugely prestigious award. To come out ahead of some truly world class technology companies is a testament to the hard work that our talented team have put in over the past three years," PKR CEO Malcolm Graham said.
Find out more at FastTrack.co.uk, and sign up for a PKR account today to take advantage of exclusive freerolls and more.
That's A Wrap!
The PokerStars Asia Pacific Poker Tour Auckland is over, and Danny "Brotha D" Leaoasavaii took home the title and $123,058 first-place prize. In case you missed any of the videos from Auckland, Lynn Gilmartin is here with the highlights.
Like us on Facebook, and follow us on Twitter for up-to-the-minute news.