The PokerStars.net Million Dollar Challenge: Cupini Defeats Williams, Falls to Negreanu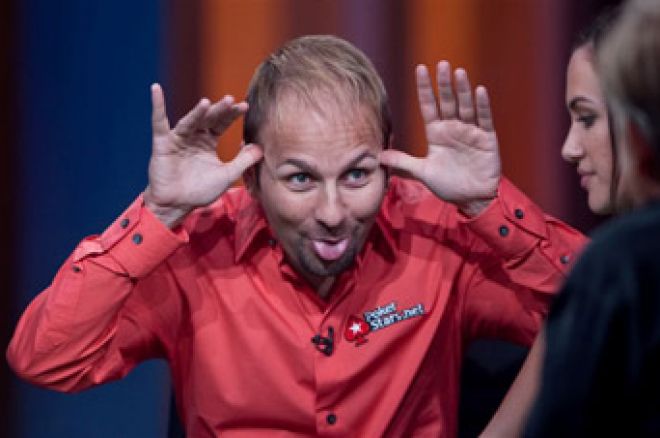 In the second-season premiere of the PokerStars.net Million Dollar Challenge, spunky single mom Jessica Cupini made her first trip to Las Vegas to take on celebrities and poker pros alike in pursuit of the million-dollar grand prize. The 21-year-old juggles work, a college course load, and caring for her 1-year-old son, Luka, back home in West Virginia, and arrived on set hoping to win enough money to pay off her student loans and save for her son's education. To get there, she'd have to win her way through three heads-up matches.
How it works: The PokerStars Million Dollar Challenge has three rounds of play. In Round 1, the challenger plays heads-up against a celebrity. Daniel Negreanu is on hand at the table, and although he can give the challenger advice, he cannot see her hole cards. In Round 1, the challenger also gets one time out, where she can pause the action and have a private pow-wow with Negreanu. A Round 1 win earns the challenger a trip to the Bahamas.
In Round 2, the challenger faces a Team PokerStars Pro. This time, Negreanu coaches the challenger from an isolation booth, where he can see the board cards and her hole cards. The Team Pro, however, has two opportunities to push a button and invoke the "Dome of Silence," cutting off the challenger's communication with Negreanu for the rest of the hand. If the challenger beats the Team Pro, she wins $25,000 and is faced with a choice — keep the money or play heads-up against Negreanu for $100,000. If she beats Negreanu, not only does she win $100,000, but gets a seat at the season-ending final table, where $1 million is up for grabs. If Negreanu wins, he gets $10,000 for the charity of his choice.
Awwwwww: Cupini brought one of her son's favorite toys as a good luck charm. The orange block also made a good card capper.
Cupini tangoes with Burke: Cupini's first-round opponent was Dancing with the Stars host Brooke Burke (love her silver sequin jacket), who was playing for Chrysalis of Los Angeles. Although Cupini lost some ground early in the match, she smartly called a time-out when she picked up pocket tens in the big blind after Burke limped in. Negreanu advised her to move all-in and go for the double-up. Cupini shipped her stack in and and Burke called with king-seven. Cupini's tens held up on the
board and she doubled up to 32,000 leaving Burke on 8,000.
On the next hand, Cupini picked up
, and set Burke all-in. She called with
, but Cupini hit top pair when the flop came down
. Burke couldn't find an ace, the turn and river falling the
and the
. An elated Cupini let out a high-pitched whoop and stamped her ticket to the Bahamas.
Quote of the week: "Are you a Justin Beiber fan? That hair is just beautiful. Those are some locks right there." - Daniel Negreanu
Cupini wamboozles Williams: In Round 2, Cupini faced WSOP bracelet winner and reigning WPT World Champion David Williams (love the houndstooth bow tie) who was playing for the Yele Haiti foundation.
The pivotal hand in their match started off with Cupini picking up
on the button. Negreanu told her to open for a raise, but instead she limped in. Williams checked his big blind with
. Cupini hit two pair on the
flop. Negreanu told her to bet about half the pot but instead she bet twice the pot. The move flummoxed Williams and he hit the "dome of silence" button before making the call. The turn was the
. Williams checked and Cupini bet 3,000.
"I wonder what your kicker is," Williams said as he made the call.
The river was the
and Williams checked again. Cupini bet 5,000.
"What do you have?" Williams asked.
"You're supposed to know that!" Cupini laughed.
Williams folded and Cupini took the pot, taking a 3-1 chip lead over Williams.
On the next hand Williams looked at one ace and shoved. Cupini looked down at
, Negreanu told her to gamble and make the call. She did, and Williams showed
. Cupini's pocket threes held up on the
and she sealed up a $25,000 win.
Gamboooool!: Cupini decided to go for it and play Negreanu for $100,000. Although she won the first pot after flopping top pair, she ran into trouble when Negreanu started making some hands. In their final hand, Cupini limped in with
and Negreanu checked his option with
. Cupini whiffed on the
flop while Negreanu hit an open-ended straight draw. Negreanu checked and Cupini checked behind. The
on the turn made Negreanu's straight. He checked, Cupini moved all-in and Negreanu snap-called, showing the straight. Cupini needed a queen to chop the pot, but the
fell on the river.
"I still love you," Cupini said as she gave Negreanu a hug. For his win, Negreanu earned $10,000 for the Make-a-Wish Foundation.
The PokerStars Million Dollar Challenge airs Sundays after NFL action on FOX. Check your local listings.
Think you'd kill it on the Million Dollar Challenge? Sign up for a PokerStars account today and learn how to qualify for free. You can also play in our $10,000 Sunday Million Freeroll . This is the fourth big Sunday Major freeroll we have had in as many months and this time the qualification target has been slashed.