The Nightly Turbo: Mizrachi's Tax Troubles, Rennick Pleads Guilty, and More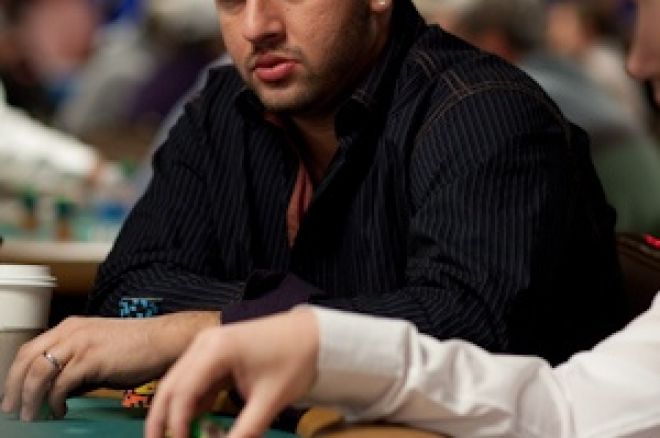 Michael Mizrachi is in a bit of hot water with Uncle Sam, Douglas Rennick has pleaded guilty to processing offshore bets for U.S. citizens, and more in tonight's Nightly Turbo.
In Case You Missed It
The World Poker Tour Grand Prix de Paris Main Event has reached a final table. If you want to know who made it, you'll have to read this recap.
Gus Hansen has had a swingy year in the nosebleeds on Full Tilt Poker. Is he in the red or back in the black? Find out in the Online Railbird Report.
We like bringing you strategy tidbits every now and again. This week, Shaun Deeb talks to us about representing hands.
The PokerStars Spring Championship of Online Poker is winding down. We've got the Day 11 results here.
The World Series of Poker is just a few weeks away. Plenty of you will be making return trips to the Rio, but there are some that are first timers. Jim Collopy is one of them, check him out in the latest WSOP Rookie Roundup.
Pleading Guilty
Back in August, Douglas Rennick was indicted for conspiracy and bank fraud. It was alleged that he laundered $350 million for Internet gambling companies. Just recently, Rennick entered a guilty plea to one count of processing offshore bets of U.S. citizens.
Rennick described his crime in court as "A business that transferred money from offshore gaming sites to American players within the Southern District of New York." Rennick's lawyer, Michael Pancer, said that his client agreed to give up $17.1 million and is facing anywhere from six to 12 months in prison when he is sentenced on September 15.
BusinessWeek.com has more.
Video Corner
This is the place where we like to bring you interesting videos. Unfortunately, we can't embed the video we want to show you today, but we can tell you about it.
Ilari "Ziigmund" Sahamies recently did an interview with PokerStatic.com. It's basically pure gold. With lines like "I'm so f***ing bad at no-limit. I don't even know the rules," when asked if he would play Isildur heads-up in no-limit hold'em and "Yea she was, but now I have many hot," when asked if his ex-girlfriend was hot, it would be ridiculous for you not to watch it.
Check it out at PokerStatic.
Follow us on Twitter for up-to-the-minute news and be sure to add us on Facebook.
Miz-ed Taxes
According to the Sun Sentinel, Michael Mizrachi is not in the good graces of the Internal Revenue Service. According to the story, Mizrachi owes $339,000 in federal taxes and is facing foreclosure.
According to Mizrachi, his accountant was "doing a bad job." He has since fired his accountant and "hired a better one," and is "working on [settling the liens]."
The lien from the IRS is for earnings from 2005 to 2007. As for the foreclosure, a condo Mizrachi owned as a rental property was sold recently via online auction and his Miramar home is also up for sale. Both properties were assessed at half the purchase price. He estimates he lost around $600,000 in the housing market.
"Obviously, I'm a better poker player than a businessman, but I'm getting better," he said. "I've smartened up. We'll be OK," he said.
The Sun Sentinel has more.
Vegas for the Summer
PokerNews and 888 Poker want to get you to Las Vegas this year for the World Series of Poker Main Event. If you sign up for an 888 Poker account or have previously signed up for one, you're eligible for four freerolls throughout May, the last one being a one for $16,000 WSOP package. This all assumes you've earned the required points, of course.
Time is running out to qualify for these tournaments. You only have until May 19 to qualify!
May 20: $1,000 freeroll - must have earned 20 points
May 21: $3,000 freeroll - must have earned 50 points
May 22: $5,000 freeroll - must have earned 80 points
May 23: $16,000 WSOP Package ($15k Main Event package + $1k cash added) freeroll - must have earned 200 points
Not only that, but 888 is giving you 8 ways to win one of 88 packages to the WSOP, as well. There are 41 Main Event packages up for grabs and 47 packages available for Event #54.
In the Bayou
The last stop on this season's World Series of Poker Circuit is under way at Harrah's in New Orleans and running through May 19. Attendance is up at the Circuit stop this year by 16 percent from last year. Three of the first five gold-ring events attracted over 300 players.
Results So Far
Event #1 - $300 + $40 NLHE: Ryan Eriquezzo
Event #2 - $500 + $50 NLHE: Chris Gamboa
Event #3 - $500 + $50 NLHE: Jimmy Nickens
Event #4 - $500 + $50 NLHE: Steen Hustoft
Event #5 - $300 + $40 NLHE: Michael Scott
Event #6 - $500 + $50 NLHE: Jean-Sebastian Laurent
Event #7 - $500 + $50 NLHE: Steve Grant
Event #10 - $300 + 40 NLHE: Richard Toth
WSOP.com has more.