The Nightly Turbo: Vanessa's New Show, FTOPS, and More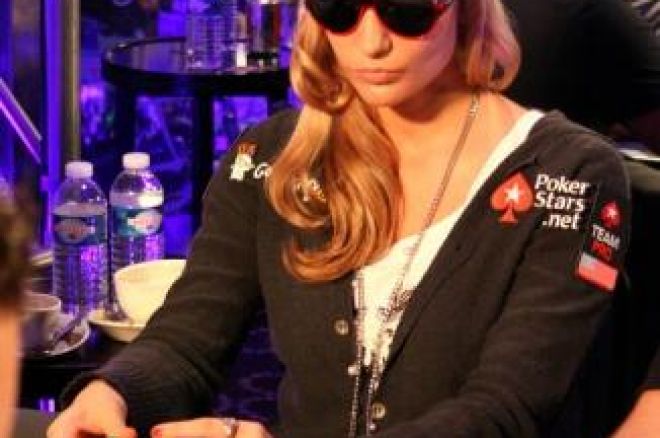 The Nightly Turbo is bringing you the day's top poker news stories. It's the best place to get the news because it's nicely packaged and you don't have to click around too many times. We're just trying to make things easier for you since we know you're probably eight-tabling while you're reading this.
In Case You Missed It
What does the movie "The Breakfast Club" have to do with poker? Well, if we told you, you wouldn't read From the Big Screen to the Final Table this week and where's the fun in that, really?
Did you remember to watch the World Series of Poker coverage on ESPN last night? We did remind you after all. But just in case you forgot or were too busy, we have a recap for you. You're welcome.
Yesterday we brought you the first part of Bankroll Builders Volume 3. Rather than leave you hanging, because that's not nice, we've brought you Volume 3, Part 2. You're welcome for this as well.
Darvin Moon takes a walk down memory lane with Matt Waldron when they discuss some moments and key hands from the World Series of Poker. Take a walk with them in Darvin Moon vs. Billy Kopp: The $45 Million Hand Revisited.
It's Not Easy Playing Poker Under Water
Scotty Nguyen gave us a couple of laughs today when we saw an outtakes video from his commercial shoot on RawVegas.tv. If you want to see a grown man on a tricycle go head first into a pool, well, you know where the play button is on the video below.
We say it all the time, but we're not going to stop until you follow us on Twitter. How else are you getting your up-to-the-minute-news?
Vanessa's New Gig
According to her Twitter (@VanessaRousso), Vanessa Rousso is one of four panel judges on a new television show on E! called "Bank of Hollywood."
Excited 2 announce I will be one of 4 panel judges on E!'s new Bank of Hollywood show where any1 can make a case 4 $$ 2pursue their dreams.
So we did a little digging and found out the show will follow people while they pitch proposals to different celebrities in an attempt to score some money. The celebrity panel will include Rousso, Candy Spelling, Wilhelmina Models president Sean Patterson, and Pussycat Dolls singer Melody Thornton.
"This series is centered on the concept of innovative philanthropy. We're giving real people the opportunity to garner life-changing sums of money and, at the same time, fulfilling our judges' desire to make a difference in the lives of others — one person at a time," said E! programming executive Lisa Berger. "The panelists' big personalities and strong opinions, on top of requests that run the gamut from heartwarming to downright peculiar, are sure to keep things heated and always unpredictable."
"Bank of Hollywood" is based on U.K. television show "Fortune: Million Pound Giveaway" and will be produced by Ryan Seacrest Productions with Fever Media and BBC. It premiers on Dec. 14 at 10 p.m. EST.
To find out more about the show, head on over to RealityTVWorld.com.
Ziigmund Showing Love
We're all for prop bets, especially when other people have to do crazy things and we get to sit back and watch. Ilari "Ziigmund" Sahamies put a lot of faith into his favorite Finnish hockey team a few weeks ago, only things did not go as he planned.
While at the HIFK vs JYP (we hope these initials mean something to someone out there because we know nothing of Finnish hockey) game with some friends, a prop bet was devised that resulted in people getting tatted up. If JYP wins, Ilari and his friend had to get HIFK tatoos and vice versa. At the time the bet was made, the two teams were tied 3-3.
You can guess what happened from there. JYP won, and Ilari and his friend are now sporting HIKF tattoos. When asked what he thought about the tattoo, Ilari said, "It's cool. I've been a fan since I was nine years old so, I don't mind at all." That's one way of looking at it.
Read more at CoinFlip.com.
PokerStars EPT Season 6
The second half of the PokerStars European Poker Tour Season 6 has been announced. There are six events remaining and they will take you from Scandinavia to the French Riviera, that is, if you're game.
A new event has been added to the lineup. EPT Snowfest will take place in the Austrian Alps at the Saalbach-Hinterglemm ski resort. So you can enjoy a couple of runs down the slopes before sitting down and running over your opponents. If you qualify for this €3,750 buy-in event on PokerStars, you'll get a six-day ski package that includes lift passes, skis, boots, and poles. Poker and skiing? Where did we write down that PokerStars password of ours?
Second Half EPT Schedule
EPT Portugal - November 16 -21
EPT Prague - December 1 - 6
PCA - January 4 - 14
EPT Deauville - January 20 - 25
EPT Copenhagen - February 16 - 21
EPT Germany - March 2 -7
EPT Snowfest - March 21 - 26
EPT San Remo - April 15 - 21
EPT Grand Final - April 25 - 30
The PCA shows up on both the EPT and LAPT tournament schedules, but don't get flustered. It's the same tourney.
Qualifiers are running on PokerStars, so if you sign up through PokerNews you can take advantage of the bonus we offer.
FTOPS XIV
It's that time again. Starting today and running through Nov. 15, you have a shot at getting that gold jersey avatar on Full Tilt that you've been eyeing. The Full Tilt Online Poker Series is running its 14th installment over the next two weeks.
There are 25 events on the schedule with buy-ins ranging from $100 to $2,500. Various events are slated including a seven-game $200 buy-in hosted by David Chiu, a $500 H.O.R.S.E. event hosted by Huck Seed, and a two-day event on Nov. 14 with a $2 million guarantee. The $500 Main Event is on Sunday, Nov. 15 at 18:00 EST and boasts a $2.5 million guarantee.
As of now, Tom Dwan is not hosting any events but there are a couple spots open without hosts, so we'll have to wait and see. (If you're curious about this, you clearly missed this.)
You can't get that gold jersey if you don't play. What are you waiting for? Sign up for a Full Tilt Poker account today.