The Nightly Turbo: Another Poker Robbery, A Harrah's Lawsuit, and More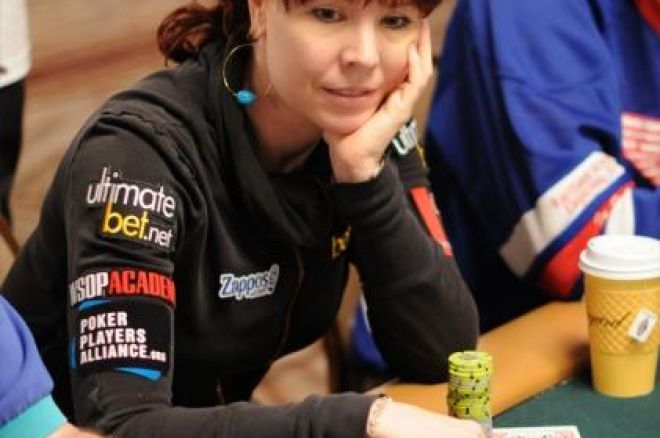 We know how valuable your time is. It's a good thing you have us to search the Internet and find poker's top stories of the day. Now you can get back to cracking your opponent's aces and working on your game sooner.
In Case You Missed It
Yesterday we brought you Part 1 of Building Your Bankroll: Heads-Up Razz Sit-n-Go's. It wouldn't be very nice of us to leave you hanging, would it? Here is Part 2 for all you Razz players looking to add to your roll.
ESPN.com's "Inside Deal" is a fan favorite. We know you were wondering what was going to happen to the show after the World Series of Poker Main Event champion is crowned. That's why we sat down for Five Minutes with ESPN.com's "Inside Deal" Host Andrew Feldman to find out.
If you missed last night's World Series of Poker Main Event coverage on ESPN, we don't feel bad. After all, we did remind you yesterday, and, if any night was a "must watch," it was last night. We found out that Phil Ivey is just like the rest of us — human. Check out the recap to see what you missed.
The "durrrr" Challenge was up and running last night. Maybe it's because we called them out here and here. Maybe not. We don't care. They're 2,040 hands closer to being done than they were on Monday. See how Dwan and Antonius fared in The "durrrr" Challenge: Four Sessions + 2,000 Hands.
Another Lawsuit
It seems like every time we turn around, someone else is suing a major poker entity. This time, it's not Full Tilt that's being sued, it's Harrah's.
Sally Ann Boyer, 2007 World Series of Poker Ladies Event champion, is suing Harrah's for using her name and likeness for advertising without authorization and for falsely claiming she endorses the World Series of Poker Academy. She has also named Post-Oak Productions, doing business as the World Series of Poker Academy, in the suit.
Boyer claims that the WSOP Academy has been running ads with a photograph of her after winning the Ladies Event with the quote, "The quickest way to your WSOP Bracelet!" Not only is the quote attributed to her, but the ad also calls her an "Academy Graduate." Well, she didn't graduate, not from the WSOP Academy anyway.
"Boyer never said nor authorized a statement on her behalf to the effect that participating in the WSOP Academy was 'the quickest way to your WSOP Bracelet!' or intimating that her success in the tournament was attributable to her experience attending one day of a two-day WSOP Academy event," alleges the lawsuit.
She is seeking unspecified damages, a restraining order, an injunction and recovery of profits that were associated with the use of her name and likeness.
The Las Vegas Sun has more.
PokerStars Super Tuesday
Last night, the PokerStars Super Tuesday attracted 353 players. The $1,000 + $50 buy-in had a prize pool of $353,000; $103,000 more than the $250,000 guarantee. Scott "SCTrojans" Freeman came away victorious and took home $68,305.50.
PokerStars Super Tuesday Results
1. Scott "SCTrojans" Freeman - $68,305.50
2. johnnykran - $51,185
3. dnallvitande - $38,830
4. vishnu24 - $29,122.50
5. woft - $20,121
6. Joshua "pbdrunks" VanDuyn - $15,532
7. shep2k - $12,002
8. SixthSenSe19 - $8,472
9. masterleex - $6,177.50
Notable Finishes: tysonduke23 (18th - $3,530), Shawn "slimshaggy" Luman (28th - $2,294.50).
You can't win if you don't play. Sign up for a PokerStars account today.
Keep Your Game a Secret
We don't know where to begin with this one. Just because private card games are legal* in Ohio doesn't mean you should advertise them all over the Internet. If you do, you'll probably have robbers with assault rifles burst through your door like the Kool-Aid man (OK, maybe not exactly like that) and steal $11,000 after making all the players take their pants off. We've heard this last part before, and we never really quite understood it.
If you didn't figure it out already, that's just what happened at a Cleveland home game on Monday. The police report states that one of the players went outside to smoke and was met by a man holding a gun. You know where it went from there. Thankfully, no one was injured. This robbery comes six months after $75,000 was taken from a home game in Solon, a suburb of Cleveland.
*By legal we mean if the host of the game doesn't charge a fee or take a cut of the winnings — because no one does that.
Read more at the blog.Cleveland.com.
Check Your Cards
We like leaving you with a video or two. Maybe this one will teach you a valuable lesson: make sure you check your cards. Oh, and even the greatest can make mistakes.
We tell you every day to follow us on Twitter. So why aren't you yet? Also, sign up for the Nightly Turbo newsletter below. It's like a Christmas present in your inbox every day.
Win a WPT Celebrity Invitational Seat
ClubWPT.com has been confirmed as the title sponsor of The Annie Duke Celebrity Poker Night (CPN) charity tournament benefiting the Decision Education Foundation (DEF).
The event is set to take place November 19 at Commerce Casino. The event is open to the public and the buy-in is $330. There will be $100 rebuys as well as a one-time $100 add-on.
Ali Nejad, Maria Ho, Tiffany Michelle, Scott Ian, and Joe Sebok are just a few of the players scheduled to attend. The top ten finishers in the event will receive prizes and the grand-prize winner will go home with a seat in the World Poker Tour Celebrity Invitational event in early 2010.
To find out more head on over to Greasiewheels.com.