The Nightly Turbo: Ziigmund on Isildur1, World Series of Poker Circuit Record, and More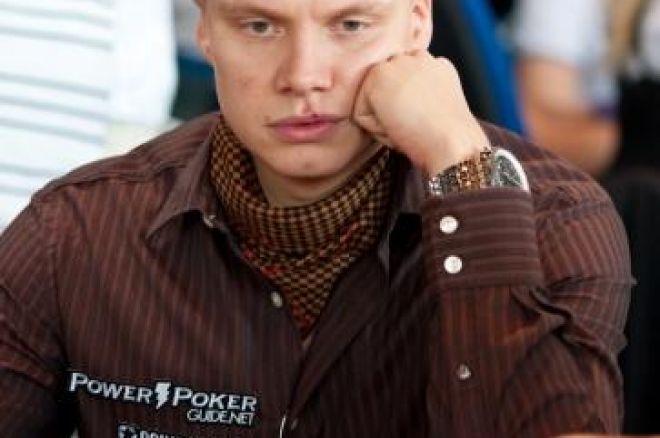 It's Friday and we're just as ready for the weekend as you are. We're sending you into the weekend with Ilari Sahamies' views on Isildur1, a record on the World Series of Poker Circuit, and more. What else are you going to talk about at the poker table? Tiger Woods?
In Case You Missed It
Yesterday we discussed the positive effects that the high-stakes online poker games have on the industry in Part 1 of Are the High-Stakes Games Getting Too Big?.
Today we take a look at the other side and look at the negative effect the massive stakes have on the industry in Part 2.
Maybe koalas, the Opera House and summer aren't enough to convince you that heading to Australia in January for the 2010 Aussie Millions is a good idea. Well, we're going to try a few more temptations. Check out our Top 5 Reasons to Qualify for the Aussie Millions, and we'll bet you'll reconsider.
The first stop on the PokerStars United Kingdom Ireland Poker Tour is under way. Over 250 players hit the felt for the first event. Eight more events are on the schedule. Find out more in PokerStars Launches UKIPT in Galway.
Breaking Records on the Circuit
The World Series of Poker Circuit is in Atlantic City for the fourth stop on the 2009-2010 schedule. During Event 2, the $500 + $60 no-limit hold'em event, Doug "Rico" Carli made it a bit tougher for someone to catch up to his record of most WSOP Circuit cashes. Carli now has 40 cashes and the next closest competitor, Dean Shultz, comes in with 21. Carli is known on the circuit as the best all-around player you've never heard of. You just let your results speak for themselves," Carli said. "I don't wear my rings much, the only time I might bring one out is if I want to use it as a card protector."
During Event 3, the $300 + $40 no-limit hold'em event of the Atlantic City WSOP Circuit, thoroughbred racer Mark "pegasus" Smith tied Men Nguyen's record of four WSOP Circuit wins. The two now share the record for most rings in Circuit event history. Smith began playing poker in 2004. "Five years ago, I never even heard of Texas Hold'em," Smith said. "A buddy of mine invited me to a home game. I went over there and had a nice time though they beat my brains out. But I went back and the more I went, the better I got."
Smith has high aspirations and wants to take a page out of the "Take Doug Carli" book. "No one will be able to catch him for the most cashes, but now he's two rings behind me. Maybe at some point in time, nobody will be able to catch me on the rings," Smith said.
You can't win a ring if you don't get over to a Circuit stop. Find out what's next on the schedule at WSOP.com.
CNBC on Illegal Gambling
On Dec. 16, CNBC will air a documentary on illegal gambling. Melissa Francis takes viewers inside the underground high-stakes gambling world. The one-hour program takes a look at everything from sports betting to high-stakes poker. The documentary also talks to Jay Cohen, an Internet entrepreneur who started an offshore gambling Web site and became the first American prosecuted for running an online bookmaking operation. They also look at both sides of the "legalizing gambling" debate.
Find out more at CNBC.com.
Antonius Talks Isildur1
Patrik Antonius sat down with Phil Gordon recently to discuss high-stakes poker and everyone's favorite mystery, "Isildur1". Antonius says Isildur1 is dangerous because he looks at the game in a different way and is very aggressive. Antonius talks about playing against Isildur1, the million dollar swings, and studying and analyzing hand histories.
You can watch the video at the Full Tilt Poker Academy.
Follow us on Twitter for up to the minute news and be sure you become a fan on Facebook.
Missing DNA or Insanity?
"Isildur1." The mystery Swede that everyone's talking about. We were at the poker table the other day and someone asked who he was. Before Isildur1 burst onto the scene, the action in the nosebleeds on Full Tilt Poker was fun to watch, but now it's out of control. Several records have been broken including largest pots played online and most recently, the largest winning single online poker session. Ilari "Ziigmund" Sahamies was recently on a Finnish radio show and when asked about Isildur1's fearlessness, said, "He's playing 9 tables at once against Patrik, Ivey and durrrr heads up - the guy must be missing a chromosome."
Sahamies also said that he believes Isildur1 is Viktor Blom and although most people agree with him, Blom has denied he is the mystery man. Sahamies is up about $1 million on Isildur1, but even he thinks the games have "gotten out of hand."
"I don't have the roll to play this kind of game, but the kicks are so awesome," he said. It seems we're not the only ones talking about how crazy the high-stakes online games have gotten.
Read more at CoinFlip.com.
UltimateBet Online Poker Championship
The UltimateBet Online Poker Championship schedule was released recently. There are 18 events lined up, two of which have a $1 million guarantee. In addition to the 18 UBOC events, 16 Mini-UBOC events are planned. The series begins Jan. 20 and runs through Jan. 31. Over $4 million in combined tournament guarantees and competition prize money will be up for grabs.
"With UBOC heading into its fourth year and Aruba coming up to year nine, UB now has two amazing series. Whether you are a diehard poker player or a weekend warrior, UBOC and mini UBOC offer something to excite everyone," stated Annie Duke, UB's Cardroom Consultant. "Just as Aruba awarded millions in tournament prize money, UBOC 4 is about to break records again, and this year you don't even have to make a final table to cash big."
Sign up for a UB account today and get ready for the competition.