The Nightly Turbo: Piece of Taylor, World Series of Poker Circuit, and More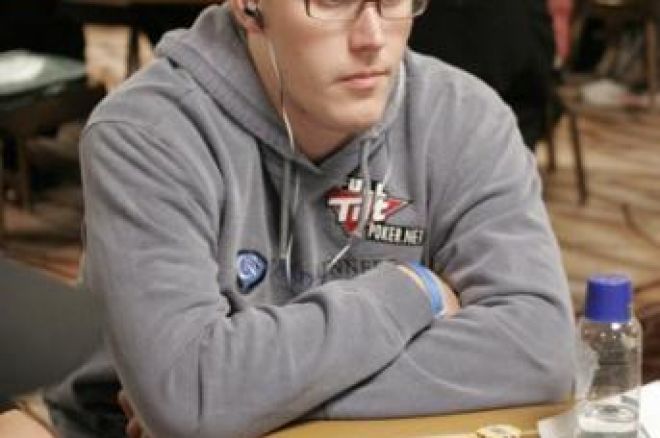 Is there a better way to cure the mid-week blues than The Nightly Turbo? We don't think so. So here is you're daily dose of the day's top poker news stories.
In Case You Missed It
It's movie time again. The movie of the week is Role Models. What does it have to do with poker? We can't get into it here. There is more news to be written. From the Big Screen to the Final Table has it all.
The nosebleed regulars on Full Tilt can't get enough of the action from the international man of mystery, Isildur1. He's beating Tom "durrrr" Dwan to a pulp, but have no fear, Patrik Antonius is here. Not that it will help Dwan out; he's down about $3 million to Isildur1. The Online Railbird Report has who's up and who's down and just how much Antonius has taken from the mystery man.
We don't like reminding you of things too often. If we say it once, you should remember, but it wouldn't be nice for us to bring you Part 2 of the Interview with Joe Sebok and Scott Huff and not remind you that their show Poker2Nite has its premiere tonight on FSN. See what we did there.
Full Tilt Million Dollar Challenge
Tom "durrrr" Dwan is running bad. There's no other way to put it. Maybe it's the mysterious Swede that has durrrr all mixed up, or maybe downswings really do occur. Trust us, they happen to us all the time.
The Full Tilt Million Dollar Challenge is under way and Dwan took on Marcello "luckexpress" Marigliano in the opening match. The two bought in for $250,000 and when the final hand was dealt, Marigliano came out the victor by $22,500.
Of winning, Marigliano said, "In the end I won a small amount but I'm happy, though, as I won with bluffs. He raised a lot preflop and you have to play tight but I made some good moves and I'm happy I proved I can play with Tom."
"It was a really aggressive match," Dwan said. "There was a time when Marcello folded 20 hands in a row, then the next hand he picked up a gutshot and decided to win the $150k out there. But he made two really good reads and without either one of them he ends up down $50k or so but instead he's up. They were key hands, really, and there were some other big hands but it was an interesting match – of course I wish I'd won."
MatchroomSport.com has more.
Eastgate in Portugal
The PokerStars European Poker Tour Vilamoura is under way.Gloria Balding caught up with the former WSOP Main Event champion, Peter Eastgate, and talked to him about how it feels to be former and why he's wearing a PokerStars Team USA patch.
Twitter. Facebook. Newsletter. If you're not following, friending, or receiving, you need to be. Go do it. Now.
World Series of Poker: 2010
Speaking of the World Series of Poker, it's never too early to start looking ahead. Even with the economy in the situation it's in, the 2009 WSOP saw an increase of 2,000 registrants from the 2008 WSOP. And don't forget the players who were shut out of the Main Event on Day 1d. The WSOP is always looking for ways to increase participation.
This year, numbers for the bigger buy-in tournaments decreased while players were coming out in droves for the lower buy-in events. "Price yourselves right and the people will come," said Seth Palansky, WSOP spokesperson. "We do expect to offer a better variety of buy-ins to meet the demands of the marketplace."
The WSOP team is also making preparations to avoid the shutout that occurred this year. They've also decided that the Main Event will either begin after July 4 or take a break for the holiday. The WSOP will also revert back to B.C.P. (Before Commissioner Pollack), as the unexpected resignation happened late last week.
"I think the staggering thing is how resilient the poker community was in relation to the global economy," Palansky said. "We did prepare for a down year in the number of participants, based on how the economy was. We thought that it would have a bigger impact on us than it did."
Read more at the LasVegasSun.com.
Call the Clock
The folks over at bwin poker are trying to make your home games run a little smoother. They have just released a tournament clock app for your iPhone. The app has two modes, Quick and Expert. Quick mode allows users to run a straightforward tournament. Expert mode gets more complex allowing you to insert pictures of players and adjust blind levels to adequately take advantage of your buddies when needed.
"Setting up poker tournaments should be easy and fun, just like the iPhone. We will continue to keep our sights set on bringing the most user-friendly applications to the mobile world for whatever platform people are using", said Carl Klingberg, managing director of bwin Games AB.
Home game a few days away but still have the poker itch?Why not sign up for a bwin account and work on your game a little.
WSOP Circuit: Harvey's Lake Tahoe
The third stop on the World Series of Poker Circuit has come to an end. Poker pro Matt Keikoan has won the WSOP Harvey's Lake Tahoe Main Event. This is obviously not Keikoan's first rodeo; the poker pro also holds a WSOP gold bracelet from a 2008 $2,000 buy-in no-limit hold'em event.
The Main Event attracted a modest field of 64 players and a prize pool of $299,400. Keikoan took home $106,435 for the win. "I live only about three hours away from here," Keikoan said after his victory. "I used to come here all the time on vacation when I was a kid. I really love it here at Lake Tahoe," he said. "I'm really excited to win, but I'm also really tired. There were some good players here. But I always feel comfortable playing at Lake Tahoe because I have come here to the Circuit each year it's been held. It's kind of a home-field advantage for me, I believe."
The next stop on the WSOP Circuit is Atlantic City. To find out more head on over to WorldSeriesofPoker.com.
Piece of Taylor
No, Phil Ivey is not selling himself on the Las Vegas Strip, and he's not really selling a piece of his Main Event action either, but thanks to Full Tilt you do have the chance to win a piece of his World Series of Poker Main Event. Wait, that's over. Isn't it?
Not quite, Taylor "Green Plastic" Caby, one of the founding members of CardRunners, is the newest poker player giving us a piece. He recently final-tabled the Full Tilt Poker Million and will soon battle James Akenhead, Luke "FullFlush" Schwartz, Dag Mikkelsen, Juha Helpi, Peter Vasiliou and an online qualifier. The Dec. 4 final table has a $500,000 first-place prize.
CardRunners is giving away one percent of Caby's payout. You don't even have to fight for it on the felt like you did for Ivey's piece. The winner will be chosen at random from everyone who registers by Dec. 3. Depending on what place Caby finishes, you could win up to $5,000.
Find out more at CardRunners.com.