The Nightly Turbo: PCA Schedule Announced, Vamplew Does a Double, and More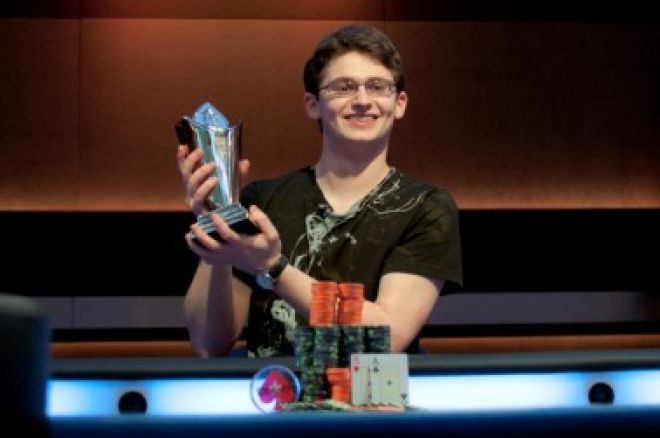 If you were looking for the top poker news stories of the day, then you came to the right place. The PokerStars Caribbean Adventure schedule has just been released, so we've got that, the scoop on EPT winner David "Vampy" Vamplew's other win, and more.
In Case You Missed It
Wondering what has been going on on the tournament circuit in the last week? This Week in Tournament Poker has the results.
With the PokerStars WCOOP over, we take a look at some of the players who have had standout results in WCOOPs and FTOPS past. Wondering who is on top of the list? Check out FTOPS and WCOOP Final Table Leaderboard for more.
"Durrrr" Challenge number two fired up Tuesday for a quick session. Find out who went home with the win in this "durrrr" Challenge recap.
ESPN's coverage of the WSOP aired Tuesday night. You might have missed it, but we didn't. Here's the recap.
Fun in the Sun
One of the tournament circuit stops on everyone's agenda each year is the PokerStars Caribbean Adventure. Why? The Bahamas, that's why. Well guys and gals, go ahead and call your travel agents now because PokerStars has released the PCA schedule. The PCA will once again be returning to the Atlantis Resort in the Bahamas. The ten-day festival kicks off January 7 and runs through January 16.
Over 50 tournaments are on the schedule with a wide range of buy-ins, formats, and disciplines. One of the highlights? A $100,000 buy-in Super High Roller event. Yes, you read right: 100,000 bucks. For those of you who don't have the roll for that, you can check out the $25,000 buy-in High Roller. There's plenty more where that came from too, but we like to keep things short and sweet around here.
If you're looking for the entire PCA schedule, visit PokerStarsCaribbeanAdventure.
We have just announced three $15,000 Sunday Million Freerolls and three $2,000 PCA Freerolls with PokerStars. You can win a ticket to a tournament with a life-changing prize pool for free, but only with Club PokerNews!
FTOPS XVIII Announced
The schedule for the eighteenth Full Tilt Online Poker Series has been released and over $19 million is guaranteed over 34 events. It all kicks off November 10 at 21:00 Full Tilt Time (or EST) with a $200 + $16 no-limit hold'em event with an $800,000 guarantee.
The Series culminates with the $600 + $40 Main Event on November 21, complete with a $3 million guarantee. There are seven Rush Poker tournaments on the schedule, as well as knockout, shootout, turbo, and superturbo events.
Also, if you're one of the unfortunate bubble boys in any FTOPS event, you'll be automatically entered into the "Bouncebackability" freeroll that will take place on November 27. The winner of that will receive entry to the Main Event of the FTOPS XIX.
Does all this sound up to your speed? Well, you know you have to have an account to play, so why don't you go ahead and sign up for one now.
Double Double
The PokerStars UK & Ireland Poker Tour held its Grand Final in conjunction with the European Poker Tour London stop, which meant that the winner of EPT London earned a seat in the Champion of Champions. The Champion of Champions event took all the winners of Season 1 of the UKIPT and had them play against each other for the chance to win a seat to every stop on Season 2 of the UKIPT.
David Vamplew was crowned winner of the EPT London on Monday, besting the largest field ever in U.K. history. On Tuesday, he did it again. Only this time, he had to beat eight other players. Vamplew took on Padraig Parkinson, Joeri Zandvliet, Gilles Augustus, Andy Couldridge, Femi Fakinle, Jamie Burland, Nick Abou Risk, and Max Silver.
"It's pretty good; after yesterday, it's the icing on the cake," Vamplew said about winning two tournaments in two days.
He now gets a seat in every UKIPT Main Event in Season 2, and he'll be able to show his stuff, beginning December 2 in Galway.
Read more about Vamplew's win on the PokerStars Blog.
Hitting the Nuts
Well this looks interesting. Hitting the Nuts is a new poker movie that is having its debut at the Cincinnati Film Festival this month. It was written and directed by Joe Boyd and is the "true" story of the annual illegal poker championship in Scott County, Indiana.
According to the website, "Hitting the Nuts is poised to become the Definitive comedic satire of the poker phenomenon. This project strives to do for poker what Caddy Shack did for golf, Major League for baseball, and Strange Brew for hockey." If you're in Cincinatti, and want to see the world premiere, show up at the Hollywood Casino on October 9. And obviously, now we're going to show you the trailer.
To find out more, head to HittingTheNuts.com and if you want to find out where you can get tickets to the premiere, check out rebelpilgrim.blogspot.com.
Stupid Questions with Glo
Gloria Balding caught up with a slew of poker pros at the European Poker Tour London to ask them all some questions you should never ask. Remember Glo, there are no stupid questions, only stupid answers.
Like us on Facebook, and follow us on Twitter for up-to-the-minute news.