The Nightly Turbo: PokerStars Regional Championship of Online Poker, Brunson Blogs About the Hall of Fame, and More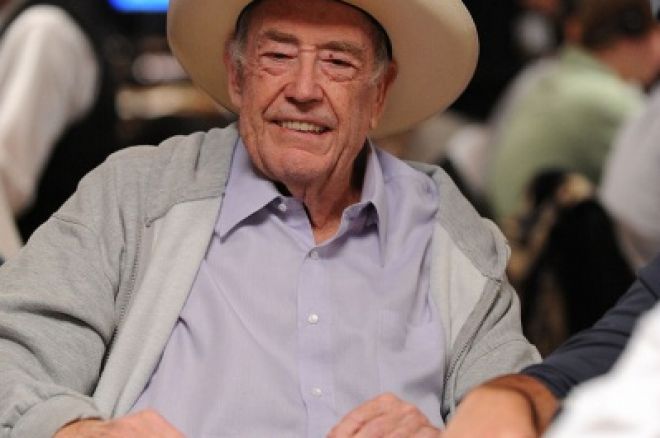 Looking for the day's top poker news stories? Well, first off, PokerStars has announced a new Championship of Online Poker. We'll tell you all about that, let you in on Doyle Brunson's thoughts from his blog on the Poker Hall of Fame, and more in tonight's Nightly Turbo.
In Case You Missed It
If you're wondering how the the high-stakes online poker scene has been looking in the last few days, we've got you covered. The Online Railbird Report has all the ups and downs from some of your favorite nosebleeds players.
The second stop on the 2010-2011 World Series of Poker Circuit ended Tuesday night. The PokerNews Team was there covering the action, and if you check out the WSOP-C recap, you'll find out who won and how it all went down.
There are plenty of poker tournaments going on all over the world. While we can't be at every one, we can bring you the results. This Week in Tournament Poker is the place to go for those results.
We like to help you improve your poker game around here, which is why we bring you weekly strategy articles. This week, Quinn Sivage discusses polarization.
Pictures are way more fun to look at than reading sometimes. Take a look back at the European Poker Tour Lodon courtesy of our new photo blog.
Regional Championship of Online Poker
On Tuesday, a few of us here at PokerNews HQ opened our emails and received messages from PokerStars regarding the USA Championship of Online Poker. Then we got to thinking, "There's no way this is just for the U.S., and not the rest of the world." And what do you know, we were right. PokerStars has just announced the Regional Championships of Online Poker.
PokerStars has divided the globe into 13 sections: Russia, Nordic, Baltics, USA, Canada, Germanics, Asia Pacific, Mediterranean, UK & Ireland, Central and Eastern European, Latin American, Iberian, and Benelux. There are 13 different series, each with 11 events, all with guaranteed prize pools and culminating in a Main Event. Players will only be competing against other players in their region and players will be able to chat in their own language at the tables.
"It's about national pride, winning big and proving that you are the best player in your region."
Want to learn more? Check out PokerStars' RCOOP page.
We have just announced three $15,000 Sunday Million Freerolls & three $2,000 PCA Freerolls with PokerStars. You can win a ticket to a tournament with a life changing prize pool for free, but only with Club PokerNews!
Not Old Enough
In Doyle Brunson's latest blog, he tackles the Poker Hall of Fame nominee list and gives us his thoughts on each one. We're going to cut to the chase and give you his thoughts on some of them.
He thinks Daniel Negreanu will get there - eventually. "He meets the criteria but probably is going to have to wait until he is a little older." As for Jennifer Harman-Traniello, he says, "Jen also meets all the requirements. I've always considered her to be the all-time best female player. However, her sex doesn't matter here and she will probably need a few more years before she goes in."
Barry Greenstein? "You can't find a criteria Barry doesn't meet. If not this year, next year for sure." As for Phil Ivey, Brunson says, "Who?" You know Doyle, the guy in the number one spot on the All-Time money list. He also goes to say that he feels Ivey is too young, but would have no objection if he gets inducted.
Who got the most of TexDolly's votes? Mr. Erik Seidel, that's who. "Most people don't remember his cash game play but he was in all of the games in his early career. He meets all the requirements and his exemplary conduct deserves a special accolade. He reminds me of Chip Reese."
To find out what Brunson has to say about the rest of the nominees, you'll have to head on over to his blog.
Patched Up
PokerStars has added another name to its Team Pro roster - Romanian billiards champion, Toni Judet. Judet began playing poker five years ago and has since become one of Romania's top pros.
Now, sometimes we scratch our heads at some sponsorship deals, but this one is merited. Judet has over $700,000 in career winnings, is second on the Romanian All-Time Money List, won a side event at the EPT Grand Final a few years ago, and the same year cashed in 22nd place in the World Series of Poker Main Event.
If you want to take him on on the felt, he's become a familiar face on the EPT circuit, or you could sign up for a PokerStars account and take him on on the virtual felt.
The PokerStars Blog has more.
Double Hold'em
Changes are made all the time in games - Monopoly is now played with credit cards, Scrabble introduced a new rule for the first time since 1948, etc. Rush Poker has taken the poker community by storm, some hating it and others loving it - either way, it was a game changer. PartyPoker is introducing a new twist to Texas hold'em called Double Hold'em.
What is this you ask? Well, players will start with three hole cards instead of two. After the flop, they nominate one of the three to be the "point card." This card will play alongside the two other cards to make two separate hold'em hands. The player will play both hands through the river and will finish with whichever one is strongest. Double Hold'em is available for both play and real-money players.
"We're extremely excited to be offering Double Hold'em™ in Limit, Pot Limit and No Limit formats, and it's live in right now in the cash game lobby. PartyPoker.com is the only place where you can play Double Hold'em online," a PartyPoker spokesperson said.
We know it sounds hard to believe, but you really can get a free poker bankroll without having to deposit or give your bank details. Check out our exclusive $50 Free No Deposit Sign Up Bonus from PartyPoker.
Tour of Cards
Dale Phillips, or poker's Justin Bieber (see: the hair) has decided to take a trip. Around the world. In 52 weeks - it might have something to do with the fact that there are 52 cards in a deck, or the fact that it's an even year, but we can't be sure. Anyway, he's going to be visiting 52 countries, playing poker live and online during his travels and meeting with poker professionals around the globe and blogging about it.
Here's a little video about it.
We aren't going to make a ruling on the interesting factor of this yet, we'll just have to wait and see.
TourOfCards.com has more.
You should probably Like us on Facebook, and follow us on Twitter. There's really no reason not to.