The Pigskin Diaries Vol. 12: Everybody Hurts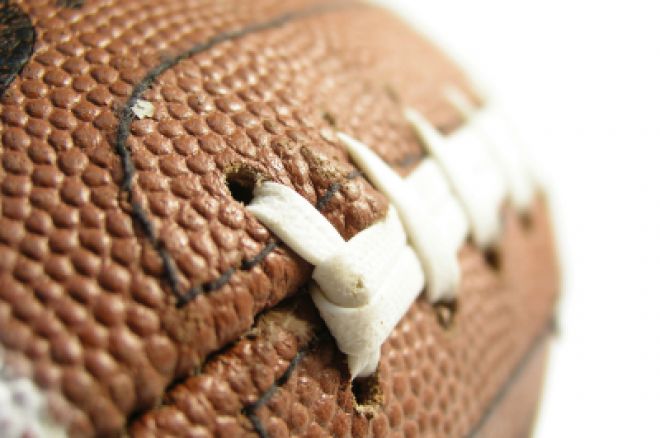 An abbreviated version of the Pigskin Diaries this week finds us all sweating a ton of injuries and byes for our Week 8 matchups. The 2010-11 season of the NFL has thus far been shaped by injuries, and the fallout therefrom has trickled down into our fantasy football world as well. This week's article focuses on the late-week injury news and major roster situations.
Minnesota: If you or I fracture our ankle in two places, we'd whine about it for a couple weeks while we hobbled around in a walking boot. You and I are not Brett Favre. Just a couple days after adding another ankle injury to his back, hip, and elbow woes, Favre was spotted in nothing more than an Ace bandage, headed out to the practice field. Friday was his first day taking reps since last weekend, and his game-time status is uncertain. Coach Brad Childress says Favre doesn't need to practice to be game ready, but as of Friday morning, he was "leaning towards" sitting his starter this weekend. Favre, though, was not so pessimistic. Riding his streak of 292 consecutive games started, we've seen this too many times to count him out. We're not sure which would be more surprising, Favre playing or sitting this weekend. For now, he's listed as questionable, just like every week this year.
Dallas: Tony Romo is out with a broken clavicle. See you on the fantasy waiver wire, Tony. And Cowboys fans probably won't see him back in shoulder pads for at least 6 weeks.
Arizona: Starting QB Max Hall (it's still weird to write that) took a big blow to his head in last Sunday's game, but he passed the concussion tests later in the week. He's been back in full practice here during the late weekdays, and he's a go for this Sunday after being named the starter once again.
Jacksonville: David Garrard sat out a week after being concussed in Week 6, but it looks like that's behind him now. Garrard past the tests the team required of him, gave a full workout, and he's listed as the team's starter for this week at Dallas.
Detroit: He's back! After a separated shoulder kept him out for 6 weeks, the future of the franchise Matthew Stafford will return from the bye week as his team's starter once again. He's been practicing fully for more than a week, and his body should be fresh and well-rested for this weekend.
Tennessee: Vince Young's sprained knee is healing up well, and he's been back practicing with the first team this week. Kerry Collins is banged up but available to play, but it looks like Young will be under center as long as he can stay moble on that left leg.
San Francisco: Wembley Stadium is hosting this weekend's NFC divisional clash against the Broncos. Starting QB Alex Smith was hurt last week, and David Carr looked simply afwul in his relief. Grasping at straws, the Niners are going with another Smith under center this week, Troy. He hasn't even practiced with the first team until this week, though, so we wouldn't expect him to provide much of a fantasy spark. Tight end Vernon Davis is also one to keep an eye on, skipping two days of practice on Wednesday and Thursday. The media reports that he's not limping or bothered by his injury right now, however, so it looks like he has a good chance of going this weekend.
San Diego: Listed as doubtful right now, Malcolm Floyd will likely be sitting for another week or two before he's fully healed. The injury woes continue for the Chargers as their other wideout Legedu Naanee is still nuring a bum hammy. The team is more optimistic of Naanee's chances of starting this week against the Titans, but you'll want to keep an eye on it over the early weekend.
St. Louis: You may have heard that Stephen Jackson had finger surgery on Monday, and the practice field hasn't seen him since. Still, it was a relatively minor procedure, and there's no reason to expect anything but a full performance from Jackson against the Panthers this week.
New Orleans: While Reggie Bush has been cleared to practice, he hasn't been yet. He's been running and exercising, but not yet participating in any football-type ativities. For Pierre Thomas, the docs have requested that he reduce his workload in order to facilitate healing. Playing against the Steelers most certainly does not qualify as a reduced workload, so we'd expect to see Thomas riding the pine once again this week, right next to Bush. Both are listed as questionable, but we're not buying it.
Carolina: Speaking of the Panthers - the team has been telling the media that Williams' ankle injury is not serious, but if that's the case, it's curious that he's been out of practice all week. He sure did look like he was stepping a little tenderly as he came out of the game last week, and we're keeping both eyes on any late-week developments in this one. We'd be surprised to see him start, and even more surprised to see him be effective.
Denver: Knowshon Moreno was back in full practice this week. Until Wednesday. At the end of a practice on Wednesday, Moreno was seen clutching his oft-injured right hamstring and talking with the training staff. Coach Josh McDaniels said Moreno is okay for "at least some duty" on Sunday, but that's not the language fantasy owners like. Beware of starting him this week, and beware of the potential for further re-injury to that pesky hamstring as the week goes on. At the wideout position, Eddie Royal's groin may keep him out of the game in London this week. He's still listed as questionable, and he traveled with the team, but you'll want to keep a close eye on his progress.
Oakland: Wide receiver Louis Murphy suffered a deep chest contusion after a big collision in Sunday's game. Coah Tom Cable says it's "in the lung area", and it's hard to run routes with one lung. Murphy may well be out this week, and potentially a bit longer term, depending on the grade of the contusion and the healing process.
Indianapolis: Gulp. Joseph Addai has described his injured left shoulder as "dead", and that can't mean much for his chances to go this week. Despite his unusually high pain tolerance (as his coach says), Addai has been held out of practice and is listed as day-to-day while he recovers. Donald Brown's hamstring has him also uncertain about his game-time status, and even third-stringer Mike Hart is a big banged up, though he says he'll be ready to carry the workload if he needs to. There are problems all through that Colts roster, though. Austin Collie will not be playing on Monday night or for the next few weeks after undergoing hand surgery this week. Pierre Garcon's fantasy value goes well up in Collie's absence, and even Blair White will likely be getting a few good looks. There's a bit of good news for the Colts, though, in that Anthony Gonzalez says he'll be ready to go by the time Monday rolls around. Any of the above players should be started with caution, however, as the Monday game means you won't have the luxury of replacing them an hour before game time.
Follow us on Twitter for up-to-the-minute news.