The Pigskin Diaries Vol. 10: Mid-Season Stretches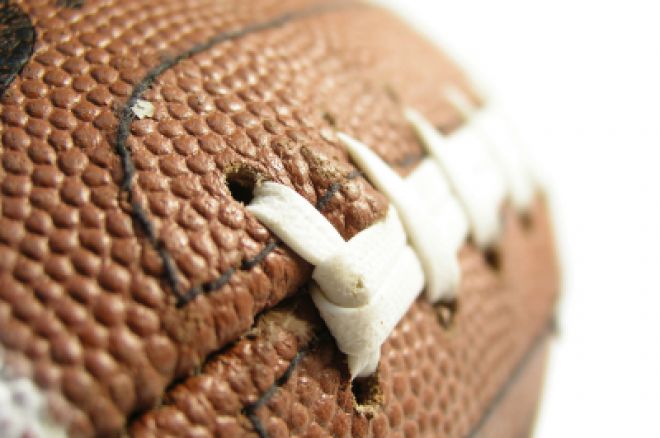 The bye weeks are in full swing, and owners are making some tough roster decisions as they struggle to fill vacant spots with warm bodies. With a look toward preserving long-term success, a number of viable fantasy options are becoming available on the waiver market. As we shuffle our own lineups here in Week 6, we notice a few players who are very available and very capable of getting us through these mid-season stretches with some good numbers. This week's forecast focuses on some of the new faces that are hitting the waiver wires and some of the role players who might be able to step up big for you.
Ryan Fitzpatrick, QB, Buffalo: His Bills have a bye this week, and Fitzpatrick seems to be one of the first players who's getting the fantasy boot when teams need to fill a spot. He's still available in 95 percent of leagues, and you might want to give him a look for future considerations while he's on the market. We weren't high on his chances of success in Buffalo, but he's been throwing touchdowns and taking better care of the ball from week to week, and his fantasy numbers should continue to improve.
Brandon Jackson, RB, Green Bay: The Packers are starting to look more like an NFC team now as their pair of backs share the workload formerly handled by Ryan Grant, and their pass-happy offense turns into a more controlled, more paced attack. We still like John Kuhn, too, but Jackson went off last week and he's still available in 35 percent of leagues. If you've got roster space, either guy is a decent pickup right now.
Pierre Garcon, WR, Indianapolis: Austin Collie is still the other Colts' receiver we want on our team, but his status is still uncertain for Sunday's game. If he can't go or is limited in his role, Garcon should find some looks against a Redskins pass defense that gives up 300 yards per game. If Collie is back in good form and ready to go, Garcon's value takes a big hit.
Roy Williams, WR, Dallas: It's 50/50 that he's available in your league, and this has potential to be a good week-to-week pickup if you're scrambling. Dez Bryant is on the injury report this week, and Williams has put up big numbers in the Cowboys' last two games regardless. It's a bad matchup against the Vikings' defense that allows less than 200 passing yards per game, but the desperate 1-3 Cowboys should have plenty of incentive to rack up the yards and points this week.
Kenny Britt, WR, Tennessee: Available in 50 percent of leagues. Has a touchdown in three straight games. 'Nuff said.
Michael Crabtree, WR, San Francisco: Another oft-dropped player over the last two weeks, Crabtree finally crushed it against the Eagles this past weekend. If your leagues' owners stopped believing in him, snag him and hope he can take advantage of the Raiders this weekend, too. Crabtree purchases are high right now after a roller-coaster three weeks.
Danny Amendola, WR, St. Louis: Sleeper watch. Amendola is only owned in a quarter of fantasy leagues, and he's been consistently — well, consistently okay this year. Still, he's got a lot of upside, and Mark Clayton can no longer contribute from the bench. Amendola was thrown at 19 whole times last week, and he's going to be Bradford's go-to guy through the deep middle.
Dexter McCluster, WR, Kansas City: We learned two years ago not to let our fantasy success hinge on Dwayne Bowe. McCluster is finally getting some of the looks that used to go to Bowe, and it appears that the team might be realizing his potential, as well. This is a sleeper pickup for sure, and it might take a couple weeks, but McCluster could end up leading the Chiefs in receiving this year by the time it's all said and done. This week's matchup against a terrible Houston secondary might be his coming out party, in fact. Buy now while the price is low.
Tony Moeaki, TE, Kansas City: Need a tight end from the bottom of the list? Moeaki is a name you might not even know, but he's finding a reliable spot on Matt Cassel's radar. He's got sure hands and a nose for the end zone, and if you used to have one of the now-injured tight ends (a la Jermichael Finley), give Moeaki a look as a fill-in.
Aaron Hernandez, TE, New England: A little less likely to be available, but a guy we'd sure like to have. His value in that Patriots' offense gets a big boost without Randy Moss in town.
Brandon Pettigrew, TE, Detroit: Pettigrew has been solid for the Lions in the last four weeks, and he finally found a scoring reception last week. Calvin Johnson's status is uncertain for this weekend's game, and there should be some space in the Giants' defense for Pettigrew to get a few extra looks this week.
Detroit Lions, Defense: Only one in 25 leagues own the Lions' defense, yet they've scored the fifth-highest points. All right, last week's show was an aberration that inflated that number, but the Lions are forcing big mistakes, and the Giants' offense certainly knows how to make them. And for consistency's sake, they're allowing less than 220 yards of passing three weeks in a row. If your defense has a bye or a bad matchup, the Lions' could be your most +EV pick up this week.
Pick'Em
Seattle @ Chicago: The Seahawks are a mess and it's going to take a couple weeks for their new toy, Marshawn Lynch, to get settled into their offensive scheme. Whatever that may be. Jay Cutler is back for the Bears, and if he "feels good" like he says he does, it could be a field day against a bad Seahawks defense.
Miami @ Green Bay: The Packers "don't know" where their quarterback stands after Aaron Rodgers suffered a concussion last week. Jermichael Finley opted for long-term surgery this week, the Pack have already been without Ryan Grant all year, and a dozen other players have also spent time on the bench. The line will favor the Packers at home either way, but we sure like Miami to get above .500 coming off the post-Patriots bye week.
San Diego @ St. Louis: Two 2-3 teams struggling to make an identity in their divisions. One underachieving, one slightly overachieving. San Diego is beating themselves as much as anything this year with costly turnovers and special teams blunders costing them at least a couple games. You may remember, though, that the Chargers were 2-3 at this point last year before rattling off 11 straight wins en route to the division title. They're outscoring their opponents by a healthy 34 points despite their losing record, and we think they're on the verge of turning it around and making another run at the playoffs.
Baltimore @ New England: The critical evidence: (1) The Ravens haven't beaten the Patriots in the regular season in five tries since moving to Baltimore. (2) The Patriots are 7-0 after bye weeks in recent history. (3) The Patriots have won 11 straight regular-season home games. Everyone's high on the Ravens, and we usually are too. But we'd be silly to pick against the Patriots at home in this one.
Detroit @ New York Giants: We really wanted to pick this one as our sleeper upset for Week 6, but Calvin Johnson's status is turning out to be critical factor. His shoulder has him listed as questionable this week, and his production would probably be listed as doubtful even if he can play. The pesky Detroit defense should keep this one much closer than the 10-point spread, but we like the Giants to pull it out after all.
Atlanta @ Philadelphia: The Eagles still don't know if Michael Vick will be a go or not, but his is just one on their long list of injury concerns. If it's Kevin Kolb's day, he's still very much an unknown quantity who may never be able to lead this team if he's not given the chance as the full-time starter. The Falcons, on the other hand, have won four straight, and their stingy run defense should force the Eagles to try (and fail) to beat them through the air.
Cleveland @ Pittsburgh: Big Ben is back for the Steelers, and they now (finally) have no question marks at quarterback. Hopefully. Cleveland, on the other hand, appears to be throwing third-stringer and rookie Colt McCoy right into the fire against a vicious defense this week as both of their other guys are banged up. Pittsburgh is allowing just about 60 measly rushing yards per game, and the Browns will be lucky to find the end zone at all in this one. Pittsburgh by a mile.
New Orleans @ Tampa Bay: The Bucs finished last in their division last year, while we all know what the Saints managed to accomplish. This year is telling a different story, though, and the 3-1 Bucs are starting to put together something special while the Saints flounder in mediocrity. Don't forget the home team beat the Saints with an overtime field goal in their meeting last December, and the Buccaneers have a chance to make some people take notice this week. If Tampa can stop the Saints' rushing attack, we like them to tally the upset.
Kansas City @ Houston: As Andre Johnson continues to get healthier, so should the offensive output from the Texans. Still, the Chiefs were the last team to lose a game this year, and even in that loss last week, they still held the Colts to 19 points. Everyone's picking Houston, but they we're not sleeping on the away team in this one. It's close, real close, but we'll pick the Chiefs.
New York Jets @ Denver: Darrelle Revis is the story once again. He played last week but was very sore afterward and has been very limited in practice this week. His status is uncertain once again this week, but the Jets could sure use him. The Broncos average a whopping 333 yards passing per game, and they're going to need to air it out even more with Knowshon Moreno nursing an injury, as well. It'll be a shootout against the Jets' rushing game, and this one's a coin flip. Mark Sanchez has zero turnovers this year, Kyle Orton has three, and one turnover might be the difference in this one.
Oakland @ San Francisco: It looks like it's going to be Jason Campbell under center for the Raiders this week, and that's going to give them a bit of a different look on offense. For the Niners, well, they really have no look on offense. They've broken 20 points just twice this year, not getting past 14 the other three games. The Raiders can't brag much about their offensive output either, but they finally have two healthy, quality backs to lead them down the field. We like the Raiders in this one, but a big factor is that it's just hard to pick San Fran at 0-5 to win anything.
Dallas @ Minnesota: Oh boy, two 1-3 teams that many people had picked as the clear favorites to win their divisions. It's not quite panic time yet, but it will be come Monday for one of these teams. Both will be desperate to avoid a 1-4 start, and both have a lot of issues facing them. For the Vikings, there's talk of Brett Favre sitting out a game with tendinitis in his throwing elbow. We know better than to think he'll skip a start, but his effectiveness has already been a question mark for several weeks. Starting cornerback Cedric Griffin is out, and the Cowboys know how to neutralize Adrian Petersen too, holding him to 63 yards the last time they met. There are a lot of little factors in play in this one that should turn things in the Cowboys' favor, a small upset based on the current line.
Indianapolis @ Washington: It's a battle of division leaders on Sunday night, and this one doesn't match up well for the Redskins. It's not they can't win it — and the Colts haven't beaten them on the road in five tries — but it's going to be a tough task. The Colts have the third-ranked offense in the league while the home team ranks dead last in defense, allowing a gaudy 410 yards per game. It seems like the Skins just need one more weapon on offense if they want to compete in games against powerful AFC offenses.
Tennessee @ Jacksonville: It's time to move in the AFC South, as all four teams are deadlocked at 3-2 five weeks in. The Titans roll into Florida on Monday night as a slight favorite to take the division lead, but they were trounced 37-17 on their last visit to Jacksonville. You'd think of the rushing game as a tick in the Titans' box, but the Jags are slightly better, fourth in the league, in fact. Tennessee might be on the verge of making a run at the South, but for now we'll risk looking foolish and pick the home team to win a close one.
Follow us on Twitter for up-to-the-minute news.