The Pigskin Diaries Vol. 8: Hello, (Good)-Bye Week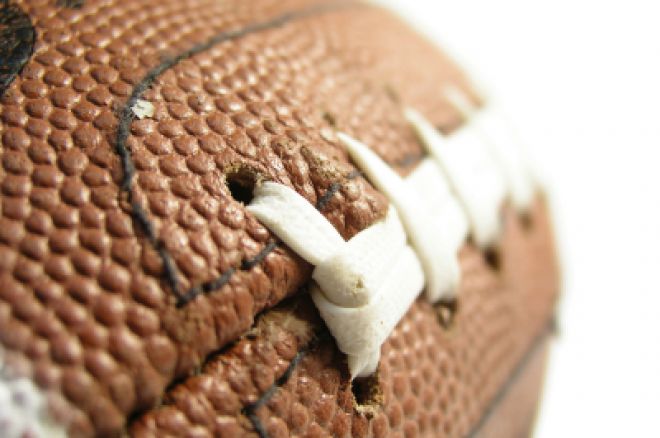 Welcome to the bye weeks, ladies and gentlemen, and welcome to the real regular season of fantasy football. I know your type. You've got Adrian Petersen doing a third of the work for your fantasy team, and Tony Romo and Miles Austin connecting for, oh, about 35 points a week, as well. Not very balanced are we? So what're you going to do this week with the core of your offense sitting on their couches at home watching the games?
This week's edition of hold'em of fold'em centers around players who've emerged from the depths of the roster to take prominent fantasy roles and those who are underachieving and should be on bench watch, even during the bye weeks.
Hold'em
BenJarvus Green-Ellis, RB, New England: After dealing Laurence Maroney to the Broncos (and even before that, really) it was anyone's guess who would emerge as the number one back in New England. They still do love that running-back-by-committee thing up there, but Ellis has emerged as the leading rusher, and he's the only one we'd have on our team.
Peyton Hillis, RB, Cleveland: We sure were high on Jerome Harrison after his work in the preseason, but things have begun to change a bit up there in Ohio. Peyton Hillis racked up 143 yards on just 22 carries last week, including three 10+-yard bursts. And that came against the Ravens, who know a thing or two about stopping the run. If you've got Harrison on the bench in a deep league, you're probably fine to stick with him for a couple weeks to see what happens, but for now, Hillis is the man to give the starting nod to.
LaDainian Tomlinson, RB, Jets: After a mediocre year last year, it appears LT is back on the map. He'll continue to share the workload with Shonn Greene in the backfield, but Tomlinson is starting to emerge as the Jets' preferred caretaker of the football. He was given the ball three times inside the opponent's 10 yard line last week (scoring once), compared to just one for Greene. Add to that Greene's buttery fingers and Tomlinson's seemingly rejuvenated legs, and you can see who's starting to take the lead on the fantasy front. Oh yeah, and he'll be running against one of the worst rush defenses in the league in Buffalo.
Austin Collie, WR, Indianapolis: You want Reggie Wayne on your fantasy team. But you thought you wanted Pierre Garcon as a number two until you started watching Peyton Manning and Collie work together. He's being thrown to more than ten times per game, while Garcon is averaging around half of that. His fantasy value might be slightly inflated right now, and we might be a little infatuated with him too, but we'd much rather have Collie than Garcon in our lineup this year.
Malcolm Floyd, WR, San Diego: We were big on Legedu Naanee as the Chargers' sleeper receiver with Vincent Jackson out, but we're changing our tune now. Floyd has had two straight 90+ yard weeks with a touchdown in each game, and he leads the league in targets inside the red zone. The whole league. Pit him against the swiss cheese secondary of the Cardinals for Week 4, and we'd expect to see both of those streaks extended to three games. Floyd has big upside this week and into the foreseeable future.
John Kuhn, RB, Green Bay: Enjoy your time off, Ryan Grant, while we in fantasyland chew our fingernails looking for a replacement. We're going to have to feel this one out over the next few weeks, but we like what we're seeing from Kuhn and the Packers' game plan for him so far. Despite sharing the load with Brandon Jackson, Kuhn is averaging more than 5 yards per carry, and he should be a much more successful goal-ling back than Jackson. If we were going to pick up one of the two Pack backs, it'd be Kuhn.
Fold'em
Steve Slaton, RB, Houston: He's still owned in about 65 percent of leagues, and we're not sure why. Arian Foster broke five runs for more than 10 yards last week, and there's just no room for Slaton to get any snaps right now. He has just four points through three games, and you should look for something better to occupy one of your roster slots if you're the guy with Slaton in your league. If you haven't dropped him yet, do it now.
Michael Crabtree, WR, San Francisco: You'd have to think Alex Smith will find him at some point, but there's no chemistry there for now. Through three games, he has just six receptions for 80 yards. You probably don't want to get rid of him completely just yet, but you probably don't want him starting for you either. Trade bait, maybe?
Calvin Johnson, WR, Detroit: He might be all you have, and that's (probably) not a terrible thing. Still, if you've got other potent receiving options, it's time to let Cal ride the pine. He's not having a stellar start to the season, though it's certainly not all his own fault. This week, he faces that vaunted Packers secondary, and he's going to be double-teamed much of the day. It can't be a good matchup.
Matt Schaub, QB, Houston: Obviously, we still like Schaub as our number one guy, but this week represents a particularly bad matchup for Schaub. Don't expect him to put up big numbers, as he traditionally struggles against Oakland, for some reason. In his two games against them, he's put up less than 500 total yards of passing with just one touchdown and two interceptions. He'd probably still get our nod to start, but you should expect to see one of his lowest point totals of the season this week.
Beanie Wells, RB, Arizona: Another bad matchup leads us to sit Beanie this week. There's a lot going against him. First, he's sharing carries with Tim Hightower. Second, they're playing the Chargers this week, not the Raiders of last week. Third, the Cards' wide receivers are banged up. That means San Diego is going to load the box with eight guys most of the game, and it should make ground yards hard to come by for a full-time back, let alone one who's sharing the workload 50-50.
Marcedes Lewis, TE, Jacksonville: Lewis has been the safety valve for David Garrard this year, and his fantasy numbers have been good... until last week's one-pointer. They will not be good in Week 4 either. The Jags face the Colts' defense that has allowed, get this, 28 yards to their opponents' tight ends. Total. Through three games. Adios, Lewis.
Injury Report
Drew Brees, QB, New Orleans: Fantasy owners had to hold their hearts in their chests in the 4th quarter when Brees took a good knock to the knee. He was reportedly wandering around in a brace earlier in the week, but he says it feels good now, and the MRI came back negative for any ligament damage. He should start this week as usual, much to your delight. Unless your opponent has him in the starting lineup.
Ryan Mathews, RB, San Diego: Things are looking good for Matthews to return this week after missing some time for the Bolts. His ankle appears to be close to 100 percent, and he's been sharp and fast during the midweek practice routine. He's listed as a Probable start against the Cardinals, and that's good news for you if you've had him occupying a spot on the bench during the last week.
Jerome Harrison, RB, Cleveland: Harrison returned to limited practice midweek, but that was his first on-field action in about two weeks. It's still a bit tough to tell whether or not he'll be ready to go on Sunday, and the safe money is on Peyton Hillis getting the majority of the fantasy points in the Browns' backfield this week.
Jahvid Best, RB, Detroit: Uh oh. Turf toe injuries are not something you like to see from your number one back, and Best's is a Grade II ouch in his big toe. Even minor turf toe injuries can turn into season-threatening ones if not properly cared for, and the Lions are going to properly care for this one. Best couldn't even stand on his right foot after Sunday's game, and that doesn't seem to be a promising sign for his chances of being in the game this week. He's on the bench for now, and we're keeping an eagle eye on any developments here. Turf toe sounds fun, but it's ended many a career before.
Steven Jackson, RB, St. Louis: He took a nasty, awkward hit on Sunday, and the resulting sprained groin is not as bad as it probably could have been. Still, it's been sore enough to keep him out of midweek practices, and he's a game-time decision from what we hear from his coaching staff. Even if he does play, start with caution as it's hard to carry a full running-back workload on a bad groin.
Ray Rice, RB, Baltimore: Coach Jim Harbaugh is calling Rice's knee bump a "significant contusion," and he's questionable for Sunday's tilt with the Steelers. We'd expect to see him take a few snaps early on, but we don't like the thought of starting him and hoping he can finish the game. This one's going to be a Sunday morning decision for us, and we'd be much more comfortable if it was our Week 4 opponent having to make the decision instead of us. Right now, he's on the bench barring some rapid healing.
Andre Johnson, WR, Houston: Johnson was on our injury report last week with a sprained right ankle, and he ended up playing (as expected). Unfortunately, he reaggravated the injury, and he's back on the team's midweek injury report for Week 4, as well. Johnson seems ready to get back in the game, but his coach might have other thoughts. Gary Kubiak said they're going to be "smart" with Johnson this week, and that could mean limited playing time against the Raiders. Even if he does play, you'd be similarly smart to let him ride the pine this week unless you have no other options.
Pick'em
San Francisco @ Atanta: Michael Turner's groin seems to be back. He was graced with 30 carries last week for a very impressive 118 yards against the Saints. The Niners' defense will do their best to make rushing yards hard to come by this week, and that's where Matt Ryan can change the game by himself. He was a true playmaker last week, and his ability to find Roddy White and Tony Gonzalez will be the difference this week too.
New York Jets @ Buffalo: Well, apparently the little Ryan Fitzpatrick experiment worked brilliantly last week against a young (but tough) New England defense. Still, the Jets have found their rhythm after that Week 1 flop, and they have a roster loaded with skill on both sides of the ball. Look for the Jets' running game to explode against the Bills, and look for Dustin Keller to find the end zone at least one more time too. We like the Jets by two touchdowns in this one, but you know we're always hesitant to predict a blowout in an AFC East matchup.
Cincinnati @ Cleveland: If anyone has the answer for the tandem of Browns' running backs, it's the Bengals' defense that has shut down Ray Rice and DeAngelo Williams in the last two weeks. In fact, both teams should have a struggle on the ground, and, call us silly, but we still have some shred of faith left in Carson Palmer's ability to make enough plays to win the game. And regardless of who the Browns have under center this week, Cincy's defense has to be licking its chops.
Detroit @ Green Bay: The Pack have shown the league that they're going to be a passing team this year, especially in the absence of their star back in Ryan Grant. Aaron Rodgers holds the key to the NFC championship in his back pocket, and this one should be another stepping stone on the way to a many-win season for the Packers. As long as their running backs don't forget the stick-um this week, this one should be a blowout. The Lions, don't forget, are without their own feature back in Jahvid Best, and unlike their opponent, they just don't have enough weapons to cope with that loss.
Denver @ Tennessee: This is a tricky one to figure, so the answer will hinge on which Denver offense shows up to the stadium. If Kyle Orton can keep throwing strikes and filling his role as the true leader that he should be (never thought we'd be saying that), the Broncs should be able to find enough offense to get the job done. That's going to be a tall task against the fourth-ranked defense on the other side of the ball, but we have a hunch the Titans are a bit more of a red herring than most people are giving them credit for. They've played teams that have beaten themselves so far, and if Denver can avoid that pitfall, we like their chances of getting back to .500 on the year.
Seattle @ St. Louis: This one might be a war of field goal attrition on the astroturf. If Steven Jackson can go this week, that'll be a big boost to the Rams' chances, but Seattle is still stout against the run defense. They've allowed less than 3 yards per carry and zero breakout runs of 20 yards or more. If you can put a cap on Jackson (or keep him on the bench), you've already got the battle half won. The Seahawks seem to be a joke at 2-1 right now, but they'll begin to silence the naysayers if they can work their record to 3-1 in that division.
Carolina @ New Orleans: We might not pick Carolina to win one game this season, and we certainly don't like their chances in this tilt with the Saints on the road. So far, New Orleans' offense isn't nearly as potent as they were last year, but they're still about 11 times as potent as the Panthers are. Carolina has no shot through the air (whether it's Jimmy Clausen or Matt Moore under center), and they'll be looking to pound the ball early and often. Stop the run, beat the Panthers. And that's exactly what's happened to the Panthers three times during this 0-3 start.
Baltimore @ Pittsburgh: A perennially tough matchup to pick. The two teams split the regular-season double dip last year, and both teams are reeling a bit in 2010. If anything, it's the Ravens who look a bit rattled, and their defense has been uncharacteristically full of holes. You better believe Rashard Mendenhall noticed that they gave up 153 yards to the Browns last week. And with the status of Ray Rice in question, and that Steelers defense blitzing from every corner of the field, the scale seems to be leaning in Pittsburgh's favor this week.
Indianapolis @ Jacksonville: Erm, the Jags just snagged Trent Edwards from waivers. That should tell you all you need to know about the state of their offense. Garrard can't get anything going, while Peyton Manning continues to distribute the ball well to his bevy of weapons, naturally. The Jags historically know how to play the Colts close, but this one is the exception to the historical rule. We've got the Colts in a blowout.
Houston @ Oakland: If Andre Johnson can't go on Sunday, then it won't change our minds at all. Houston is legit this year (as they showed signs of last year), and the Raiders are still searching for an identity. They've still got a foul taste in their mouths from Sebastian Janikowski's game-losing field goal last week, and we don't seem them turning it around this week.
Arizona @ San Diego: This is another one that could really go either way, and we wouldn't be surprised to see the Cards pull it out. We would be awfully surprised if Philip Rivers let his team fall to 1-3 though, and having Ryan Matthews back behind him for Week 4 should mean good things for the passing game, as well. This game really comes down to the QB matchup in our minds, and we'd be foolish to bet on Derek Anderson over Philip Rivers. And we don't like being foolish.
Washington @ Philadelphia: Philly will be "welcoming" back Donovan McNabb this week, and we'd sure like to see McNabb go off for like five TDs just to remind his former team who they dissed. Unfortunately, he just doesn't have the receiving weapons he did when he was wearing green. Behind Santana Moss, there's just about nobody to throw to, highlighted by the fact that fullback Mike Sellers is the team's third-most targeted receiver. Michael Vick will finally have a defense to test him this week, and it'll be a close one, but we like the Eagles to stick it to their old QB and send them back to D.C. with another loss.
Chicago @ New York Giants: That Bears defense is no joke, and somehow, the Jay Cutler-led offense isn't either. That Monday night win over the Packers raised our eyebrows, and we're officially on the Bears' bandwagon. Mario Manningham is still an unknown quantity after having his bell rung, and we still need to see him on the field before we know how he's managing post-concussion. The Bears' receivers should be able to find some space in that secondary, and Johnny Knox is a particularly bad matchup for the G-Men. We reserve the right to eat our words, but we've got the Bears penciled in for the win this week again. If they go 4-0 to start... we don't even want to think that notion all the way through right now.
New England @ Miami: Don't miss this Monday-night thriller. We'd like to look at the bigger picture, but it's hard for us to get over last week's matchups. Chad Henne put up a great game against the scary Jets' defense while Bills' QB Ryan Fitz-somebody was busy carving up the young Pats' secondary too. The Fins match up awfully well against the Patriots this year. You know Tom Brady and Randy Moss are going to get their points, but that Dolphin offense finally has the weapons to compete with the Pats blow for blow as the Pats defense is not the same beast it has been in years past. Another scary AFC East match to pick, but we're going to follow our hearts and go Miami on Monday night at home.
Football fans, we'd love to incorporate some of your thoughts into our weekly column, so if you have any questions, comments, or if you'd just like to berate us for how badly our advice has ruined your draft, drop us a line at editor@pokernews.com and remember to follow us on Twitter for up-to-the-minute news.