The Pigskin Diaries Vol. 11: Watching the Waiver Wire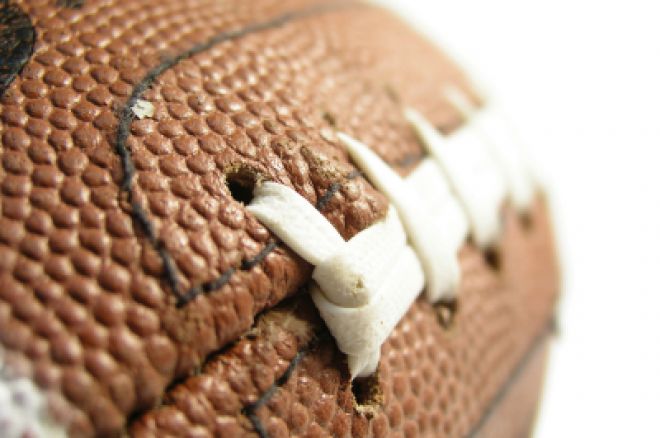 With the league picture continuing to become more clear as the midway point of the season approaches, here's a rundown of some of the favorable starts and pickups for Week 7 of the NFL.
Matt Cassel, QB, Kansas City: If your quarterback is sitting this week, give Cassel a good look as your intern. He threw three touchdowns last week against the Texan's bottom-ranked passing defense, and this week's opponent, the Jaguars, aren't much better — they rank 28th against the pass. The Jags are on a short week after getting blown out on Monday night, and Cassel should be able to take some advantage of that secondary to put up another solid fantasy performance.
Marshawn Lynch, RB, Seattle: He only averaged 2.6 yards per carry last week in his Seattle debut, but he did find the end zone once and was very complimentary of his offensive line after the game. This week he matches up against an Arizona defense that is allowing the third-most fantasy points to running backs. The feeling-out period is over; Lynch is the man in Seattle for now, and he should find some decent numbers this week in his second game with his new team.
Matt Forte, RB, Chicago: He's the fifth-highest scoring fantasy running back this year, but he's been a bit underwhelming in those numbers if that's possible. If you're considering sitting him this week, don't. The opposing Redskins are in the bottom ten in rushing defense, and they give up more receiving yards to running backs than any other team. It's a great matchup for Forte.
Peyton Hillis, RB, Cleveland: The two consecutive down weeks are a red herring, much more indicative of the defenses he was facing and the rest of his offense's struggles than his own performance. Hillis has another favorable matchup against a mediocre Saints rushing defense this week, and he should get back on the touchdown-scoring track as his team's offensive options have become limited by last week's injuries.
Deion Branch, WR, New England: It's hard to believe he's still available in about half of the fantasy leagues. Branch dragged in nine catches for 98 yards last week, and he's Tom Brady's clear and familiar favorite right now. Wes Welker's fantasy value is also high because he benefits from some of the shifted defensive attention, but Branch's size and skill set makes him the more legit fantasy threat going forward.
Mike Williams, WR, Seattle: No, we don't particularly love any of the Seahawks' fantasy potential, but we're now keeping a firm eye on Williams. He had the second-most targets of any receiver last week (15), and his ten-catch day indicates that he's become the biggest blip on Matt Hasselbeck's radar. If you're in a deeper league and in need of a third wideout, it's time to give Williams a look. He's still very much available in many leagues.
Jeremy Maclin, WR, Philadelphia: He's not available in your league, but if you're lucky enough to be his owner already, you'll want him in your starting lineup this week. He had a monster day last weekend, and he's now Kevin Kolb's number-one look as DeSean Jackson is likely out for a week.
Buster Davis and Patrick Crayton, WR, San Diego: Malcolm Floyd is likely out this week, and Legedu Naanee is dealing with a problematic hammy of his own. Davis and Crayton have been stellar thus far in limited action, and we'd be happy to pick either of them up as a bye-week filler. They're both still available in about 99 percent of leagues, too, if you're really scrambling.
Todd Heap, TE, Baltimore: Pending his injury status, Heap is a great start for Sunday's game. Buffalo has one of the worst defenses in the league, and they've allowed a very friendly five tight-end touchdowns in the last three games. Heap should be able to get at least one scoring catch if he can go.
Benjamin Watson, TE, Cleveland: With the rash of tight end injuries plaguing the league (a la Dallas Clark this week), we're among the league owners scrambling to find a new big man. Almost nobody owns Watson, thanks in part to that sketchy offense that he's a part of. That's actually a benefit to his fantasy value, though, and he's now Colt McCoy's biggest option with his wide receivers nursing injuries. He's got two touchdowns so far this year, and he might well find the end zone again this week against a Saints' defense that is generous to opposing tight ends.
Seattle, Defense: They're available in about 50 percent of the leagues despite being the fourth most-prolific fantasy defense this year. This week's matchup will be the best yet as they host a rookie quarterback still on training wheels. This defensive squad scored 19 and 26 points in their two home wins, and this one week's efforts should rival those numbers.
Pick 'Em
Cincinnati @ Atlanta: The Bengals are 2-3 through the easy part of their schedule, and now begins a tough seven-week stretch. They'll have their hands full this week with the Falcons and Matt Ryan who hasn't lost a home game since November of 2008. This game will hinge on whether or not the Bengals have fixed some of their offensive woes during the bye week. If they can find success throwing downfield, they might well be able to come up with a rare road win, but we think the Falcons will win a close one on Sunday afternoon.
Washington @ Chicago: The good news for the Bears' floundering offense is that they're facing a Redskins' defense that is equally shoddy this week. Despite being sacked a league-high 27 times, Jay Cutler has driven his banged-up team into the NFC North lead as the halfway mark approaches. The 'Skins are .500 right now, but they're allowing well over 430 yards per game, the worst in the league. In fairness to them, they've faced some stout offenses so far, and they should be able to lower that average this weekend. Still, with Clinton Portis out and Donovan McNabb's favorite target Chris Cooley listed as questionable with a concussion, we like the Bears to get the job done at home.
Philadelphia @ Tennessee: Two 4-2 teams come together for one of the best matchups of Week 7. Both Vince Young and Kerry Collins are shaken up, but one of them should be ready in time to save rookie Rusty Smith from being thrown into the fire as the third-string starter. Whoever it is under center, the Titans will likely focus their attack on the Eagles' 22nd-ranked rushing defense; Chris Johnson should get a ton of carries. Even if DeSean Jackson's concussion keeps him out, the Eagles have a clear edge in passing offense, and their ability to look downfield could end up being the difference in this game. It's a tough one to call, but we'll take the Eagles to go 4-0 on the road.
Jacksonville @ Kansas City: We're officially off the Jaguars' bandwagon after laying an egg against the Titans on Monday night. The Chiefs couldn't get a win last week either, but that was only due to a late-game collapse that saw a ten-point lead evaporate. It was an eye-opening performance for them, however, and we like them to keep putting up numbers this week. The Jaguars are scoring about ten points less than their opponents per game this year, and they will likely be back under .500 after a loss on Sunday afternoon.
Pittsburgh @ Miami: The Dolphins haven't beaten the Steelers in the last five tries, the last loss coming in Ben Roethlisberger's last road game before pre-suspension. Miami's strength is its two-headed rushing monster, but the Steelers have the league's stoutest rushing defense, yielding just over 60 yards per game. The absence of Brett Keisel from the end of that D-line should help that Dolphins ground game some, but there are plenty of other defenders to be worried about. The Steelers also lead the leaue in points allowed (12 per game), and their defense should be able to handle the 'Fins on the road this week without too much trouble.
Cleveland @ New Orleans: Rookie QB Colt McCoy looked pretty good in his first start against the Steelers last weekend, but things aren't getting easier just yet. His two receiving targets, Josh Cribbs and Mohamed Massaquoi, were both knocked out of the game with concussions — neither is practicing fully yet — leaving their status in question for Sunday. And that defense is allowing 143 rushing yards over the past two games, which doesn't bode well for their matchup against a Saints team that finally found their offensive rhythm last week. Backup rusher Chris Ivory ran up and down the field, one of the weapons responsible for the 212-yard monster day his team had on the ground. If the Saints are indeed back, the banged-up Browns don't have much of a chance this weekend.
St. Louis @ Tampa Bay: The Rams haven't been above .500 since 2006, a record that they'll be looking to take off the books on Sunday as they face the struggling Buccaneers. They're coming off a fine win against the Chargers in which they held their opponents to a season-low 287 yards of offense. They haven't allowed a 100-yard rusher in three games, while their guy Steven Jackson is working off back-to-back triple-digit Sundays of his own. The Bucs have given up 140 yards to a rusher for three straight weeks, and they're the second-worst rushing defense in the league overall. Look for the Rams to get it done on the ground this week.
San Francisco @ Carolina: Matt Moore will be back under center for the Panthers for the first time since Week 2, and that is not such a great thing as his team searches for their first win of the season. Moore threw two picks last week in relief of Jimmy Clausen, and his season stats are 342 yards, two touchdowns, six interceptions, completing just 42.4 percent of his passes for an anemic QB rating of 33.3. For the Niners, they finally found that elusive first victory last week against Oakland, and they still consider themselves in the hunt for a playoff berth from the mediocre NFC West. We said a couple weeks ago that we won't pick the Panthers to win until they do, so San Fran gets our nod this week.
Buffalo @ Baltimore: Ah, the only other winless team in the league. The Buffalo Bills travel to Baltimore this week to pick up loss number six of this young season. Ryan Fitzpatrick has been a good spark for that Buffalo offense, racking up seven touchdowns and just two picks and a rating of 99.9 since Week 3. He doesn't have many weapons to work with, though, and finding them will be tough going this week against the Ravens. Add the offense's struggles to a defense that is allowing a league-worst 182 rushing yards and more than 30 points per game, and the Ravens have the recipe for a big offensive day and an easy win.
Arizona @ Seattle: The NFC West lead is on the line as the divisions co-leaders meet on Sunday afternoon. The last time the Cards suited up, rookie Max Hall led them to a win against the Saints, and he's has had a bye week to get ready for his first road game against the 30th-ranked pass defense. The Seahawks have a bit of confidence brewing, though, coming off a win and their most solid performance of the season at Chicago. New Seahawk Marshawn Lynch had an immediate impact, freeing up Matt Hasselbeck to have his best game since Week 1. We'll pick the home team to keep it rolling here, but this one could easily go either way.
Oakland @ Denver: Jason Campbell had a passer rating of 10.7 last week, the lowest by a Raider quarterback in 35 years. That may make room for Kyle Boller (remember him?) to take the spot under center for Oakland this week, but coach Tom Cable is still hush-hush on that decision for now. At 2-4, Denver is also struggling this year, but their early competition has been a little more formidable. The team that runs the ball best will win this game, and we think Kyle Orton's ability to keep the opposing defense honest will open some lanes and create enough offensive looks to get his Broncos the win.
New England @ San Diego: Always one to dig themselves a big early-season hole, the Chargers missed a big opportunity to right their ship last week by losing to the Rams, and their four losses have come to teams that were a combined 15-49 in 2009. They've shown moments of brilliance, however, and even at 2-4, they're still in the mix for the AFC West if they can make a run. They'd be relying on their air attack normally, but they've got some real injury concerns at wideout and tight end, putting a big load on running back Ryan Matthews' shoulders. That's going to really keep that potent offense in check, and they'll not have much of a chance to get a win at home this week.
Minnesota @ Green Bay: The Lambeau faithful will "welcome" Brett Favre back to the field for a Sunday night classic matchup between the Viking and the Packers. The old man was lights-out against his former team last year, putting up 515 yards and seven touchdowns with no interceptions in two meetings. The Packers could well be 5-1, but two straight overtime losses have them at .500 and struggling for a foothold as the season approaches the mid point. Their offense has been derailed by injuries, and this will be a tough week for them to try and get back on track. This one's a toss-up, but we'll go on a hunch and predict another big prime-time game for Favre and a tough road-win for the Vikings.
New York Giants @ Dallas: Monday night's tilt is an NFC East battle that finds the Cowboys desperate for a home win. They're 1-4 despite an offense that is third-best in the league, and a defense that ranks fourth overall in yards allowed. The problem has been penalties; the 'Boys have been flagged a staggering 62 times already this year, and Wade Phillips is squarely on the hot seat despite what his owner is saying to the media. Dallas needs this one, but we'll assume the three-game winning streak means that the Giants have found their rhythm, and we'll pick them to come out with with win as a small underdog.
Follow us on Twitter for up-to-the-minute news.