The Pigskin Diaries Vol. 9: Injuries Got You Down?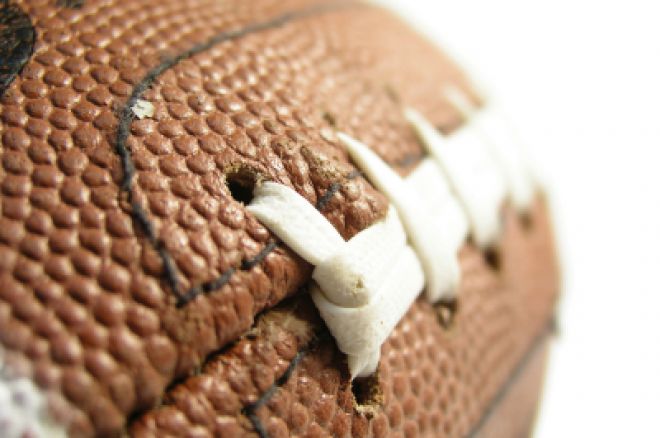 Wow, there's a lot going on with all the bye weeks, the suspensions (and returns therefrom), the blockbuster trades, and a league injury list that's longer than the line for Randy Moss jerseys at the Vikings' team store. Ah, that's the big factor right now it seems; injuries. In fact, we're going to start from the end this week. A quick look down the wire sees that almost every team is playing musical lockers with key-position players being shuffled in and out of the lineup. The injury report is shaping the league so far in the 2010-11 season, and it's certainly making a huge mark on the fantasy world, as well. Do you have Michael Vick in your OP slot? Darren McFadden? Carolina's Steve Smith already in and out of your starting lineup? Your Week 5 is in danger whether you realize it yet or not.
Injury Report
Michael Vick, QB, Philadelphia: You last saw him in a crumpled heap of green and pink at the goal line, and your fantasy heart skipped a beat. So your first reaction will likely be optimism when we tell you that Vick's rib's didn't shatter into a million pieces after that pair of Redskins defenders turned him into a roast beef sandwich. In reality, though, a broken rib or two might have been preferable to the cartilage injury he suffered instead. This one tends to be a more difficult injury to treat and heal, and the only real solution is rest. The early word is that Vick could miss two or three weeks, but these injuries can easily drag on for a half season, and it's anyone's guess how effective he'll be when he does return. We were just getting used to having Vick on our team again, and now we have to get used to not having him for a good while.
LeSean McCoy, RB, Philadelphia: Speaking of Eagles with rib injuries, as if the news wasn't bad enough for Philly fans, McCoy broke one of his own ribs in the Redskins game, as well. That has him listed as day-to-day and questionable for Sunday's tilt with the Niners. Our money says he's probably right next to Michael Vick when the game starts on Sunday — on the bench.
Steve Smith, WR, Carolina: Smith is sidelined again, but this time it's not his arm that's keeping him out. A high ankle sprain has him listed as questionable, but we're not as gullible as coach John Fox would like. Smith needed four wheels and a flatbed to get him off the field and into the locker room. Have you seen him this week? Crutches. We'll go ahead and say that Smith won't play on Sunday, but the good news is that he'll get some extra rest with the Panthers' bye Week 6. Week 7 looks like the first time we could see Smith back on the field, and even that may be a tad optimistic.
Clinton Portis, RB, Washington: A self-described "pop" in his groin doesn't sound like a particularly good thing in this case, and CP is once again on the bench, a spot he's getting a little too familiar with. Ryan Torain filled in nicely last week, too, finding the endzone once and racking up 70 yards off the bench. We already knew holding onto Portis was a gamble, but now it finally seems like it might not be equitable to let it ride any longer. In fact, MRI results have just come in as we speak, and Portis' will miss four to six weeks with a third-degree groin separation. Ow.
Darren McFadden, RB, Oakland: Everything was going just fine on Sunday until McFadden pulled up lame at the end of a long run. It looks like every other pulled hammy we've seen; an injury DMC is familiar with. He's 50/50 to go this week, but we'd assume that his coaches would be cautious, considering they have another solid (and healthy — okay, healthier) option in Michael Bush. Knock on wood that he stays that way if you own him.
Jay Cutler, QB, Chicago: Cutler was beaten so badly on Sunday night that it's not even clear when he suffered the concussion that finally sidelined him for the rest of the game. One of the nine first-half sacks he endured, probably. Cutler has been back in practice this week, but you'll want to keep a close eye on his status on the injury list now and for the next couple of weeks. He's listed as questionable, as we speak, but the Bears have already named Todd Collins the starter.
And rounding out the list of some others to keep an eye on through the early weekend:
Knowshon Moreno, RB, Denver: Upgraded to questionable but still very uncertain and potentially ineffective against the Ravens this week.
Ahmad Bradshaw, RB, New York Giants: Questionable, appears to be back on the practice field on Thursday, but his status is still unclear. The only worry is that he was "probable" early in the week and has since been downgraded.
Maurice Jones-Drew, RB, Jacksonville: Questionable, hasn't practiced on his sprained ankle yet this week.
Ray Rice, RB, Baltimore: Probable, practiced fully this week and the hip is holding up.
Willis McGahee, RB, Baltimore: Questionable, left after getting knocked on the head on Sunday but says, "I'm fine." We sort of believe him.
Andre Johnson, WR, Houston: Questionable. He's been trying to run on his tender ankle but hasn't practiced fully yet.
Jeremy Shockey, TE, New Orleans: Questionable and out of practice this week.
Jason Witten, TE, Dallas: Probable after spraining his MCL against Houston two weeks ago. The bye week seems to have done him well enough to play.
Terrell Owens, WR, Cincinnati: Probable, will play through moderate back pain for millions of dollars.
Steve Breaston, WR, Denver: Questionable, did not practice midweek.
Tony Scheffler, TE, Detroit: Questionable with a concussion, but has not practiced yet this week.
Hold'em
Ryan Matthews, RB, San Diego: We're trying to fight the bias of being Ryan Matthews' owner here, but we really like his chances to put up big numbers again now that he's healthy. Norv Turner usually tells it like it is, and he says Matthews is his guy going forward. Last week was a bit of a feeler, and Matthews looked just fine. Expect him to shoulder a full and productive workload this weekend against the Raiders.
Fred Jackson, RB, Buffalo: This one is reserved for deeper leagues and those in need of a Hail Mary, but the exodus of Marshawn Lynch should be a big boost for Jackson, or at least as big a boost as you can get on a team with a ceiling as Buffalo's. Jackson should get more carries than CJ Spiller at least, and this week is a particularly good one to have a look at him as he goes up against a bad Jaguars defense.
Kevin Kolb, QB, Philadelphia: Look no further if you need evidence that the NFL is a transient league. We've gone from cold to hot to cold on Kevin Kolb this year, and we're only half ashamed to say we're back at it. With Vick's injury timetable still TBD, the perennial second-stringer should be able to snap back into rhythm as he takes the starting reins once again. The Eagles are even more pass-happy with him under center than with Vick, and there are plenty of weapons in that offensive arsenal.
Michael Bush, RB, Oakland: There was a going-out-of-business sale on Bush last week, apparently, as everyone and their grandmothers sent him to the waiver wire in their fantasy leagues. Darren McFadden was back. Was back, until he went down with a hammy. Now Bush looks like the Week 5 starter again, and he's got a decent matchup against the Chargers with which to score you some points — if you managed to hold on to him tight.
LeGarrette Blount, RB, Tampa Bay: Here's one for you speculators to toy with. Before their bye week, Blount had 27 yards and a score against the Steelers — a solid outing for a flex play in a deeper league. Cadillac Williams is still the Bucs' starting back, but it looks like Blount will be getting the goal-to-go carries, and he's emerged over Kareem Huggins as the legit sleeper just like we so wrongly predicted at the start of the year. Williams is injury-prone (and kind of bad, anyways), and the Bucs will be looking for a back to lead them into the future at some point. LeGarrette Blount, anyone? Buy low.
Brent Celek, TE, Philadelphia: Even more so than the running backs, Celek is Kevin Kolb's favorite check-down look. When Kolb starts, Celek gets a ton of looks. It's as simple as that.
Atlanta, Defense: If your defense is on a bye, Atlanta is available in 75 percent of leagues. They give up less than 100 rushing yards per game, and they're playing the Browns this week. It's definitely a favorable matchup if you lack defense.
Fold'em
Chris Johnson, RB, Tennessee: It's pretty likely you won't be sitting Chris Johnson unless you're stacked at the position, but his fantasy stock is way, way down. His two good games this year have been great, racking up 267 yards and four scores. In atypical fashion, though, Johnson has been remarkably inconsistent with just 87 total rushing yards in the other two weeks, tougher matchups against the Steelers and Broncos. The up-down trend says this will be one of the up weeks, but it's a true coin flip, unfortunately. It might end up with Johnson landing on his tail, too; the Cowboys had the additional benefit of bye week to rest and prepare for the Titans this week.
Ahmad Bradshaw, RB, New York Giants: Bradshaw makes this list only because we'd rank him significantly lower than expectations this week. He's nursing a sore ankle that looks like it's not bad enough to sideline him, but bothersome enough to make it tough going. The Texans already allow just 70 paltry rushing yards per game, and they're getting wildcard Brian Cushing back from suspension this week to give them some more potency on defense, too. Bradshaw will proabably get his 12 points, but don't expect him to have a particularly big day.
Reggie Wayne, WR, Indianapolis: We're not afraid to admit when we're wrong, and we sort of blew this one back in the preseason. Wayne looked mediocre at best, obviously slowrolling the fantasy football world. But he has been money in the bank so far this year. Last week's doorbuster matchup against the Jags was a little bit more favorable than this one, but the Chiefs are still allowing 238 passing yards per game, and some of those numbers are even undercut by some anemic offensive opposition from their first three opponents. Wayne and Peyton Manning should find plenty of room to operate this week.
Brandon Lloyd, WR, Denver: Everyone's buying him right now, and you should run out and check if your league is one of the ~20 percent in which he's still available. Lloyd is finally emerging as a Broncos receiver we'd actually own. He may struggle with the next two matchups against the Ravens and the Jets, so check the waiver wire again in two weeks if he's not available now.
Brandon Jackson, RB, Green Bay: If Jackson was your (read: our) brilliant pickup post-Ryan Grant, then you (we) were patting ourselves on the back far too early. Jackson appears to be a fantasy bust, and the Packers have just decided to become the Aaron Rodgers show instead, even more so than usual. If you're still with me, though, it's time to try the John Kuhn bandwagon so we can all be wrong together again in a couple weeks.
Pick'em
Jacksonville @ Buffalo: It'll be a huge letdown if the Jags can't continue the roll the seem to be on by handling Buffalo this week. As long as they avoid looking ahead to the Titans next Monday night, that shouldn't be a problem. David Garrard looked, in a word, awesome against the Colts, and this matchup is a much more favorable one. The current line reflects the fact that this matchup is traditionally a closely scored affair, but this one might be the exception to that rule.
Tampa Bay @ Cincinnati: It takes every ounce of our strength to pick the Bengals in anything but an Ugly Jersey Contest these days, but it's a little easier when they play the Bucs. Tampa Bay's Cadillac of a rushing attack has been a clunker so far, and the Bengals, while mistake-prone, have the tools they need to put up more points than an opponent like the Buccaneers.
Atlanta @ Cleveland: Atlanta is a small favorite to pick up their fourth-consecutive win for the first time in six years, but they're going to have to bring their big pads. Cleveland is going with Jake Delhomme, and that means they're going to have to beat the Falcons on the ground. The Falcons are the 11th-ranked run defense, though, and if they can contain Peyton Hillis, they should be able to get a tough win.
St. Louis @ Detroit: You get the feeling that Detroit is going to get a few good wins this year, and normally a game against the Rams would be an ideal place to try and get number one. Despite being 0-4, the Lions are actually a favorite to do that this week, but there's the issue of momentum to deal with. The Rams aren't great, but they're on a two-game winning streak and tied for the division lead so far. There's a bit of a swagger in their step right now, and they look poised for their first three-game winning streak since 2006.
Kansas City @ Indianapolis: The Chiefs are the only undefeated team left in the league. Two years ago, they didn't even make it to three wins — and they're already there. They had a bye week to prepare for the Colts, too. They run and defend the run awfully well, and that makes them one of the worst teams in the league for the Colts to match up against. And yet, the 2-2 Colts are a seven-point favorite. We're big Indy fans, but we're not buying it. It's a dark-horse call for sure, and it's not exactly a lock, but Kansas City is our "upset" pick this week. It comes with the disclaimer that people who bet against Peyton Manning often end up looking rather silly.
Green Bay @ Washington: The 'Skins allow a disgusting 305 passing yards per game, second worst in the league. That does not bode well for their chances against the pass-prone Packers. The Pack got an ugly win over the Lions last week, but it was a win. The Redskins won too, but they're dealing with a big loss in the form of Clinton Portis. Life after Portis might be tough for a couple weeks in D.C.
Chicago @ Carolina: The Bears were down to their third-string quarterback last week and put up 110 yards of offense, which, coincidentally, is exactly the number required to score three points and lose to the Giants by two touchdowns. Still, those three points might be enough to beat Carolina this week. Frosh QB Jimmy Clausen looks like he'll come around at some point, but the Bears are going to force a lot of mistakes from that offense on Sunday. We won't even consider picking the Panthers to win a game until they, you know, win a game.
Denver @ Baltimore: Denver's offense is really clicking right now, and they lead the league in passing attack. What's more, their surprisingly stout run defense makes this matchup a good one for them. The Ravens know a thing or two about playing defense, as well, however, boasting the fewest yards allowed in the league. It's the old unstoppable-force-meets-immovable-object paradox, it appears. It could go either way, but we'll let recent history be our guide: Baltimore is 4-0 against the Broncs at home, outscoring them 111-39 in those meetings.
New York Giants @ Houston: The big problem for the Texans is that they're allowing an average 338 yards of passing offense from their opponents. That's the worst in the league, though it has come without last year's surprise stud Brian Cushing in the lineup. He's back this week to try and make things a little tougher for the Giants through the air as well as on the ground, but the Giants aren't even sure if Ahmad Bradshaw will be able to go. This one's tough to call, but we'll take sure thing Arian Foster over all the question marks the Giants have this week.
New Orleans @ Arizona: The Saints "aren't satisfied" with how they're playing and that they're "struggling offensively." The Cardinals would give up their entire franchise to "struggle" like Drew Brees and company have. Okay, bad example. Matt Leinart was a no-go, so Derek Andersen was brought in to right the ship, and he went ahead and generated the worst passer rating in the league. Worse than you can imagine, even. This one looks like a scrimmage for the "struggling" 3-1 Saints, and we like them by far more than the touchdown they're favored by.
Tennessee @ Dallas: Fact: Dallas hasn't lost coming off a bye week since 2004. They've had an extra week to rest and a game plan to stop Chris Johnson, and that's what this game is going to hinge on. Johnson runs circles around 3-4 defenses like that of the Cowboys, but we've already mentioned his unusual inconsistencies this season. On the other side of the ball, the Titan's defense is going to make Romo scramble, for sure, but that's something he handles relatively well. Checkdown options like Jason Witten and Marion Barber go up in value, and we think the Cowboys should find a way to win this game on Sunday. We reserve the right to eat our words, though.
San Diego @ Oakland: The Chargers have won 13 straight games against the Raiders. Yeah, you read that right. Those have come with an average margin of victory of more than 14 points. True story. We've got no reason to think this one will end up any differently, and the stats hint at more San Diego domination this time around as well. The Chargers lead the league with more than 400 yards of offense per game, while the Oakland defense is one of the very worst at stopping opponents. This one has the makings of the biggest blowout of the week.
Philadelphia @ San Francisco: The sports-betting world is favoring the home team this week, and this is admittedly a bit of a wild-card game. If Michael Vick or LeSean McCoy could go, we'd have the Eagles as a clear favorite. Their absence means this one is going to be much closer, but we still like the Eagles to eek out a close one to keep the Niners out of the win column for the 2010 season.
Minnesota @ New York Jets: The world gets to see Randy Moss back in the purple and gold on Monday night. In seven years with the Vikings, Moss racked up more than 9,000 yards and 90 touchdowns, and he's most certainly the deep threat that Brett Favre needs. He has just four passes of 20+ yards this season, the fewest in the league. If nothing else, the presence of Moss should ease some of the pressure on the other offensive weapons and make opposing defense send one less rusher at Favre on passing downs. Still, we need to wait to see it before we believe it, and the Jets offense is the one that's already clicking right now.
Follow us on Twitter for up-to-the-minute news.
Check out our $22,500 Freeroll Series on Lock Poker which is open to players in the United States. We also have an exclusive $1,000 First Deposit Bonus you cannot get anywhere else!