PokerNews Op-Ed: Which November Niner's Victory Would Be Best for Poker?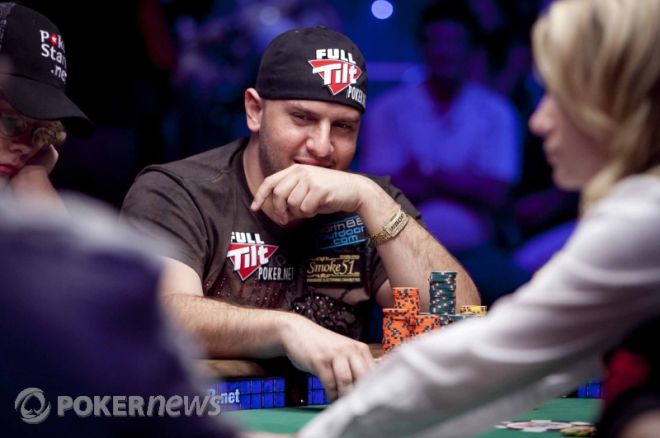 I can still remember the excitement surrounding last year's November Nine when Phil Ivey was attempting to add the World Series of Poker Main Event title to his list of accomplishments. It was one of the most exciting times in poker history, and the entire poker world was holding its collective breath for an Ivey victory. In fact, many poker experts believed an Ivey win would spark another poker boom; much like Chris Moneymaker did in 2003. Unfortunately, Ivey did not win the Main Event and the poker world moved on. As such, the question must be asked, of this year's November Nine, whose victory would be best for poker?
I believe that there will be positive consequences no matter who wins, but I believe that a victory by three specific members would be more beneficial to the game than the others. The November Niners I speak of are Filippo Candio, Jonathan Duhamel, and Michael "The Grinder" Mizrachi. Let me take a look at each member individually and explore exactly why I believe their victory would lead to bigger and better things for poker.
Filippo Candio
Since the poker boom in 2003, the WSOP Main Event has had two foreign winners. I'm talking, of course, of 2005 World Champ Joe Hachem (Australia) and 2008 winner Peter Eastgate (Denmark). Both victories resulted in a poker boom back in their home countries, each of which positively impacted the poker economy worldwide. Thanks largely to Hachem's win, we now have events like the Aussie Millions and Asian Pacific Poker Tour. Likewise, Eastgate's victory introduced even more Northern Europeans to the game. If Filippo Candio manages to navigate the November Nine, a similar boom could happen in Southern Europe.
Candio is the first Italian to make the WSOP Main Event Final Table, so no matter where he finishes, it ought to bring in new players from Italy and neighboring countries. His road to the November Nine had more ups and downs than a roller coaster, but he managed to make it. He was loud, much like the Hevad Khan of 2007; celebrated freely, often drawing penalties; and got lucky on more than one occasion, which might not be viewed as a positive by serious poker players. Nonetheless, many of these characteristics are synonymous with Italy's favorite game, football (as in soccer). If Candio can bring poker to Italy's attention, which would certainly occur if he manages to win, it'll be good for the game by mainstreaming it in yet another country.
Jonathan Duhamel
Not since Jamie Gold in 2006 has the chip leader entering the final table actually gone on to win it. Doing so demonstrates serious devotion, patience and skill while diminishing the luck factor, something that was lacking last year as players constantly gambled. Such a demonstration could certainly serve as ammunition on poker's legal front against those who argue the game is nothing but pure luck. Given the chip stacks, Jonathan Duhamel has the opportunity to show the world that poker is more than just a game of chance.
What's more, Duhamel has the opportunity to become the first Canadian, along with Matthew Jarvis, to win the Main Event. A mini-poker boom in Canada would have an immediate impact on the poker economy in the states. It'd be a trickle-down effect, if you will. I believe this boom could be set off with either a Duhamel or Jarvis victory, but given Duhamel's chip stack, he has the better shot at accomplishing it. If a Canadian wins the Big One, you can bet more players from Canada will take up the game and more tournaments will be held in the Great White North. Perhaps a Canadian stop on the North American Poker Tour would finally come to fruition. Move over Daniel Negreanu, there could be a new Canadian poker superstar on the horizon.
Michael "The Grinder" Mizrachi
Not since 2001 has a professional poker player taken down the title. What that means is those players brought to the game after the poker boom in 2003, which is the vast majority of players, have never witnessed a pro win it all. It seems that every year a top notch pro makes it to the final table (Mike Matusow in 2005; Allen Cunningham in 2006; Lee Watkinson in 2007; Chino Rheem in 2008; and Phil Ivey in 2009), but they always come up short. This year it is Michael "The Grinder" Mizrachi's shot at becoming the first professional to become the World Champion in the modern poker era.
Given his chip disadvantage, I don't think Mizrachi will emerge the victor. I hope he does, and I think he has the skills to do it. Look how he managed to grind to a win in the $50,000 Players Championship; however, the odds are not in his favor. If he can somehow manage to hang on and claim victory, it would be simply amazing. Given that he won his first bracelet in the $50,000 Players Championship, a win in the Main Event in the same year would automatically become one of the greatest accomplishments in poker history.
Everybody loves a comeback story and that pretty much sums up Mizrachi's 2010 WSOP experience. Prior to the WSOP, he had fallen off the poker radar and faced legal troubles in his home state of Florida. People weren't even sure he was going to be at the WSOP until he shocked the world by taking down the first event. He didn't stop there, though, he went on to contend for the Player of the Year award (which he can share with Frank Kassela provided he wins) and made an improbable run in the Main Event. All that's left for Mizrachi to do is win it all and provide everyone with the happy ending they seek. After all, who doesn't like a fairytale?
Have an opinion on the topic? Let us know in our comments section below or in our forums. And as always, follow us on Twitter for up-to-the-minute news.