PokerStars.net Big Game: Tony G Puts Robl in His Place, Corkins and Loose Cannon Bounced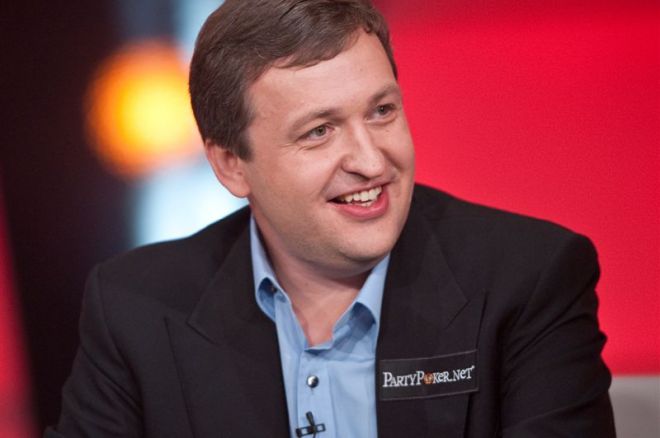 Week 9 of PokerStars.net The Big Game has generated a quite bit of news this week in regard to Tony G and Daniel Negreanu's razzing of Andrew Robl. Rounding out the line-up at the start of the show were Joe Hachem, David "Viffer" Peat, and William Reynolds. This week's Loose Cannon was a blonde bombshell by the name of Elizabeth Houston. From Alberta, Canada, Houston had recently been laid off from her position policing eBay.
Format Refresher Course: The Big Game, which is played with $200/$400 blinds and a $100 ante paid by the player on the button, is a cash game played for 150 hands. The contestant of the week, called the "Loose Cannon," is given $100,000 by PokerStars to play in the game and any profit earned over the initial stake is his or hers to keep. Trying to stop the Loose Cannon, and turn a profit of their own, are five pros, who may rebuy at any time for up to $500,000. At the end of the season, the most profitable Loose Cannon will be awarded a $50,000 North American Poker Tour Passport in addition to any winnings he or she may have amassed.
Loose Cannon Fired: This week's game started with $1.2 million on the table, the most ever in The Big Game. The Loose Cannon was no doubt looking to get her fair share, but unfortunately it didn't work out that way. On Hand 121, Elizabeth Houston was down to her last $29,000 and facing a raise to $2,000 from Tony G. Houston looked down at
and reraised to $6,000. Daniel Negreanu called with
and action folded to Tony G who made it $12,000 to go.
Both Houston and Negreanu called as the flop came
. Tony G checked, Houston move all-in for $17,000, Negreanu called and Tony G got out of the way. The
on the turn was no help to Houston and it was down to the river, which Negreanu agreed to run twice. The
fell on the first run and the
on the second, eliminating the Loose Cannon from the game,
Corkins Doesn't Last Long: Hoyt Corkins was brought into the game but his stay was short and not so sweet. It took only eight hands from him to lose his $100,000 buy-in, with the following hand being the main culprit. In the hand, Tony G had straddled and Negreanu raised to $2,800 from the cutoff with
. Corkins, who started the hand with $97,400, was in the big blind and raised to $10,000 with his
. Tony G picked up
on his straddle and called, as did Negreanu.
The flop came
and Corkins fired out $15,000. Tony G put in a huge raise to $65,000, which pushed Negreanu out of the hand. Action was back on Corkins and he moved all-in, which Tony G quickly called. Corkins was in big trouble and the
on the turn and
,
rivers (it was run twice) didn't change a thing. All Corkins could do was get on his bike and wheel on out of The Big Game.
Tony G Calls the Clock on Robl: Tony G has little patience, as many are well aware, and this week on The Big Game was no different. "If these kids come here and if they play one hand every hour, I'm gonna kick them out. I want to drag them off the table," Tony G said. "If you come here you gotta play and take us on . . . and show your bluff, show your ability, don't come here and blind out. That's not what I'm looking for in my show."
In Hand 131, Tony G straddled and action folded to Andrew Robl in the big blind. He looked down at
and raised to $3,200. Tony G called with his
as the flop came down
, giving him two pair. Robl checked to Tony G who was talkative as he threw out $10,000. Robl called and then checked the
on the turn.
"How much do you have there, Robl?" Tony G asked before betting out $50,000. "See if you're a real man."
"$50,000?" Robl inquired before going in the tank.
"I wanna call the clock," exclaimed Tony G after a short time. "Come on, on the internet you play like one second, you come here now, you come to my game, and you're wasting my time. On your bike."
The floorman was called and told Tony G to calm down as Robl fired back: "Tony, I need to know, did you bring a bike for me? So if I ship it all-in, do I get a bike? Like do I at least get a novelty prize?"
"Now you're mocking the man," William Reynolds said as he jumped to the G's defense. Negreanu tried to lighten the mood with laughter but it seemed as though the tension could be cut with a knife. The floor gave Robl the obligatory minute and then did a ten-second countdown. At the end of it all, Robl simply slid his cards in the muck.
"Good fold," Robl congratulated himself, "Made the hero lay-down."
Tony G Calls the Clock on Robl — Again: In a hand that has now become quite famous, which you can see here, Andrew Robl raised to $2,500 from early position with
and Negreanu called from the small blind with
. The flop came down
and Negreanu checked to Robl, who bet $4,000. After Negreanu called, the dealer burned and turned the
.
This time, Negreanu led out with a bet of $8,500 and Robl called. The river was the
and Negreanu postured at the pot with a bet of $18,500. Robl went into the tank, and given what transpired the last time he went that route, it was just a matter of time before the fireworks started.
"I'm gonna walk out," Tony G exclaimed as he stood from his chair. "If these guys are gonna come here and waste my time, I'm gonna walk out of the game. It's a joke . . . F***'in nit."
"All right Andrew, we're going to go through the same thing," the floorman said as he approached the table. Robl began to gather chips before quickly tossing his cards in the muck with a look of pure frustration on his face.
"What?" Negreanu said in surprise. He then showed the
and needled Robl, "I was so happy you called the clock Tony, high-five for the assist there just in case."
"Well, you got yourself a nit, he could bluff him out," Tony G said of Robl after the hand.
Stats: Here are some statistics that have been compiled throughout the match. Note the following abbreviations: VPIP (Voluntary $ Put In Pot), Raise (Preflop Raise), BR (Button Raise), and FTSA (Fold To Steal Attempt).
| Player | VPIP | Raise | BR | FTSA |
| --- | --- | --- | --- | --- |
| Negreanu | 47.3% | 19.3% | 100% | 56.3% |
| Hachem | 24.7% | 14.6% | 0% | 88.9% |
| Tony G | 72% | 51.3% | 100% | 41.7% |
| Reynolds | 30.7% | 16.7% | 50% | 85.7% |
| Peat | 60.9% | 26.6% | 85.7% | 62.5% |
| Houston | 22.3% | 5.4% | 0% | 84.6% |
| Robl | 19.7% | 19.7% | 42.9% | 72.7% |
For a complete list of stats, visit the Big Game's official site.
Final profit/loss: Tony G (+$330,500), Joe Hachem (+$57,200),William Reynolds (+$53,500), Allen Bari (+$23,300), Daniel Negreanu (+$22,000), Andrew Robl (-$21,000), Hoyt Corkins (-$100,000), Elizabeth Houston (-$100,000), Lex Veldhuis (-$100,400), David Peat (-$165,100)
Think you'd make a great loose cannon? Qualifiers for the Big Game are running daily on PokerStars.