The Nightly Turbo: Federal Warrant Issued for eWalletXpress, Full Tilt Poker's Rush Poker Mobile App Missing, and More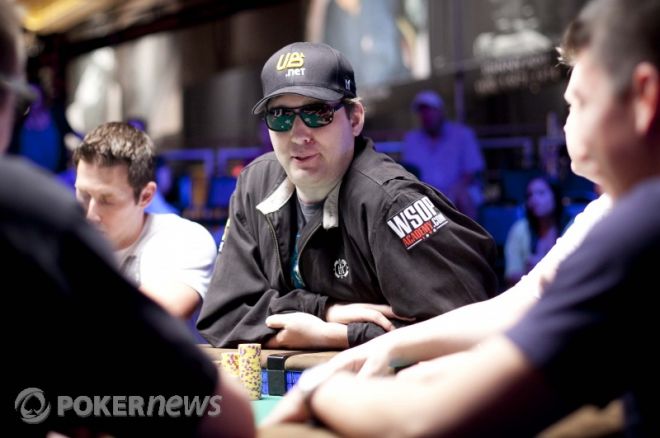 Hopefully, you've taken the time to rest up over the weekend. If your weekend was anything like ours, you ate too much and spent a lot of money shopping, but that's over now and it's the start of a brand new week.
What happened in the poker world while you were in a food-induced coma? The Feds decided to issue a warrant for eWalletXpress, Full Tilt Poker's Rush Poker Mobile app disappeared from the Android Marketplace, and Phil Hellmuth released another poker game.
In Case You Missed It
The World Poker Tour is in Africa (there's your geography lesson for the day) for the Marrakech stop on the ninth season's schedule. Only 31 of the 85 who began Day 1b made their way to join the Day 1a survivors on Day 2. Who bagged chips at the end of the day? Find out in out WPT Marrakech Day 1b recap.
We know you want to set up your online grind station the best way possible, so why not check out how the pros do it? In the latest edition of the Sunday Grind,Kristy Arnett went to Andrew Robl's Las Vegas condo to check out his setup and save him from tilting away thousands.
Rather than shop on Black Friday, Tom Dwan and Daniel Cates put a dent in the "durrrr Challenge." Who came out on top, and who's winning overall? Durrrr Challenge Action on Black Friday has the scoop.
We caught up with Ben "Sauce123" Sulsky to talk poker, super powers, and his entourage. The Online Poker Spotlight has more.
Is there a better way to recoup your Black Friday shopping losses than by winning a Sunday tournament? We can't think of one right now. Check out the Sunday Briefing for the results.
Warrant Issued
Payment processor eWalletXpress has disappeared recently from many online gambling sites. When asked about this, its customer service issued a statement saying there were technical issues. However, the company was served with a federal warrant last week. There haven't been many details released about the situation, but the company pulled out of the U.S. market immediately to avoid serious issues with the Feds.
Players who have money in their eWalletXpress accounts can request their funds but will not be receiving them by check. According to the company, the funds will be transferred to the players' checking accounts when "technical issues are resolved."
If you'd like to find out more, head on over to SportsbookGurus.com.
Missing, but Not Lost
Were you waiting in line at some big-box store early Friday morning, waiting to get that super low-priced LCD television and wanted to play a little Rush Poker to pass the time? Did you sign on to the Android Marketplace only to find the Full Tilt Poker Rush Poker Mobile app MIA? What a bummer. According to Droid-Life.com, the app was pulled "due to maintenance."
There have also been reports that the app was pulled because of a new ratings system for apps in the marketplace. The rule states: "Apps with gambling themes or that include simulated gambling should be rated "Teen" or above. Real gambling is not allowed in Android Market."
Not to worry, though, because you can still access the app through your Droid web browser.
Read more about the app being pulled on PartTimePoker.com, and if you're on your Android phone, download Rush Poker Mobile here.
Hellmuth's Hold'em
Phil Hellmuth has launched a new mobile poker game: Phil Hellmuth's High Stakes Hold'em. In the heads-up mobile game, players can get coaching from Hellmuth and even take him on on the virtual felt. There are live multi-player games and it's said that Hellmuth will be dropping in to take on random players in real time.
"The game is awesome," Hellmuth said. "You can play on-line, off-line, take tips from me – even take me on if you are brave enough. There's only one Phil Hellmuth and there is only one poker game worth having on your cell phone: Phil Hellmuth's High Stakes Hold'Em."
HellmuthHold'em.com has more.
Poker 101
At George Mason High School in Falls Church, Virginia, high-school students are learning math and logical reasoning on the felt, and this has obviously gotten some attention. GMHS math teacher William Snyder's poker club is quickly becoming one of the most popular extracurricular activities at the high school. We can't say that we blame the students.
The school-sponsored club was approved by Principal Tyrone Byrd in September. "We know the kids could play outside of school, but when they're here, we have the opportunity to show them how to play responsibly and to show them how the game relates to their education," Byrd said.
Anti-gambling groups are afraid that using poker as a teaching tool might not be suitable for young brains. "We're playing with fire here. Poker can be a teaching tool, but it can also lead to abuse and addiction," Keith Whyte, executive director of the National Council on Problem Gambling said. "The excitement that a win produces, whether or not it's for money, can have profound effects on decision-making in a young brain."
The GMHS poker club has ground rules in place to ensure the game is being used for educational purposes. Real money is never used, and the game's educational relevance must be made explicit. At the beginning of each meeting, the foundation of the game and statistics are discussed.
"I don't know whether math class is helping me with poker, or whether poker is helping me in math class," GMHS student Daniel Fletcher said.
Find out more about the GMHS poker club and its opponents at the Washington Post.
Leftovers
Because we were too busy stuffing our faces with turkey and pumpkin pie on Thursday, we didn't get to tell you what we're thankful for. Luckily, Gloria Balding made a video. So on top of everything in that video, we'd like to thank you all for reading the Nightly Turbo every night!
Follow us on Twitter for up-to-the-minute news.
Sign up to Everest Poker and earn 25 Summit Points to play in our exclusive €3,000 freeroll to the 3 Lander Poker Tour Grand Final at Montesino Pokertainment Centre in Venice next month.