The Nightly Turbo: Full Tilt Poker's Latest Software Upgrade, Handicapping the WSOP November Nine, and More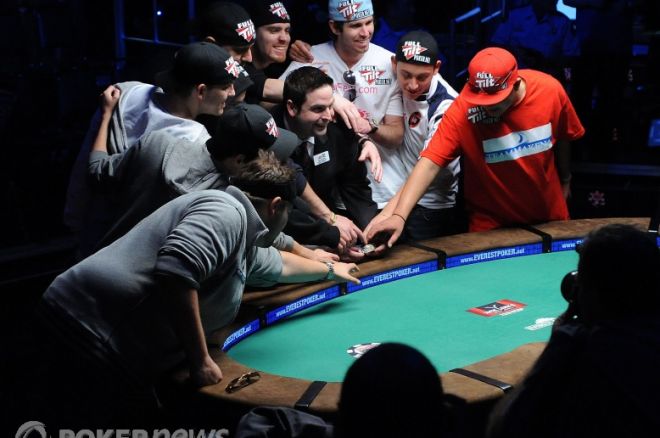 Poker's biggest weekend is almost here. The final nine players of the 2010 World Series of Poker Main Event will take their seats inside the Penn & Teller Theater Saturday and play for poker's greatest prize - becoming the next WSOP Champion. There's going to be plenty of news coming out of the Rio this weekend, so to keep you a well-rounded individual, we're going to bring you the top poker news stories of the day. Full Tilt Poker has released an a slew of new features to its software, so we're going to tell you all about that, and give you the deets on the line for the 2010 WSOP Final Table, and more.
In Case You Missed It
The poker tournament circuit is going strong and with so many events going on, we're sure its hard to keep track of the results. That's why we're bringing you This Week in Tournament Poker.
Sunday might be poker's biggest day on the virtual felt, but that doesn't mean major tournaments aren't running online throughout the week. The Midweek Briefing has the results from some of those tournaments.
With $8.9 million on the line for someone this weekend, all we could think about was, "What on Earth could they possibly do with all that money?" Luckily, Lynn Gilmartin was here to show us.
The midterm elections were held this week and it seems passing poker legislation in Congress could become rather challenging. Matthew Kredell takes a look at What the Midterm Elections Mean for Poker.
With the WSOP Main Event fields in the thousands as of late, it's not really surprising when an amateur wins. This week, History in Spades goes back to 1979, the year when the first amateur won the WSOP Main Event, when it was surprising.
Shiny and New
Full Tilt Poker has released an update to its software, so you'll notice a few changes the next time you log on. You'll now notice that draw games have been introduced. Full Tilt Poker is offering five different variants of draw poker — 5-card draw, 2-7 triple draw, 2-7 single draw, A-5 triple draw, and badugi. Each of these variants will be offered as ring games and tournament formats, including a 10-game mix tournament.
On top of that, the hand replayer has been updated. When you're going back over a hand to see why that donkey called you on the turn, you can jump straight to it, using the new buttons. You can also control the speed at which the hand is replayed and select the "Continuous Play" but option if you want to run through a list of hands without interruption.
Instead of reading about the new features, you should probably open up a Full Tilt Poker account and take advantage of them.
What's the Line
We've told you before and we're telling you again, the biggest weekend in poker is upon us. Maybe when you're following the 2010 WSOP Main Event Final Table action this weekend, you'll want to make it a little more interesting by giving yourself a vested interest — wagering on the outcome. We can't blame you, we bet on things all the time here at PokerNews HQ.
So in case you were wondering, the chip leader with 65.9 million chips, Jonathan Duhamel, is at 5-to-2. Just behind Duhamel, second in chips, is John Dolan, and if you're betting on him to win, you'll get $375 for every $100 wager.
Both Joseph Cheong and John Racener, who are in third and fourth place respectively on the chip leader board are at 13-to-2. Michael Mizrachi is at 6-to-1, despite being seventh in chips, while short-stacked Jason Senti is the biggest underdog at 18-to-1.
Check out the rest of the odds at Bodog.com.
Been There, Done That
Speaking of the 2010 World Series of Poker Main Event Final Table, PartyPoker hostess Tatjana Pasalic caught up with a player who was one of the 2009 November Niners - Antoine Saout.
Saout talks about his experience at the Final Table last year, saying, "...I deserved to win, but I was unlucky against Cada." He also makes his prediction on who he thinks will grind it out and take home the championship this year. (Yes, there was a hint in there.)
Watch the video on the PartyPoker Blog.
Poker in the Parx
Poker players in the Philadelphia, Pennsylvania, area who had to make the trek to Atlantic City to get their live poker fix won't have to anymore. Parx Casino in Bensalem, Pennsylvania, opened the doors to its new 24-table poker room on Wednesday. The poker room is part of a multimillion-dollar expansion for the casino. The room opened at 10 a.m. Wednesday and within a half-hour, six tables were running. An hour later, all 24 tables were filled. The room offers Texas hold'em, 7-card stud, and Omaha.
"It's two hours with no traffic to Atlantic City. This is 15 minutes away," poker player Dave Raddi said.
By early 2011, Bob Green, chairman of Greenwood Gaming & Entertainment, the company that owns Parx, says that the Parx East poker room will be expanded to 61 table, making it the largest in Pennsylvania.
"We knew the demand was there. Poker players are a fairly well-known community of people. They speak with each other over the Internet and on online community sites . . . so [the new poker room] has been anticipated," Green said.
The Philadelphia Inquirer has more.
Partaay!!
Kristy Arnett andLynn Gilmartin attended Eric Baldwin's Halloween party over the weekend and ran into the likes of Kim Kardashian, Lloyd Christmas and Harry Dunne from Dumb and Dumber, and one of the guys peddling escorts on the Las Vegas Strip — or was it Lauren Kling, Dan O'Brien and Craig Montalbano, and Eric Baldwin. You decide!
Follow us on Twitter for up-to-the-minute news.