The Nightly Turbo: Vanessa Selbst Wins Partouche Poker Tour, 2010 WSOP Heads-Up Betting Odds, and More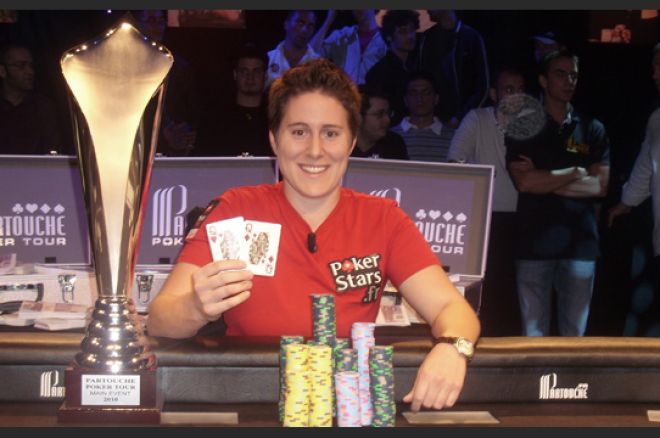 Tonight, the 2010 World Series of Poker Main Event champion will be crowned, but before that, you need to get caught up on the news of the day, and that's why we're here. Another November Nine was played over the weekend in France, so we'll tell you all about that and Vanessa Selbst's latest win, along with betting odds for the the 2010 WSOP Final Table, and more. Read this, go take a quick nap, and we'll see you back here at 8:00 p.m. PST for all the action from the Penn and Teller Theater and the conclusion of the heads-up battle between John Racener and Jonathan Duhamel for WSOP glory.
In Case You Missed It
Those of us in Las Vegas for the 2010 World Series of Poker may have had a break on Sunday, but the online poker scene did not ― it never does. Check out the Sunday Briefing for the results for all of Sunday's major tournaments.
The 2010-2011 World Series of Poker Circuit is going full-steam ahead with its fifth stop taking place in Biloxi, Mississippi. Day 1 saw a field of 270 players take their seats. Who made it to Day 2? You'll have to read the WSOP-C Biloxi recap to find out.
Poker's biggest weekend hit Las Vegas by storm Saturday with the 2010 WSOP November Nine taking their seats to play for the $8.9 million first-place prize and the coveted WSOP bracelet. If you didn't check out the PokerNews hand-for-hand coverage, first, shame on you, and second, you'll need to read Saturday's recap to find out who's going into heads-up play with the chip lead and where everyone finished.
The newest episode of the PokerStars.net Million Dollar Challenge aired Sunday after the NFL on FOX. Johnny Whitt was the latest challenger to take on the pros. Find out how he did in the MDC recap.
PokerNews is dedicated to bringing you the best live reporting coverage in different forms. We know you'll be glued to your computer screens tonight as the 2010 WSOP Main Event champion is crowned, so check out this article to find out where to be locked.
Vanessa Selbst Victorious in France
After an extended break and a cheating scandal, the Partouche Poker Tour crowned its winner over the weekend.
Vanessa Selbst, who was the chip leader going into the final table, bested her seven opponents and walked away with €1,300,000 for first place. She also holds a North American Poker Tour title for the NAPT Mohegan Sun, as well as a WSOP bracelet for the 2008 $1,500 Pot Limit Omaha event. Not counting this win, Selbst has already racked up over $1.9 million in career winnings.
Partouche Poker Tour Final Table Results
1. Vanessa Selbst - €1,300,000
2. Raphael Kroll - €800,000
3. Fabrice Soulier - €500,000
4. Tommi Etelapera - €360,000
5. Ibrahim Raouf - €300,000
6. Soren Konsgaard - €240,000
7. Cyril André - €187,500
8. Tobias Reinkemeier - €130,700
Head on over to PartouchePokerTour.com for more.
Above photo courtesy of PartouchPokerTour.com.
Taking Bets
Jonathan Duhamel andJohn Racener will play Monday night to be named the 2010 World Series of Poker Main Event champion. If you're looking to place a little wager on who will win, Bodog can help you out.
Chip leader with 188,950,000 in chips, Jonathan Duhamel is -500 while Racener, coming into play with 30,750,000 is +300. You can also bet on what you think the final hand will be, with among other odds, a royal flush getting you 500-to-1. Also, at +300, you can choose what the suit of the river card will be on the final hand.
Place your bets soon at Bodog.com.
Inside the Rio
The Bristol crew is in Las Vegas for the 2010 World Series of Poker Main Event Final Table and bringing you latest ESPN Inside Deal straight from the Rio All Suites Hotel and Casino. The discuss the Final Table, and the two players who are heads-up for the title, John Racener and Jonathan Duhamel.
Seeing Red
If you recall the 2010 World Series of Poker winner's photo of the player who took his shirt off, then you know who Pascal Lefrancois is. The 23-year-old college student from Montreal, Quebec, who won his first WSOP bracelet this year and made a deep run in the 2010 WSOP Main Event, finishing 11th, will now see his name in red on the Full Tilt Poker tables as one of the online site's newest Red Pros.
Congratulations Pascal!
Take him on at the tables on Full Tilt Poker.
Press Conference: Duhamel and Racener
Sunday, the World Series of Poker held a press conference to introduce the final two players of the 2010 WSOP Main Event. Of course, we were there to bring you coverage from the media frenzy. Check it out below.
Following us on Twitter is a really good idea. Another good idea? Facebook.