The Nightly Turbo: PokerStars Adds Televised Bounty Shootout to NAPT LA, Partouche Poker Tour Cheating Scandal, and More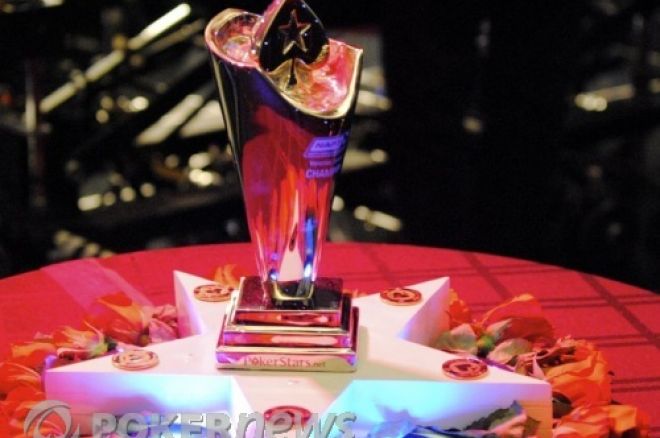 We're pretty sure everyone is focused on that little Final Table that's happening this weekend in Las Vegas, so we're going to keep this as short and to the point as possible. There's only $8.9 million on the line - no big deal. In tonight's edition of the Nightly Turbo, PokerStars has announced another event to its North American Poker Tour LA lineup, a Partouche Poker Tour final tablist was disqualified for cheating, and more.
In Case You Missed It
We went digging through our video vault recently for vintage (read: a couple of months old) footage of the 2010 World Series of Poker November Niners. Obviously we found some and we're now sharing them with you in the latest edition of the Video Vault.
This weekend, nine men are playing for $8.9 million dollars. We here at PokerNews HQ wondered, "What is $8.9 Million, Really?" And here's what we got.
The action on the high-stakes tables on Full Tilt Poker is going strong, and Gus Hansen is looking to recoup his massive losses from the beginning of the year. How's he doing in his quest? Find out in the Online Railbird Report.
Remember this day because today is the birthday of the PokerNews Podcast. The inaugural podcast is all about the 2010 WSOP November Nine. You should listen to it. (Note: That's not a suggestion. It's more of an order.)
It's no surprise that we here at PokerNews HQ like to make predictions; we do it all the time. What good would we be if we didn't throw our two cents in about poker's biggest weekend! Check out Part 1 of the PokerNews Staff Predictions and let us know what you think.
If you haven't already gathered what was going on (by the countless times we've eluded to it), then we can't help you. Michael Mizrachi has the chance to make history this weekend. How did he get to the 2010 WSOP Final Table and what should you expect from him? Find out in our final 2010 WSOP November Nine profile.
Bounty Hunting in LA
The PokerStars North American Poker Tour Los Angeles has announced that it will be adding a $5,250 Bounty Shootout event to its schedule. The Bounty Shootout will be filmed at the Crystal Casino in the LA area on November 16 and 18, and aired on ESPN 2 in December.
"We are looking forward to another star-studded event at the Crystal Casino & Hotel," said President of Crystal Casino Mark Kelegian.
There is an 81-player cap on the event, so if you're looking to drop the dough, you'll need to make sure to register early to get your spot. On Day 1 (November 16) of the event, play will end when a final table is decided and the Final Table will be played on November 18.
To find out more information on the event, head on over to NAPT.com.
Partouche Poker Tour Cheating Scandal
Back in September, the final tablists of the Partouche Poker Tour took a break, much like the WSOP final tablists took a break in July. In a kind of funny coincidence, both final tables are set to play down to a winner this weekend. What's not so funny, however, is that one player has been disqualified from the PPT final table for cheating.
According to MadeInPoker.com, after reviewing the footage, tournament directors have discovered that WPT Barcelona winner, Ali Tekintamgac was cheating using the help of "fake bloggers/reporters, who would look at his opponents hole cards and use hand signals to indicate hands. Tekintamgac was also suspected of cheating earlier this year at EPT Tallinn and was asked to leave by tournament director Thomas Kremser. He has since been disqualified from the PPT Final Table and his chips were removed from the game.
As for the final tablists of the PPT this weekend, they are all guaranteed at least eighth-place money of €130,700, and the excess €110,300 will either be divided among the players or given to charity.
The final table line up looks a little something like this:
Seat 1: Tommi Etelapera - 3,129,000
Seat 2: Soren Kongsgaard - 1,073,000
Seat 3: (empty seat)
Seat 4: Ibrahim Raouf - 3,492,000
Seat 5: Cyrille André - 600,000
Seat 6: Raphael Kroll - 2390000
Seat 7: Vanessa Selbst - 3951000
Seat 8: Tobias Reinkemeier - 819 000
Seat 9: Fabrice Soulier - 3652000
A winner will be crowned this weekend and you can check out PartouchePokerTour.com for more.
Working on a Full House
Beta-testing has begun for a new poker game show on Xbox Live called Full House Poker. The game is modeled after 1 vs. 100, and players will be able to join regularly scheduled games and compete against other gamers worldwide to make it to the final table. The game is not a real-money game, but players will be able to earn "experience points" and chips over time. There is no word yet on when the game will be released to the public.
We spend more time in front of our computers playing on our favorite poker sites, so we don't really have a background in how the 1 vs. 100 game worked on Xbox Live, but it didn't pan out for the company, so we're going to have to wait and see how this one will go.
EscapistMagazine.com has more.
Poker for a Cause
If you're going to be in Las Vegas this weekend, and you're at the Rio (maybe sweating a certain poker tournament), you might want to register for the Vince Neil "Off the Strip Poker Tournament. The event kicks off at 8 p.m. on Sunday, November 7 at the Rio All Suites Hotel and Casino.
The event will honor the Skylar Neil Foundation, which was founded by Vince Neil in honor of his daughter who lost her battle with cancer in 1995. The Skylar Neil Foundation raises money to aid in research in finding cures for cancer, AIDS, and other diseases.
The buy-in to the event is $550 with $200 rebuys and is limited to the first 200 entrants. Both rock stars and poker stars are expected to attend the event that will be emceed by WSOP tournament director Jack Effel.
If you're interested in finding out more about the event, check out the press release.
Doubles Poker Championship Final
For weeks we've been reminding you to watch the Doubles Poker Championship on GSN. This weekend, the finals conclude and the $1 million first-place prize will be awarded to one of the three teams remaining.
The team of Tony G and David Benyamine went home empty-handed last week in fourth place, leaving Phil Ivey and Chris Ferguson, Howard Lederer and Phil Gordon, and Huck Seed and Allen Cunningham to compete for the title.
Don't forget to watch on Saturday at 9 p.m. EDT. If you miss the first airing, you'll be able to catch it again later on that night and on Sunday, but you'll have to check your local listings for times.
Find out more at GSN.com.
Introducing the Matt and Matt Show
This isn't the first go-around for this show, but after long hiatus, the Matt and Matt Show is back. PokerNews' Editor-in-Chief Matthew Parvis and HeavyMMA.com's Editor-in-Chief Matt Brown have joined forces (again) to bring you their views on all things poker, mma, Las Vegas, and whatever else they can think of.
On this week's podcast, PartyPoker hostess Tatjana Pasalic joins the boys to discuss the into music for the 2010 November Niners, Phil Hellmuth, and why there is so much confusion between Matthew Parvis and a certain 2010 November Niner.
Like us on Facebook, and follow us on Twitter for up-to-the-minute news.
For a limited time only you can get 30% back up to €10 on your first MoneyBooker's Deposit, exclusive to Club PokerNews. But hurry, only the first 250 sign-ups will get in on this great promotion.