World Poker Tour Marrakech, Day 1a: Homann and Levi Set the Pace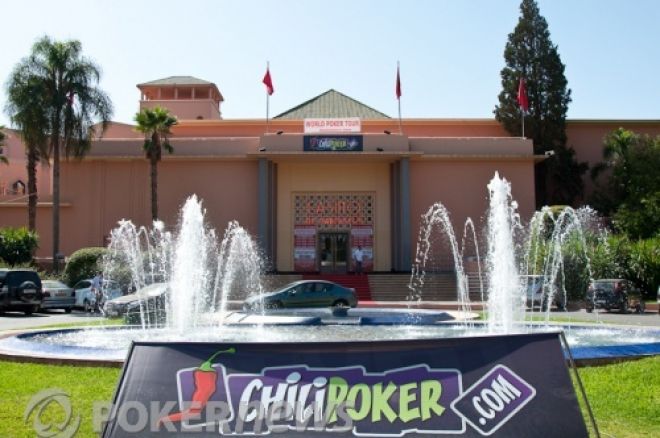 The skies were cloudy over the Casino de Marrakech early Saturday afternoon, with occasional rain and wind further encouraging many who were out and about to seek shelter. Among those who did were the 137 poker players who gathered in the poker room of the Casino de Marrakech to play Day 1a of the €4,250 + €750 Main Event of WPT Marrakech presented by Chilipoker.
Many languages were spoken at the tables today, although French and English — the tourney's two official languages — were the most prevalent. Of course, it was the dialogue of bets and raises — the language of chips, so to speak — that mattered most, and those conversations that ended with well over half of today's starting field losing the right to converse any further. Just 51 players survived the day, with Sebastian Homann of Germany ending the night with the most of anyone with 327,900 chips, with Frenchman Nicolas Levi his closest challenger with 287,700.
Among the early casualties on Saturday was 2008 World Series of Poker Main Event third-place finisher Antoine Saout. After winning a few small pots early, Saout took a significant hit right at the end of Level 4 when Toni Judet claimed most of his stack, making a wheel with his pair of deuces and thus crippling Saout who'd flopped top-pair top-kicker with Big Slick.
Saout hit the rail shortly thereafter, joining Pierre Canali, another early elimination. Others unable to survive the day included Guillaume Darcourt, winner of WPT Bucharest earlier this year, and Alexandre Gomes of Brazil.
Gomes had a roller coaster of a day, building a big stack and challenging for the chip lead early on as one of the first players to near the 100,000-chip mark. Then came a wild sequence in which Gomes lost a third of his stack to Levi following a failed bluff, then pushed back up over 100,000 in a big hand versus Damien Rony in which the Brazilian rivered trip nines.
Levi proved Gomes' undoing, however, taking most of Gomes' stack in a hand in which Levi flopped a set queens while Gomes flopped top two pair, then claiming the rest shortly thereafter. Those hands with Gomes catapulted Levi up around the 200,000, from which point the Frenchman continued to build on his lead as the night progressed, only to be caught by Homann near the end of play.
Other notables in today's field included Surinder Sunar, Manuel Bevand, and Marc Inizan. Sunar survived the day after struggling throughout with a relatively short stack. Bevand won some big hands early to challenge for the lead, then settled back to the pack as the day wore on. And Inizan remained aggressive and active throughout the day, though spent most of that time hovering at or below average-stack-status before finally busting near night's end.
Bruno Lopes, also known as "Kool Shen" the French rap star, was part of today's field as well. During the first half of the day Lopes managed to build up an impressive stack and challenge for the chip lead, though fell back below average as night descended on Marrakech.
Levi held onto the chip lead as they moved into the final hour of play, at which point Homann moved past the Frenchman and the 300,000-chip mark to end the day at the top of the counts. Chasing those two are Andrei One, Martial Blagenwitsch, and Paul Pirestrigo, all of whom ended the day nearing the 200,000-chip mark.
We'll see what kind of weather falls on northwestern Africa tomorrow. Rain or shine, a new group of players will descend on the Casino de Marrakech for Day 1b. Follow along with our coverage starting at 2:00 p.m. local time.
Follow us on Twitter for up-to-the-minute news.