PokerNews Op-Ed: The Eastgate Bracelet Debacle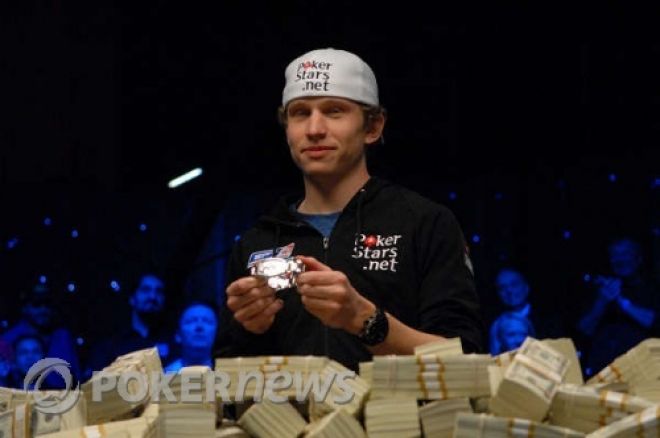 For the past week, the poker world has been fascinated by Peter Eastgate's decision to auction off his 2008 World Series of Poker Main Event bracelet to raise money for needy children via UNICEF. The announcement came as quite the shock to many, especially considering Eastgate's abrupt retirement from poker last summer. What was even more shocking was one man's intention, speaking specifically of Antanas "Tony G" Guoga, to buy the bracelet and have it fashioned into a collar for his German Shepherd, Zasko.
In his blog, Tony G explained his plan prior to the bracelet's sale: "I have decided that I am going to buy Peter Eastgate's WSOP Main Event winner's bracelet. It is currently trading at $16,500 on eBay and I am going to lead the bidding at $17,500 – I don't expect any further bids and as I know there are very few people with the heart and courage to challenge a determined Tony G. What am I going to do with Peter's bracelet? Well, the plan is to get it adapted into a special collar for my trusted German Shepherd Zasko. The ultimate dog bling – as my gladiator and protector he deserves to be kitted out in such style. My dog will be wearing Eastgate's bracelet."
Of course there were other bids, a total of 116 as a matter of fact, with the final bid of $147,500 taking down the auction. The buyer, who is known only as "7***1" per eBay's privacy policy, placed the bid only 22 minutes before the auction's end. Whether or not Tony G, or one of his proxies, is in fact "7***1" remains to be seen. However, if Guoga did follow through and purchased the bracelet, everyone will be anxious to see what he does with his newly acquired bling.
There is little argument that Eastgate's decision to sell his bracelet for charity is a noble cause, especially considering he admitted the bracelet means little to him as compared to the accomplishment and that it has been sitting around collecting dust since 2008. This simply boils down to a case of one man's trash is another man's treasure. I think it is great Eastgate has realized that people value his bracelet even if he does not and that he has chosen to use it to his advantage to raise money for a worthwhile charity.
On the other hand, Guoga's plan to convert the bracelet into a collar has resulted in a huge controversy among poker aficionados. Many feel that making the bracelet, one of poker's most notorious and symbolic relics, into a dog collar is disgraceful not only to Eastgate but to the game of poker as a whole. In fact, Tony G even addressed the issue in his blog: "People will accuse me of trying to make a mockery of Peter's WSOP Main Event win but that is not the intention – I really want to do this. I respect Peter's decision to turn around and say that's it – each to their own and hope that the money I give him for the bracelet goes to a good cause."
Critics of Tony G's claim seem to ignore the fact that he has blatantly acknowledged that he means no disrespect to Eastgate and his accomplishment. Guoga is just doing what he does best and drawing attention to himself. He is known as one of the best outspoken characters in poker, so you can't really be surprised that he is taking advantage of the situation.
With that said, people also seem oblivious to the fact that Guoga may have been using his self-promotion and popularity as leverage to bring attention to the auction, thus driving up the price and resulting in a higher selling price for the charity. What if Guoga isn't "7***1" and was just saying he was going to win the bracelet to inspire others to bid against him and raise the most money for UNICEF? If so, would that not be a genius marketing strategy, as well as a generous gesture? After all, Tony G has been known to donate tens of thousands of dollars to various charities, so pulling such a stunt would not be all that shocking. Just think, if he didn't care about the charity, wouldn't he have kept his mouth shut (a hard thing to do no doubt) and bought the bracelet for minimum value instead of challenging the world to outbid him? Let's face it, without Guoga's antics; Eastgate's bracelet likely wouldn't have sold for a fraction of what it did, and the whole sale may have went relatively unnoticed by the poker community.
As Tony G said in his blog: "I have had a number of comments about whether this demeans the value of a WSOP bracelet. You've got to have a laugh in life and this is what this is – a bit of fun for a good cause. And yes… I haven't yet won a bracelet but it is only a matter of time." Everyone seems to respect Eastgate's decision to have a bit of fun by auctioning off his property for a good cause. By extension, they ought to maintain that respect in regards to the bracelet's ultimate fate by the new owner. At least Guoga, if he does win the auction, isn't going to try passing the bracelet off as his own. He is just having a bit of fun and for $147,500, the price he paid for the bracelet if he was the high bidder, I'd say he should be able to do with is as he pleases.
If all Tony G is trying to do is have a bit of fun and raise money for charity, what is wrong with that? Only time will tell if his antics prove true and he converts the bracelet into a collar for Zasko. Either way, I don't see a problem with it. Money was raised for a great cause and the poker world got another great story. Besides, I doubt anyone would have a problem if Tony G was inspired to buy Paul "Eskimo" Clark's 1999 WSOP Razz bracelet and turned it into a dog collar, which was also for sale on eBay.
Want more from PokerNews? Be sure to follow us on Twitter and like us on Facebook.