PokerStars.net European Poker Tour Prague Day 4: Forza Italia!; Leonzio Leads the Final Table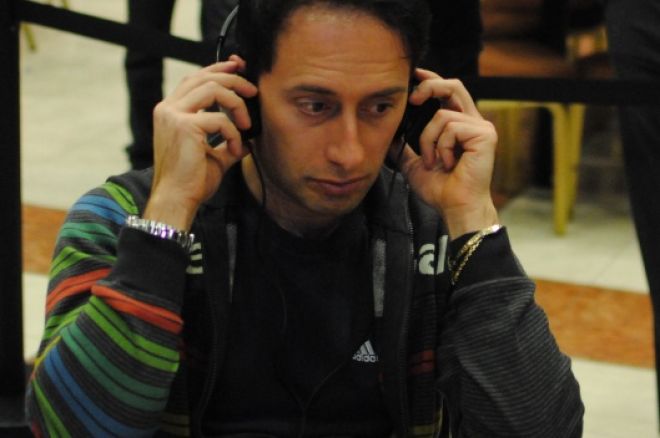 The final table is set at the PokerStars.com EPT Prague with Marco Leonzio leading the final eight players with 5 million chips and hoping, like the others, to capture the title and €640,000 first prize. The slow structure of EPT Main Events – 30,000 starting stack, 60/75 minute clock, every level imaginable - makes the drop from 24 to 8 combatants a lengthy and hard-fought process. Well inside the money (80 in total were paid), the first to be eliminated were guaranteed €15,000 for their efforts in the Hilton Prague Casino this week. Team PokerStars Pro Salvatore Bonavena, Zoltan Szabo and Josh and Helen Prager were among those cashing for the Day 4 minimum, still seeing a good return on their €5,300 entry.
The day saw a series of reversals of fortune, the most dramatic being start of day chip leader Kevin MacPhee's drop at the final hurdle. MacPhee lost a succession of big pots during the day and finished in 9th place. The only player remaining this afternoon with a shot at a second EPT title, MacPhee just missed out on a chance to repeat his performance in Berlin back in March despite being many people's pick when he was leading the shrinking field. On the flip side of the fortune coin, Leonzio rocketed into the lead when there were 12 players left, winning a 3.8 million chip pot and eliminating Melanie Weisner when his pocket kings held preflop vs. Weisner's king-queen and Peter Skripka's ace-queen. Skripka started Day 4 third in chips, and despite this setback climbed up the chip rankings again to finish the day in 2nd place with just over 4 million.
With two tables left, there was still play left in most stacks and some interesting pots developed down the streets; later on the pace of elimination really picked up, slowing only when the 'final bubble' was reached at nine players. Some players busted at this stage after seeming to be stuck in reverse all day, for example popular Dutch pro Rob Hollink, who'd turned a moderate stack into a large one the night before to the delight of fans in the Netherlands. In 2005, Hollink won the EPT Grand Final for just a whisker less than the top prize on offer here tomorrow, but has to settle for 14th place and €25,000 in Prague.
Hollink was eliminated just after Richard Toth and before Denis Kipnis, whose poor timing with king-queen led him to shove into Emilliano Bono's aces, prompting the loudest celebration of the day. The rest of the casino could hear whenever pots went Bono's way, as he leaped from his chair shouting and clapping, usually with a small square piece of cloth draped over his head. While Sal-Bon and Andrea Ferrari may not have made it to the final table, Italy will be represented tomorrow by no fewer than three players - four if you count suspiciously Welsh-accented Roberto Romanello.
Roberto Nulli and Ion Pavel tangled frequently during the two-table stage of Day 4. At one point it seemed that the former had ruined the latter's tournament chances as Pavel left Nulli close to the felt after an all-in flop move made him fold, but he enjoyed a remarkable comeback (mainly at the expense of Richard Toth) and eventually busted Pavel in 11th place (€30,000). This left the tables playing five-handed, with the three Italians sharing one table. Enforcing the 'English only at the table' rule became more and more difficult. They were not playing short-handed long before Nikolay Losev busted in 10th place, his ace-king losing a race against Marcin Horecki's pocket jacks.
Almost two hours of consolidated table action then passed before MacPhee took home what was possibly a slightly disappointing €40,000 for 9th place after doubling Nulli (pocket threes vs. ace-eight) and the eight finalists went to rest (or to the cash tables) for the night.
When they return to the felt for the final day here in Prague, they will be laid out thusly:

| Seat | Player | Chips |
| --- | --- | --- |
| 1 | Marco Leonzio | 5,075,000 |
| 2 | Peter Skripka | 4,010,000 |
| 3 | Roberto Romanello | 1,220,000 |
| 4 | Roberto Nulli | 745,000 |
| 5 | Jan Bendik | 445,000 |
| 6 | Emilliano Bono | 1,530,000 |
| 7 | Manuel Bevand | 615,000 |
| 8 | Marcin Horecki | 3,290,000 |
This event is not being streamed online, but PokerNews will be back tomorrow at midday local time with live coverage and photos from the final table.
Want more PokerNews? Subscribe to the PokerNews Podcast on iTunes, follow us on Twitter and "like" us on Facebook!