The Online Railbird Report: Cates Up, Antonius Down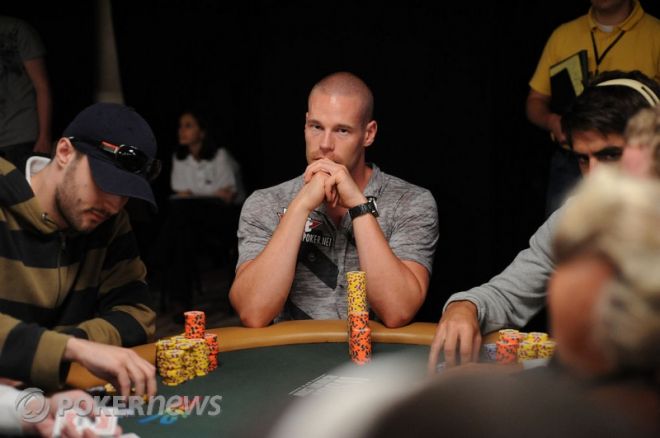 The Full Tilt Poker high-stakes tables were blazing hot last week as $500,000 pots returned after an absence since September. Over the last few days, however, the action has settled down with just two pots hitting the $300,000 mark. The big winner since Friday has been Daniel "jungleman12" Cates, while Patrik Antonius has been on the losing end of Cates' success.
Cates > Antonius
Playing heads-up $300/$600 pot-limit Omaha, Cates had the button and raised to $1,800. Antonius popped it to $5,400 from the big blind and Cates called, leading to an
flop. Antonius led out with a pot-sized bet of $10,800. Cates called, seeing the
hit the turn. Antonius bet the pot again, $32,400. Cates raised to $129,600 and Antonius got the rest of his stack in, roughly $172,000. Cates called and showed
for the nut straight. Antonius tabled
for two pair (three pair, actually), as well as a flush draw. They ran it twice, but to no avail for Antonius. Cates' straight held on both times and he scooped the $375,000 pot.
The only other $300k+ pot of the last few days also was played between these two and also went Cates' way. Antonius had the button this time and raised to $1,800. Cates three-bet to $5,400 and Antonius four-bet to $10,800. Cates must have loved his hand, five-betting to $32,400. Antonius called and finally a
flop was seen. Cates bet $64,800 and Antonius jammed his stack of $118,000 into the middle. A call from Cates revealed:
Cates:

Antonius:
Both had top pair, but Cates led with the bigger kicker. Antonius had outs to a straight and was looking to get there or hit a ten for two pair, but again it was not meant to be, even after two runs. The first run delivered the
and
while the second run brought the
and
. Cates' ace kicker was the deciding factor in both, earning him the $300,000 pot.
Cadillac1944 Taking it Easy
Last week cadillac1944 was at the center of every big pot, playing in four separate pots that exceeded a half-million dollars. Since then, it's been tough to find cadillac1944 in a six-figure pot at all. Since his rush last week, cadillac1944 has cooled off a bit, dropping about $300,000. Playing six-handed $300/$600 pot-limit Omaha, Patrik Antonius raised to $2,700 from the hijack and Scott "URnotINdanger2" Palmer called from the cutoff. On the button was cadillac1944 and he raised to $12,300. The blinds folded while Antonius and Palmer called, landing a
flop. Antonius was first to act and he fired about a pot-sized bet, getting Palmer to fold. Cadillac1044 called all in for just under $38,000 with
(overpair, open-ended straight draw, top pair), while Antonius showed
for top two pair.
Antonius was ahead with his two pair but was an underdog to hold up. However, he did just that as the
turn card and
river card were no help to cadillac1944, watching the $113,000 pot head to Antonius.
Who's up? Who's down?
This week's biggest winners (11/30-12/2): Daniel "jungleman12" Cates (+$369,000), Ben "Sauce1234" Sulsky (+$284,000), Rami "Arbianight" Boukai (+$190,000), Andreas "skjervøy" Torbergsen (+$168,000)
In the red: Patrik Antonius (-$618,000), cadillac1944 (-$283,000), LokoIsBack (-$170,000), DrugsOrMe (-$141,000)
Year to Date: Daniel "jungleman12" Cates (+$5.19 million), Andreas "skjervøy" Torbergsen (+3.47 million), Tom "durrrr" Dwan (+$2.9 million), Phil Ivey (+$2.86 million)
If you want to rail some of the biggest cash games in the world, look no further than Full Tilt Poker where you can sweat the biggest names on the planet. So sign up for an account today and bag a $600 sign-up bonus, and remember to follow us on Twitter for up-to-the-minute news.