The Online Railbird Report: Antonius Annihilating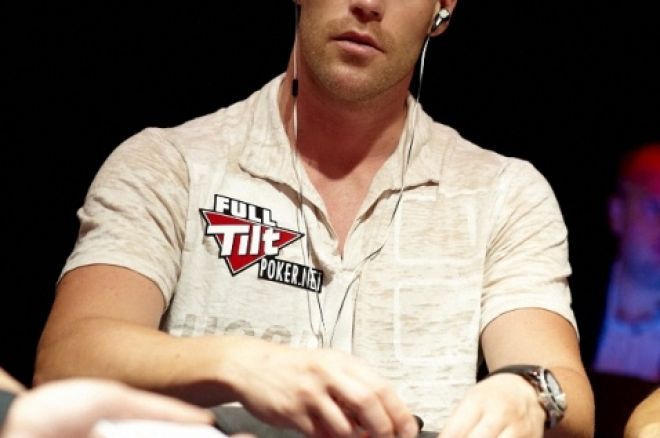 This weekend's action at the Full Tilt Poker high-stakes tables had a different feel to it than usual. The massive pots took a back seat to the slow and steady pots as this weekend's big winner, Patrik Antonius, did his damage playing limit. Also enjoying a profitable few days was Jared "harrington25" Bleznick. On the flip side, "IHateJuice" and Marcello "luckexpress10" Marigliano found themselves well in the red.
Antonius Smashes "IHateJuice"
Up nearly $1,000,000 since Friday, Patrik Antonius has found a majority of that success playing limit hold'em against "IHateJuice." The two have played quite a bit against each other over the last few days and to this point, the match has been one sided. Much of their battle has been at the $2,000/$4,000 level, and Antonius has had the upper hand.
Antonius raised on the button and IHateJuice defended from the big blind, leading to a
flop. A quick check to Antonius led to a continuation bet of $2,000, but IHateJuice followed with a raise to $4,000. Antonius called, and the
hit the turn. A raising war ensued after IHateJuice bet $4,000. Antonius popped it to $8,000, IHateJuice three-bet to $12,000, and Antonius went four bets to $16,000. IHateJuice called and then check-called another $4,000 after the
river card popped off. Antonius tabled
for a full house and IHateJuice mucked, surrendering the $56,000 pot to the Finn.
With the button again, Antonius raised to $4,000. IHateJuice re-raised to $6,000 and Antonius was quick to four-bet to $8,000. Following IHateJuice's call, the flop came down
. A check-call of $2,000 from IHateJuice brought the
on the turn and IHateJuice checked again. Antonius bet $4,000, IHateJuice raised to $8,000, and Antonius appeared worried, opting to call. The
fell on the river and IHateJuice fired $4,000. Antonius, however, popped it to $8,000 and after IHateJuice called, Antonius revealed
. IHateJuice couldn't beat the cowboys, losing the $52,000 pot to Antonius.
Seems like Antonius did his most damage while in position. Antonius was on the button and raised with IHateJuice three-betting from the big blind once again. A call from Antonius delivered a
flop. IHateJuice made the $2,000 continuation bet, and Antonius had none of it, raising to $4,000. After a call and seeing the
fall, IHateJuice checked to Antonius who fired the $4,000 bet. IHateJuice raised to $8,000 and Antonius quickly went three bets to $12,000. It didn't look promising for IHateJuice after electing to just call. The
landed on the river and IHateJuice check-called another $4,000, seeing Antonius turn over
for a flopped set. The $52,000 pot went in Antonius' direction.
"harrington25" Bests "luckexpress10"
Jared "harrington25" Bleznick and Marcello "luckexpress10" Marigliano both put in the most time on the virtual felt cash-game scene since Friday and battled each other in a mix of $200/$400 and $300/$600 pot-limit Omaha. While no massive six-figure swing pots came, Bleznick did win several solid-sized pots to get the better of their matchup.
At $200/$400, Bleznick opened with a raise to $800 on the button. Fast forward a few small raises and Marigliano five-bet to $7,200. A call from Bleznick brought a flop of
. Marigliano checked and Bleznick fired a pot-sized bet of $14,400. For about $37,000, Marigliano re-raised all-in and Bleznick quickly called. The hands were:
Marigliano:
(bottom two pair and an overpair)
Bleznick:
(top pair and multiple straight draws)
They ran it twice and Marigliano was in trouble pretty quickly, seeing the
turn card on the first run give Bleznick a straight. The
river card was no help to Marigliano, hoping the second run would bring a better result. It did not, though, as the
hit the turn to give Bleznick a better two pair. The
fell on the river and Bleznick took down the second run with queens and jacks, scooping the $88,000 pot.
The two also battled at $300/$600 stakes and the result was more of the same. Marigliano raised to $1,800 on the button and Bleznick popped it $5,400. Marigliano called and the flop fell
. Bleznick bet half the pot, $10,800, and Marigliano responded with an all-in shove for just greater than $36,000. Bleznick called and tabled
for aces and an open-ended straight draw, while Marigliano showed
, an overpair of kings with bottom pair. They ran it twice and the first run brought the
and
, making an eight-high straight for Bleznick. Any chance Marigliano had to salvage the second run quickly ended with the
turn card, again making a winning straight for Bleznick and giving the $82,000 pot.
Who's up? Who's down?
This week's biggest winners (11/19-11/22): Patrik Antonius (+$975,000), Jared "harrington25" Bleznick (+$241,000), Observer84 (+$163,000)
In the red: IHateJuice (-$937,000), andrewkirk (-$342,000), Marcello "luckexpress10" Marigliano (-$262,000)
Year to Date: Daniel "jungleman12" Cates (+$4.67 million), Tom "durrrr" Dwan (+$4 million), Phil Ivey (+$3.12 million)
If you want to rail some of the biggest cash games in the world, look no further than Full Tilt Poker where you can sweat the biggest names on the planet. So sign up for an account today and bag a $600 sign up bonus and remember, follow us on Twitter for up-to-the-minute news.