The Online Railbird Report: Sahamies and Antonius Top the Leaderboard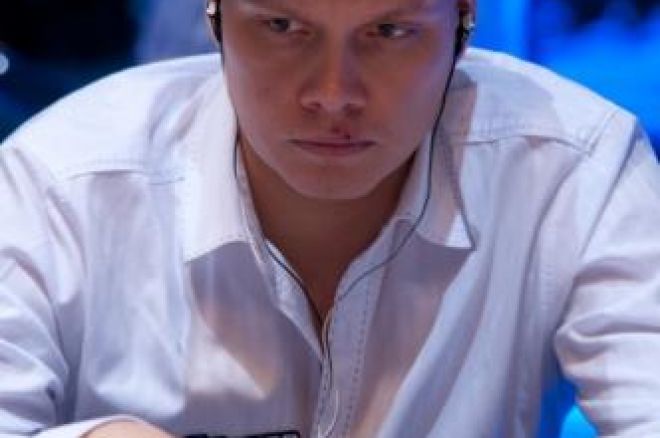 It's a big travel week in the poker world. Many of the online game's heavy hitters flew to London over the weekend for the World Series of Poker-Europe, which kicked off today at the Empire Casino. Tom "durrrr" Dwan is there chasing down his bracelet bet, as is Phil Ivey, who has a few jewelry-based wagers of his own. Holding down the fort at the nosebleed-stakes tables on Full Tilt Poker were Ilari "Ziigmund" Sahamies, who made a vast improvement over his cash-game performances last week, and Patrik Antonius, whose foray into heads-up limit hold'em continued to prove successful.
Sahamies scores $744k PLO win vs. South
Last week at this time, we were examining the carnage from two of Ilari "Ziigmund" Sahamies' heads-up PLO matches — one in which he dropped half a million to Cole South and another against Brian Hastings in which he shed $245,000. On Thursday, however, Sahamies was able to reverse those losses. Sahamies and South met for a rematch at the $500/$1,000 PLO tables, and within 1,000 hands, Sahamies pocketed $744,000.
In the session's largest pot, Sahamies was only a slight favorite when the money went in, but after running it twice, he was able to scoop the entire pot. South opened for a $3,000 raise with
, Sahamies three-bet to $9,000 holding
, and South called. The
flop brought South top and bottom pair along with an open-ended straight draw while Sahamies hit top two pair. All the money went in on the flop: Sahamies led out for $18,000, South raised to $72,000, Sahamies repotted to $234,000 and South called all-in for $164,479. They decided to run it twice and South's draws missed on both occasions, the first turn and river falling the
and the
and the second the
and
. Ship the $346,958 monsterpotten to South.
Sahamies ran well again in another near-coinflip situation, earning himself a $270,000 pot. South opened for $3,000 with
, Sahamies raised to $9,000 with
and South came back with a four-bet to $27,000. Sahamies called and they saw a
flop. Sahamies led out for $54,000 with his straight draw, South shoved for $107,985 with his overpair, and Sahamies made the call. Sahamies made his straight on both runs of the turn and river, hitting the
on the first turn card and the
on the second river to snap off South's aces and take down the pot.
Limit hold'em battle nets Antonius $400k
Over the last two weeks, Patrik Antonius has made "deprimiert" his personal punching bag. The man behind the screen name is Jonas Khan, a German pro who specializes in high-stakes limit hold'em and primarily plays at the $500/$1,000 level and above. After relieving Khan of about $300,000 last week, Antonius continued his assault, earning another $392,000 from a 605-hand heads-up match at a $2,000/$4,000 table.
In one of their largest confrontations, Khan opened for a raise to $4,000 from the button and Antonius three-bet to $6,000 with
. Khan called and they saw a
flop. Antonius bet and Khan called. The turn came the
, Antonius picking up an open-ended straight draw. He fired again and Khan called. The river was the
, making Antonius' straight. He bet out, Khan raised, Antonius three-bet to $12,000 and Khan called. We'll never know Khan's hand (two pair?) as he mucked, Antonius collecting the $48,000 pot.
Benefield banks $181k in cap PLO battle
Sahamies wasn't exactly thrilled that David Benefield wanted to play $500/$1,000 cap PLO rather than the deep-stacked game but joined Benefield for a 620-hand match. Although the $80,000 capped pots were nowhere near the size of the monsterpottens Sahamies had played a few days earlier against Cole South, the edges in many of the hands were just as small.
One hand in which Benefield had a clear edge came when he opened his
for $2,000. Sahamies three-bet to $6,000 with
, and Benefield came back over the top for $18,000. Sahamies called, $36,000 of the $80,000 max already in the pot as the flop came down
. Sahamies bet $22,000 and Benefield called. The betting was capped and the cards went on their backs, Benefield spiking a set of aces on the turn when the
fell. The river was the
and the man formerly known as "Raptor" raked in the pot.
And just for fun, here's a little snippet of some vintage Sahamies chat-box blather coming at the end of the match. Stay classy, Helsinki.
Ziigmund: i take your money later if u havent lost those for someone else
Ziigmund: f fish
Ziigmund: biggest fish
Who's up? Who's down?
This week's biggest winners (9/6-9/12): Ilari "Ziigmund" Sahamies (+$614,000), Patrik Antonius (+$399,000), skjervoy (+$390,000)
In the red: Cole South (-$622,000), Jonas "deprimiert" Khan (-$419,000), O Fortuna PLS (-$343,000)
Top earners, 2010 to date: Phil Ivey (+$3.8 million), Dan "jungleman12" Cates (+$3.65 million), Tom "durrrr" Dwan (+$3.38 million)
OMG I'm so stuck: Brian Townsend (-$2.53 million), Gus Hansen (-$2.47 million), Matatuk (-$1.54 million)
The highest-stakes games on the Internet all unfold on Full Tilt Poker. Open up an account today and see for yourself.