The Online Railbird Report: Heavy Hitters Go Heads-up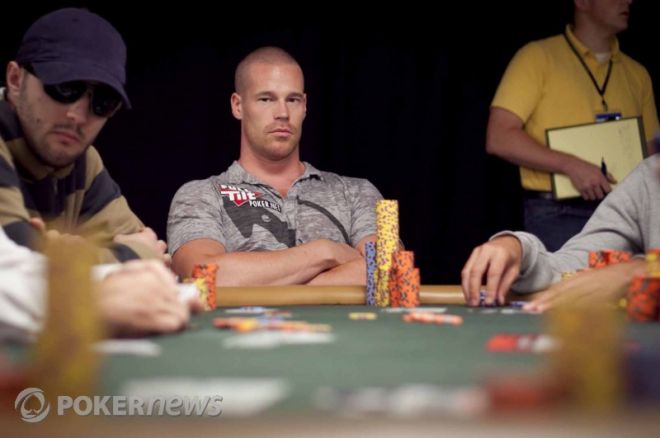 Although the new incarnation of the "durrrr" Challenge remained on hiatus, (Tom Dwan jetted off to France to play in the Partouche Poker Tour event in Cannes), there was still plenty of action to be found this week at the nosebleed stakes tables. In addition to the continuing 7-Game and pot-limit Omaha action, a trio of heads-up matches took center stage. Phil "OMGClayAiken" Galfond ended up a winner after long sessions with"URnotINdanger2", Patrik Antonius and Cole South took more than half a million off Ilari "Ziigmund" Sahamies, and Brian Hastings stepped back into the fray, earning close to $400,000, most of it from Sahamies.
"URnotINdanger2" and Antonius each drop $192k to Galfond
Phil Galfond continued to up his volume this week, his longest session by far a 3,000-hand marathon against URnotINdanger2. The two played three tables of $100/$200 no-limit hold'em and three tables of $100/$200 PLO for close to five hours, Galfond finishing up a $192,000 winner. While URnotINdanger2 was successful at the NLHE tables, winning $190,000, Galfond dominated the PLO portion of the evening, scooping up $382,000.
The largest pot of this session came in at $93,000, a 465-big blind monster at these stakes. Galfond opened for $600 from the button, URnotINdanger2 three-bet to $1,800 and Galfond called. URnotINdanger2 led out for $2,600 on the
flop and Galfond came along. The turn was the
and URnotINdanger2 fired another $6,800. Galfond raised to $17,600, URnotINdanger2 moved all-in for $42,195 and Galfond called, turning over
for fours full of deuces. Despite having two flush draws with
, URnotINdanger2 was drawing only to his gutshot steel wheel but didn't get there on the river, the
falling to give Galfond the $93,190 pot.
The next day, Galfond took on Patrik Antonius, who has been mired in a seven-figure online losing streak as of late. Playing $300/$600 PLO, Galfond took $192,000 off Antonius including this $119,000 pot. Antonius made it $2,000 to go from the button, Galfond three-bet to $6,200 and Antonius called. Galfond led out for $8,700 on the
flop, Antonius potted to $38,700, Galfond repotted to $128,700, and Antonius called all-in for his last $14,499.
Antonius:
(middle pair and a straight draw)
Galfond:
(top set)
They ran the turn and river twice. The first run brought the
and the
, Galfond's set holding up to win the first half of the pot. The second turn and river also favored Galfond, the
and the
falling to give him the entire $118,898 pot.
South sinks Sahamies for half a million
Sahamies and South met for only 337 hands of $500/$1,000 PLO, but as we all know too well, it only takes one hand to lose enough dough to buy a lovely apartment in Helsinki. In 90 minutes, Sahamies dropped $520,000, most of it at the tail end of the match. Three pots over $200k materialized and Sahamies lost two of them, including this $411,000 whopper.
Sahamies opened for $3,000, South three-bet to $9,000 and Sahamies called. The flop came down
and South led out for $13,000. Sahamies smooth-called. The
fell on the turn and South loaded another bullet, making it $36,000 to go. Again, Sahamies called. The river fell the
and South made a pot-sized bet of $106,000. Sahamies moved all-in for $355,483 and South called. This was one of those nasty coolers, Sahamies holding
for jacks full of queens while South had the better boat with
for queens full of jacks.
Hastings takes $245k off Sahamies
Less than 24 hours after his PLO bloodbath with Cole South, Sahamies chased his losses in a $300/$600 match with Brian Hastings. They didn't play for long, squeezing in about 200 hands, but Sahamies continued his run-bad, dropping $245,000. The largest pot of the match came in at $188,000 and at this point, we're pretty sure you can guess who took it down.
Hastings opened for $1,800 on the button, then called Sahamies' $5,400 three-bet. All the money went in on the
flop, Hastings holding
for top set while Sahamies had
for a straight draw and an ace-high flush draw. Despite running it twice, Sahamies missed his outs in both instances while Hastings paired the board each time, raking in the monsterpotten with tens full.
Who's up? Who's down?
This week's biggest winners (8/30-9/5): Brian Hastings (+$380,000), Daniel "jungleman12" Cates (+$374,000), Phil "OMGClayAiken" Galfond (+$325,000)
In the red: Ilari "Ziigmund" Sahamies (-$453,000), Patrik Antonius (-$325,000), URnotINdanger2 (-$318,000)
Awesome August (8/1-8/31): Phil Ivey (+$2.06 million), Daniel "jungleman12" Cates (+$1.1 million), Phil "OMGClayAiken" Galfond (+$904,000)
August Anguish: Gus Hansen (-$2.86 million), NEKOTYAN (-$946,000), David Oppenheim (-$846,000)
The highest stakes action on the Internet all unfolds on Full Tilt Poker. Open up an account today and see for yourself.