The Online Railbird Report: Isildur1 Loses $4.2 Million to Brian Hastings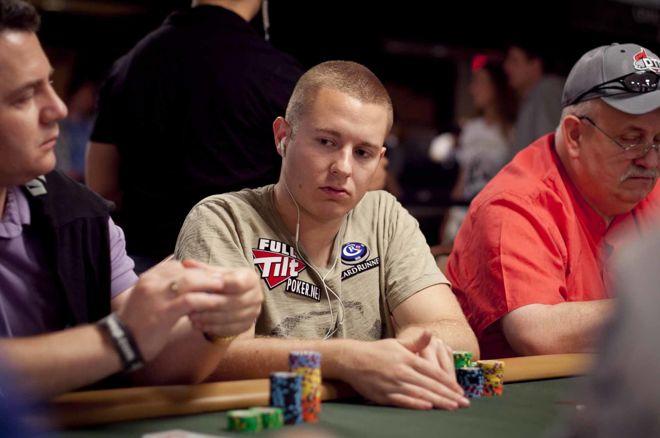 Within the last 72 hours, online poker phenom "Isildur1" dug himself out of a $3.1 million hole, only to lose $4.2 million to Brian Hastings in under 3,000 hands. The $4.2 million that Hastings won last night is believed to be the largest single-session win in online poker history.
After a sharp downswing that saw him lose $4.1 million between Nov. 24 and Dec. 1, Isildur1 took a few days off to recuperate before reappearing on Full Tilt Poker on Friday.
He lost an additional $535,000 that day but booked a $1.6 million win on Sunday, taking $1 million from Brian Townsend and another $500,000+ from his nemesis Tom "durrrr" Dwan.
Sunday's sessions lifted Isildur1 out of the overall red on Full Tilt; he'd been down $1.2 million since appearing on the high-stakes scene in late September and found himself within $100,000 of breaking even.
On Monday, Isildur1 returned to the virtual felt and played a 12-hour session spanning more than 5,300 hands. Although he lost $368,000 to Patrik Antonius and $50,000 to Townsend, Isildur1 won nearly $2 million from Ilari "Ziigmund" Sahamies to give himself a $1.53 million win for the day.
Then, to put it bluntly, all hell broke loose Tuesday afternoon.
Isildur1 started off playing "jungleman12" at $100/$200 no-limit hold'em. After Isildur1 booked a $471,000 win, jungleman12 confessed in the chat box that the match had busted his Full Tilt account.
Isildur1 moved on to four $500/$1,000 pot-limit Omaha tables where he took on Townsend for 2,515 hands, adding another $722,000 to the till. As he closed out his match with Townsend, Isildur1's three-day upswing totaled $4.35 million.
Next up was Hastings, who sat with Isildur1 at four tables of $500/$1,000 pot-limit Omaha. Although Hastings started off the session losing $700,000, he quickly turned the game around. After what was admittedly a heaven-sent run of cards, the Full Tilt pro won an astounding $4,206,960 in 2,858 hands.
The night's largest pot came in at $683,000, Isildur1 leading off with a raise to $3,000 from the button. Hastings three-bet to $9,000, and Isildur1 called. Hastings led out for $13,000 on the
flop, Isildur1 popped it to $48,000 and Hastings called. The turn came the
and Hastings bet $114,000. Isildur1 moved all in for $284,498 and Hastings called, turning over
for a monster wrap draw while Isildur1 flopped two pair and turned a better two pair with
. Hastings had 19 outs on the river and the
was one of them, giving him a seven-high straight and the $682,995 pot.
Isildur1 couldn't hide his descent into the depths of tilt. "This is not happening," he wrote at one point.
Then, when Hastings wanted to quit the match, Isildur1 really let it rip.
Isildur1: ??????????
Brian Hastings: getting very tired...
Brian Hastings: i feel bad quitting tho
Brian Hastings: would be be cool w/ playing someone else?
Isildur1: just f off
Isildur1: wåfä'qqqqqqqnhjwe4nm
Isildur1: dW
Isildur1: GFE4¨ÅN,K N,KN,KN,KN,KN,KN,KN,KN,KN,KN,KN,KN,KN,K3
Isildur1: Q
Isildur1: u know how lucky u are ?
Brian Hastings: yes i know
Isildur1: i can promise this is the worst
Brian Hastings: ill give you 30 more min if you want
Isildur1: luck anyone had
Brian Hastings: but im rly tired
Isildur1: k 30 mins more
Isildur1: take my last $$
Isildur1: i dont want it
Hastings and Isildur1 ended up playing for another hour. When the stacks came off the tables, Isildur1 had posted a 24-hour loss of $3,013,363 in 9,984 hands played, putting him $1.59 million in the red since he began his run on Full Tilt in late September.
In another interesting twist, Hastings posted the following on the Two Plus Two Forums on Dec. 7, the day before his $4.2 million session:
"Everyone who took pieces of my 500/1k action this spring,
Just so there's no confusion I am taking the standing pieces off the table, I don't remember if it was supposed to be for all 500/1k or just for vs Gus but anyway my situation has changed a lot in the past 6 months and I wish to end with the standing pieces because of that. Sorry I lost you a bit of $ and thanks for understanding, I'll try to get in touch with all of you individually too although I don't have everyone's email"
Who's winning against Isildur1? Hastings (+$3.84 million), Ivey (+$2.91 million), Antonius (+$2.18 million), and Townsend (+1.32 million).
Who's losing against Isildur1? Dwan (-$5.52 million), David Benyamine (-$560,000), and Sahamies (-$120,000)
The highest-stakes action in online poker all unfolds on Full Tilt Poker. Open an account today and see for yourself.
Image Via FullTiltPoker.com