The Online Railbird Report: Ivey's Weekend Massacre, Galfond Ups the Volume, and More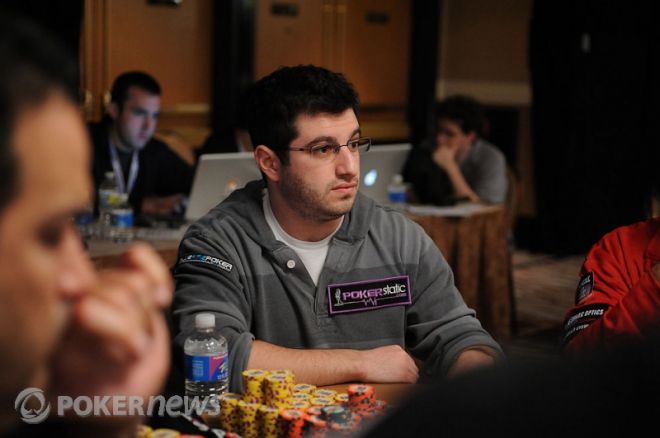 Much like Tom "durrrr" Dwan, who saw his August hot streak come to a screeching halt last week, Phil Ivey experienced the same phenomena this weekend, losing nearly half of his $1.6 million profit for the month in only three days. David Oppenheim found himself stuck, as well, losing nearly three-quarters of a million dollars this week, while Phil "OMGClayAiken" Galfond and high-stakes grinder O Fortuna PLS found themselves on the plus side, the latter because of an extremely lucrative heads-up session with Dwan.
Ivey drops $786,000 in 72 hours
Sometimes it seems as though Phil Ivey is invincible, but even the player his peers deem as the best in the world has a setback every now and then. Ivey's came this past weekend when he lost $786,000 over the course of 2,832 hands. His most expensive sessions included a 138-hand $500/$1,000 heads-up cap pot-limit Omaha match in which he lost $298,000 to Ilari "Ziigmund" Sahamies and a 104-hand $2,000/$4,000 limit hold'em battle during which he dropped $158,000 to IHateJuice.
In a capped hand from the Sahamies match, Ivey min-raised to $2,000 from the button, Sahamies three-bet to $6,000, Ivey four-bet to $18,000 and Sahamies called. The rest of the money went in on the
flop, Sahamies capping the action with a $22,000 bet and Ivey making the call.
Ivey
(pair of kings)
Sahamies
(pair of jacks, straight draw, queen-high flush draw)
Although Ivey had the best hand on the flop, Sahamies had him when it came to redraws, hitting a flush on the turn when the
fell and raking in the $80,000 pot.
Galfond and Antonius clean up at PLO
Phil "OMGClayAiken" Galfond ramped up his volume this week, spending some significant hours grinding away at everything from $25/$50 to $300/$600 pot-limit Omaha. His week started off with a huge win of over $250,000 at the $200/$400 tables. Those earnings came at the expense of Finns Sahamies and Patrik Antonius who both found themselves on the losing end of this monsterpotten.
Sahamies opened for $1,610 on the button, Galfond called from the small blind, and Antonius three-bet to $6,650 from the big blind. Sahamies called and Galfond came back over the top, making it $28,220 to go. Both Sahamies and Antonius called and they saw a
flop. Galfond led out for a pot-sized bet of $80,640, Antonius called all-in for $14,478, and Sahamies did the same for $40,459.
Galfond
(pair of aces)
Antonius
(set of queens, queen-high flush draw)
Sahamies
(pair of sevens, open-ended straight draw)
Galfond picked up a flush draw when the
fell on the turn, and he filled it with the
on the river, wresting away the $181,000 pot.
The power trio met again the next day and decided to kick the stakes up to $300/$600. In this session, Antonius finished up as the big winner, taking in $237,000 while Galfond and Sahamies lost $100,000 apiece. Once again, Antonius and Sahamies were involved in the largest pot of the day, which came in at $143,000.
Antonius opened for $2,000, Sahamies three-bet to $6,200 from the big blind and Antonius called. Sahamies fired out $10,800 on the
flop and Antonius came along with a call. The
on the turn earned a $34,200 bet from Sahamies and another call from Antonius. When the
hit the river, Sahamies moved all-in for his last $20,497 and Antonius called, having him covered. Although Sahamies rivered a queen-high flush with
, Antonius made the nut flush with
and took down the $143,594 pot.
Dwan "durrrrminates" the seven-game, falters at LHE
Tom Dwan was a grinding machine over the weekend, gutting out more than 6,700 hands at no-limit hold'em, PLO and 7-game. Although he didn't fare too well in the $200/$400 PLO cap game, dropping more than $160,000, he made it all back and then some at NLHE and 7-Game, banking more than $350,000. On the other end of the spectrum, David Oppenheim couldn't seem to catch a break, losing nearly $600,000 this week at the 7-Game tables.
Dwan's biggest pot came in one of the PLO rounds. Playing four-handed with $300/$600 blinds, Niki Jedlicka opened for $1,800 from the button, and both Antonius and Dwan called from the blinds. Antonius led out for $5,400 on the
flop, Dwan called and Jedlicka shoved for $19,200. Antonius reraised to $68,400, Dwan shoved for $73,535, and Antonius called off the $5,135 he had behind.
Jedlicka
(two pair, straight draw)
Antonius
(ten-high straight, open-ended straight flush redraw)
Dwan
(nut straight)
Dwan's nut straight held up against Antonius' monster redraw, the turn and river falling the
and the
to give him the $171,671 pot.
Although Dwan ran hot in the mixed game, he dumped off all of those profits during a three-hour $2,000/$4,000 heads-up limit hold'em bloodbath against "O Fortuna PLS." Dwan lost a staggering $474,000 over the course of 641 hands.
Who's up? Who's down?
This week's biggest winners (8/16-8/22): Erik "DIN_FRU" Sagstrom (+$395,000), "O Fortuna PLS" (+$378,000), "Luukie 21" (+$329,000)
In the red: Phil Ivey (-$829,000), David Oppenheim (-$746,000), Gus Hansen (-$717,000)
The highest-stakes action on the Internet all unfolds on Full Tilt Poker. Open up an account today and see for yourself.