The Online Railbird Report: Finns Win, Martonas Returns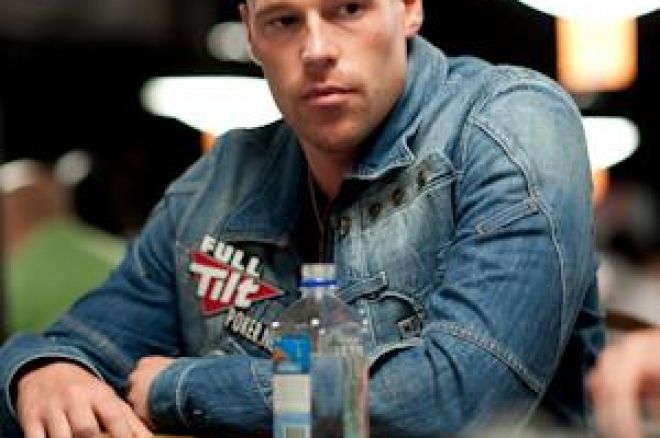 The high-stakes cash game action picked up significantly this week with heavy hitters like Phil Ivey, Patrik Antonius and Tom "durrrr" Dwan logging significant hours at the tables. The pot-limit Omaha games also welcomed a special guest star — volatile Swede "martonas," who reloaded his Full Tilt account after a year-long absence.
Finland wins the week
Two Finns sat atop the leaderboard this week. LokoIsBack topped off an excellent July with another $328,000 in earnings while his countryman Patrik Antonius continued his summer run-good, earning $673,000 this week. Although the cap PLO games still got the most traffic this week, a few uncapped games did run, bringing delighted railbirds a treat they have been missing as of late — the monsterpotten!
The largest pot to unfold this week came in at $256,000 and took place in a four-handed $300/$600 PLO game. Antonius opened for $2,100 from UTG, Gus Hansen raised to $6,900 from the small blind, and Antonius called. Hansen led out for $14,400 on the
flop and Antonius made the call. The turn came the
and Hansen fired again, this time for $43,200. Antonius moved all-in for $106,178, and Hansen called off the $62,978 he had behind.
Antonius
(top two pair, flush draw)
Hansen
(top pair, gutshot straight draw)
The
landed on the river and Antonius' two pair held up to win the $255,557 pot.
Ivey trounces Luukie21 with $693,000 cap PLO win
Luukie21, a Dutch player living in Malta, isn't exactly a stranger to the high-stakes action on Full Tilt, but this week, he bit off more than he could chew when he sat down with Phil Ivey at the $500/$1,000 cap PLO tables on Sunday. Simply put, Ivey annihilated Luukie21, relieving his bankroll of $693,000 over 652 hands. What's even more remarkable is that this happened on a cap table, where neither player can put more than $40,000 into any given pot.
In one example of a bluff gone awry, Luukie21 opened for $2,000, then called Ivey's $6,000 three-bet. Ivey led out for $8,000 on the
flop, Luukie21 capped the betting with a raise to $34,000 and Ivey quickly called. Luukie21 showed
for only middle pair, while Ivey turned over
for top two pair. Lukkie21 did not improve on the
turn or the
river, Ivey picking up the $80,000 pot.
Welcome back, martonas
Almost exactly one year ago, an unidentified Swedish player called "martonas" took a shot at the nosebleed stakes, playing as high as $500/$1,000 no-limit hold'em against Tom "durrrr" Dwan, Phil Ivey, David Benyamine, and Patrik Antonius. During the first half of August 2009, martonas went on the run of a lifetime, racking up nearly $2.4 million in earnings in only 17 days. However, as we see all too often at these stakes, he lost it all back and then some, pouring $2.62 million back into the high-stakes economy over only four days. Martonas had been absent from Full Tilt's tables since then, but re-appeared this week. This time, his game was PLO.
Over the last 48 hours, Martonas played 3,116 hands of PLO at limits ranging from $25/$50 to $200/$400 with a $16,000 cap. Thus far, he is $90,615 in the red.
For his first session back, he sat down at a $50/$100 heads-up PLO table and played close to 1,100 hands against URnotINdanger2, earning $36,342. At the same time he joined a six-handed $100/$200 PLO table, losing nearly $22,000 to a lineup that included Dwan, Luukie21, P-FISH, URnotINdanger2, and Steve Sung. Following that session, he sat at a $200/$400 cap PLO table for 22 hands, making back the $22,000 he lost at $100/$200. The rest of Martonas' results were, unfortunately, all negative numbers. By that night, regulars like Brian Hastings, Chau "La Key U" Giang, Niki Jedlicka, Phil "OMGClayAiken" Galfond and Jani Vilmunen were all lining up to take their shots.
In this pot, Vilmunen opened for $600 from the cutoff, URnotINdanger2 three-bet to $2,280 on the button, and martonas four-bet to $7,820 from the small blind, leaving himself only $2,430 behind. Vilmunen folded and URnotINdanger2 set him the rest of the way in. Martonas made the call, turning up
. URnotINdanger2 had a slight pre-flop edge with
and maintained it on the
board. He picked up the $21,240 pot and left martonas to rebuy for another $10,000.
Who's up? Who's down?
This week's biggest winners (7/28-/8/1): Patrik Antonius (+$673,000), Phil Ivey (+$428,000), LokoIsBack (+$328,000)
In the red: Luukie21 (-$563,000), Di "Urindanger" Dang (-$375,000), Cole South (-$306,000)
Top earners, July 2010: NEKOTYAN (+$776,000), Patrik Antonius (+$614,000), LokoIsBack (+$545,000)
OMG I'm so stuck: Cole South (-$496,000), Di "Urindanger" Dang (-$433,000), Tom "durrrr" Dwan (-$430,000)
The highest stakes action on the Internet all unfolds on Full Tilt Poker. Open up an account today and see for yourself.