The Online Railbird Report: Ivey Returns, Dwan Crushes, and Antonius Stages a Comeback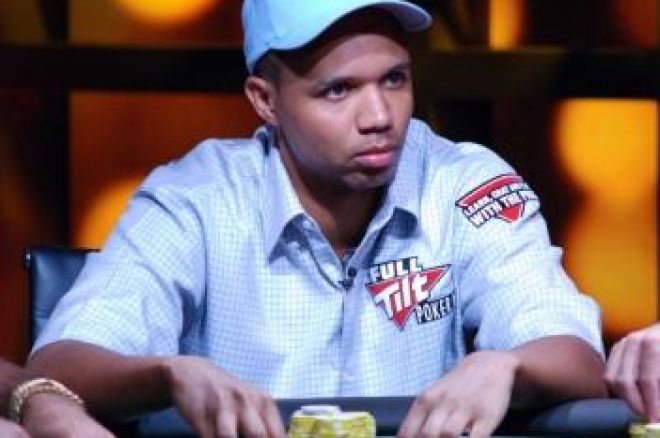 While children around the world hunted for Easter eggs, the online cash-game elite were hunting for their own tasty treats. Tom "durrrr" Dwan savored six-figure wins over Justin "ZeeJustin" Bonomo and Ashton "theASHMAN103" Griffin, while Patrik Antonius chipped away at his 2010 losses with more than $900,000 in earnings. Also making an appearance at the virtual tables was the one and only Phil Ivey, who stuck around just long enough to log a winning pot-limit Omaha session against Dwan.
Phil Ivey Resurfaces, Wins $316,000 from Dwan
Compared to the time he put in last year, Phil Ivey has been a ghost at the tables in 2010. However, he decided to make an Easter Sunday visit to Full Tilt Poker and played heads-up $500/$1,000 pot-limit Omaha with Tom "durrrr" Dwan. Their first session was brief, lasting only 75 hands before Ivey logged off a $213,500 winner. He returned a few hours later and this time they battled for over two hours, Ivey ending the second match with a total-day haul of $316,000.
The largest pot of the Dwan-Ivey match came in at nearly $196,000. Sitting with nearly full stacks, Ivey opened for $3,000 from the button, Dwan three-bet to $9,000 and Ivey came back over the top, making it $27,000 to go. Dwan called, and with $54,000 already in the middle, the flop came down a raggy
. Dwan had $75,000 behind and committed himself to the hand with a pot-sized bet of $54,000. Ivey moved all-in for $70,996 and Dwan called, turning over
for top pair. Ivey was in good shape with
and his hand held up through the
turn and
river to earn him the $195,993 pot.
"Durrrr" dominates heads-up, crushes short-handed
After his match with Ivey on Sunday evening, Dwan moved over to the $200/$400 no-limit hold'em tables to take on Justin "ZeeJustin" Bonomo in a multitable heads-up match. After more than four hours and 2,472 hands, Dwan emerged a $228,481 winner.
The largest pot of the match came in at $154,000 and went to Bonomo when he rivered a queen-high straight against Dwan's aces up. The second-largest pot, $120,000, went to Dwan. In that hand, Bonomo opened the
for $1,200 on the button and Dwan three-bet to $3,600 with
. Bonomo called and both players hit the
flop — Dwan with top pair and Bonomo with the nut flush draw. Dwan checked, Bonomo bet $3,600 and Dwan called. The turn improved Dwan's hand further, the
falling to give him a club flush draw to go with his pair of jacks. Dwan checked again, Bonomo bet $11,000, and Dwan once again flat-called. The
on the river made Dwan's flush but was a disaster for Bonomo, giving him top pair. Dwan continued to play it slow, checking a third time, and had to be delighted when Bonomo moved all-in for his remaining $46,395. Dwan quickly called off the $41,995 he had behind and raked in the $120,389 pot.
After Bonomo had enough, Dwan stuck around and played a short $200/$400 NLHE match with Isaac "luvtheWNBA" Haxton for another 194 hands. Dwan added another $61,220 to the till.
On Monday morning, Dwan was back, this time sitting down at $100/$200 short-handed NLHE with Griffin, "Observer84" and "Mr Zahmat." Over 1,117 hands, Dwan pocketed another $280,575.
The largest pot of this three-handed session was for more than $191,000 — a staggering 957 big blinds. Playing three-handed, Griffin opened for $600 on the button, Observer84 raised to $2,400 from the small blind, Dwan flat-called the three-bet from the big blind, and Griffin called, as well. Observer84 checked the
flop over to Dwan, who bet $5,600. Griffin folded and Observer84 called. The turn came the
and Observer84 checked again. Dwan bet $14,800 and Observer84 made the call. The
on the river paired the board and Observer84 checked a third time. Dwan made a nearly pot-sized bet of $42,800, leaving himself less than $29,000 behind. Observer84 moved all-in for $84,631 and Dwan called off the rest of his stack, having turned the wheel with the lowly
. Observer84's aces up with
was toast and Dwan collected the $191,427 monsterpotten.
Antonius hits the comeback trail
It's been a brutal year so far for Patrik Antonius. The Finn has posted more than $2.4 million in losses over the last three months, but on Easter weekend, he finally found traction at Full Tilt's 7-Game tables, picking up $621,000. Antonius' 7-Game success, along with a short, but successful $200/$400 PLO session against Cole South, made up the bulk of his $900,000 haul over the last seven days.
The largest hand of the weekend for Antonius came against Griffin. Playing PLO with $300/$600 blinds, Griffin opened for $1,800 and Antonius made the call. Fireworks went off on the
flop. Antonius led out for $3,000, Griffin raised to $12,600, Antonius repotted to $41,400, and Griffin shoved for $104,484. Antonius called off his remaining $36,599. Both players flopped the same straight, Griffin with
and Antonius holding
with a flush redraw to boot. Antonius' ship came in on the turn, the
falling to make his flush. The river was the inconsequential
and Antonius raked in the $159,597 pot.
Who's up? Who's down?
This week's biggest winners (3/30-4/5): Tom "durrrr" Dwan (+$1.96 million), Patrik Antonius (+$908,000), Ashton "theASHMAN103" Griffin (+$505,000)
In the red: Ilari "Ziigmund" Sahamies (-$1.18 million), Gus Hansen (-$731,000), Brian Townsend (-$456,000).
Top earners, 2010 to date: Tom "durrrr" Dwan (+$3.96 million), Ilari "Ziigmund" Sahamies (+$2.06 million), Alexander "PostflopAction" Kostritsyn (+$2.04 million).
The highest-stakes action on the internet all unfolds on Full Tilt Poker. Open an account today and see for yourself.