Patrik Antonius Wins Largest Pot In Online Poker History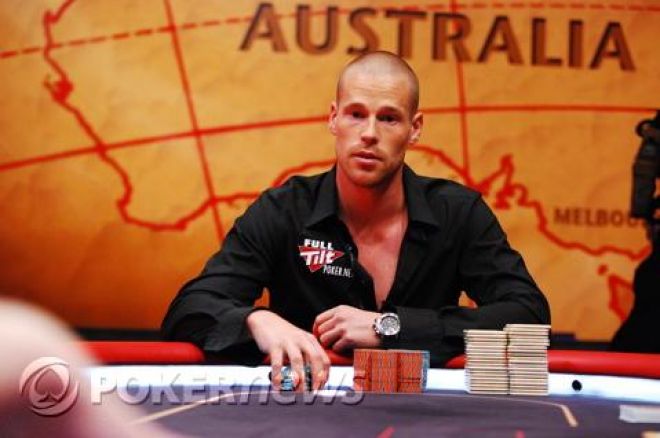 Moments ago, a few lucky railbirds witnessed Patrik Antonius win the largest pot in online poker history.
Fresh off his recent battering of Tom "durrrr" Dwan, mystery Swede "Isildur1" took to the virtual felt against Team Full Tilter Patrik Antonius. The two battled across four $500/$1,000 heads-up deep pot-limit Omaha tables and the action was furious. After playing a series of pots that reached six-figure proportions, Antonius and Isildur1 battled in what will, for now anyway, be known as the largest online pot of all time.
Antonius began the hand in the big blind with $439,479.50 and Isildur1 had the button with a slightly larger stack of $450,494.50.
Isildur1 opened the pot with a raise to $3,000, and Antonius ($439,479.50) made the call. First to act, Antonius checked the
flop, allowing Isildur1 to fire a $5,000 continuation bet. Antonius then check-raised to $21,000, sending the action back to Isildur1 who called, opting to take it to the turn, which brought the
.
On 4th Street, Antonius led out with a pot-sized bet of $48,000 and Isildur1 re-potted, pushing the action to $192,000, committing nearly half of his remaining stack. Action then shifted back to Antonius who sent the railbirds into a tizzy, moving all-in for $415,479.50. After a slight pause, Isildur1 made the call, creating the largest pot in online poker history ($878,958.50).
The cards were then revealed and it looked as though Antonius and Isildur1 would get their money back, chopping the pot with top two pair:
Isildur1:

Antonius:
As you know, however, things don't always work out the way you expect them to in this game. When the money hit the middle, Patrik had outs for a heart flush, or any eight for a straight, while Isildur1 could claim the pot with any non-heart king or jack.
On this day, fate sided with Antonius, who spiked the
on the river completing a gutshot straight to rake the pot.
The hand tops the former largest online pot-limit Omaha pot, played between Ilari Sahamies and Dwan ($702,925). It also surpasses the former largest online pot of all time (any game), which was a hold'em hand played between Dwan and Di "Urindanger" Dang. In that hand, Dang's aces overtook Dwan's kings for $723,938.
Don't be surprised if the record gets broken again in a matter of minutes. Isildur1 and Antonius were still going at it on two tables at the time this article was written, 9:00 p.m. PST with Antonius sitting with over $1.575 million on 'Royal Guard.'
Want to watch the biggest game in town? Download Full Tilt Poker now!