The PokerNews Interview: Phil 'OMGClayAiken' Galfond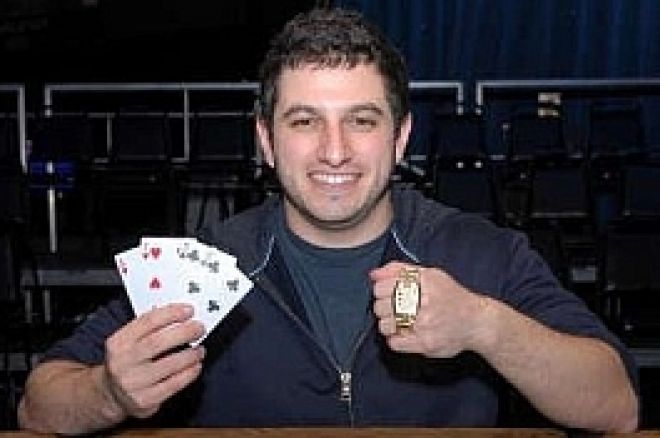 Phil "OMGClayAiken" Galfond is fast becoming one of the most successful poker players in the world. Last year the high-stakes cash player was second only to Phil Ivey in the big winners list on Full Tilt Poker, amassing $6.97 million in online cash earnings in 2008 alone. He is also becoming a pertinent figure in the poker world away from the virtual felt; last year he won his first WSOP bracelet (and $817,781) in the $5,000 PLO rebuy event, and earlier this year he launched his new online training site BlueFire Poker.
PokerNews: You have been very busy both playing and on your new training site. What is a typical day for you at the moment?
Phil Galfond: There is no typical day for me at the moment. Some days I am working on BlueFire Poker all day and others I'll play poker all day if the games are good. Now and then I take the day off and relax, too, but it's usually one or the other. If the games are really good then most of the time my other work can wait; fortunately, I tend to do things ahead of schedule so I haven't had a problem managing my time yet. I could, however, foresee some issues in the future if I had a deadline and the games are just too good to pass up on.
PN: You were quite famously excluded from [Tom Dwan's] "durrrr Challenge" – why do you think this was, and would you have taken him on if you were able to?
Galfond: I would never have done the challenge anyway. Tom knows that, he knows I respect his game tremendously and besides that we are very good friends. I think he excluded me from the challenge because he didn't want to basically announce he thought he was a better player than me because he knew I wouldn't respond to it.
PN: Would you ever consider setting a challenge of your own?
Galfond: I am very confident in my abilities, like most poker players are, but I am not interested in setting or accepting any challenges like that. Tom gave odds in the highest-stakes games, so the only people who respond to the challenge are the best players in the world. It's really hard to determine whether you have an edge over a player like Patrik Antonius, and even if you do it's only a very small edge, and I would not want to put my bankroll in danger like that.
PN: The games got massive at the end of last year but they have seemed to die down a little in 2009. What do you think the future holds for high-stakes games?
Galfond: The limits going up have caused the high-stakes games to die a little; I think too many players were going broke. If they brought in a $1,000/2,000 table it would be very bad for the long-term survival of the high-stakes games. I personally would love to play in more games that were between $50/100 and $500/1,000, but they are not popular amongst other high-stakes players. There isn't really an in-between ground because the pros like to calculate things in term of their expected win rate, which is obviously going to be bigger at tables like Rail Heaven. Plus, the rich recreational players only really want to play with the best in the world and the biggest games.
PokerNews: Could you ever drop back down to a level like $25/50 if all the high-stakes action dried up?
Galfond: I find it hard to play a session of $25/50 if I have been playing $200/400 or $500/1,000 the day before. If the high-stakes games died, I personally wouldn't have a problem playing $25/50 again; I used to really enjoy playing in those games and it certainly would be a lot less stressful.
PN: What was it that compelled you to start BlueFire Poker?
Galfond: I wanted to do something like this for a long time and previously had some interest from existing training sites, but they already had established pros at similar levels to me on board and I wondered what I could offer them that was different. It's much more exciting getting in on the ground floor like I have with BlueFire. I was involved with everything from who we hired, the whole creative process; I reviewed all the videos and more. It's very exciting for me as a business venture but it was mainly because I felt like I had a lot to teach. I don't just want to be remembered as one of the best players in the world but also [as one of] the best teachers.
Although it isn't dramatically different from my main income of playing, it's nice to have something new to concentrate on. I like the feeling that if I wanted to take a year off playing the high-stakes games, I have another way of making an income.
PN: Vegas is just round the corner and are you looking forward to returning as a bracelet winner?
Galfond: It was weird; before the series last year I didn't really enjoy the WSOP that much. I didn't like travelling or spending two months in Vegas and I am not a big fan of tournaments – so I was there for a bracelet. Now that I have one, I actually forget I've won it sometimes. I don't feel any different, like I am in some sort of exclusive club. But when people remind about it, it makes me realize what an important milestone it was for my poker career.
PN: The event you won will no longer be there since the removal of rebuy events from the schedule. What are your thoughts on that?
Galfond: I do believe the rebuys should have stayed, but I am not passionately arguing for them. Everyone likes rebuy events and what I love about them is that after the rebuy period, the stacks are really deep. If they made an event that was three times the buy-in with triple the starting stack, I think that would also fill the void left by [the removal of] rebuy tournaments for me.
I don't agree that rebuy tournaments help the pro players "buy a bracelet" either, no more than some of the really obscure or high-stakes events, like the $50,000 H.O.R.S.E., that give an opportunity for a pro to win a bracelet in a small-field event normal players can't afford to play in.
PN: So what are your aims for the WSOP this year?
Galfond: The plan is to win another bracelet. Prior to last year I had a lot of small cashes in the WSOP but this was my first final table. That was a great experience on its own and it made a bracelet seem so much more achievable, so I am really going to go for it this year.
Check out the Party Poker first deposit bonuses on PokerNews.com - The number one source for everything poker on the internet.