The PokerNews Interview: Barry Greenstein, Part One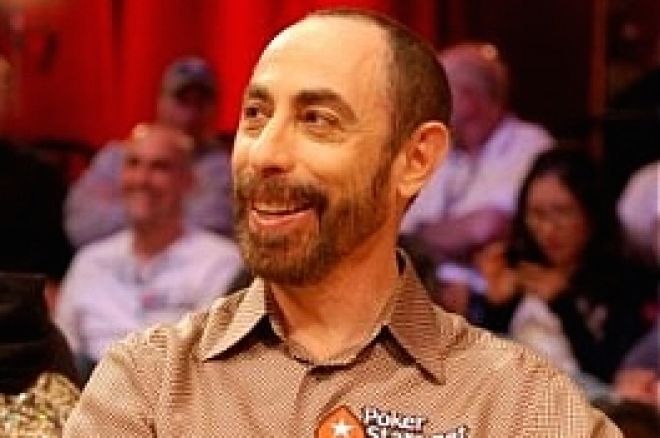 Barry Greenstein occupies a uniquely central position in the poker world today. As one who has made a living playing poker for several decades, Greenstein is often linked with the older generation of poker players, those with whom he's intensely competed and forged friendships over the years. Yet he is also closely connected to the younger, post-"poker boom" group of players thanks in part to his son, professional player Joe Sebok, and their poker strategy and entertainment site, PokerRoad.
PokerNews recently talked with Greenstein about the past, present, and future of poker. The 2009 World Poker Tour Championship was just underway at the Bellagio, and the interview was conducted in Bobby's Room, at an empty table alongside another around which were seated Doyle Brunson, Phil Ivey, Eli Elezra, Sam Farha, and others playing the famed "Big Game." Greenstein discussed various topics, including his own poker career, poker's status in contemporary culture, the future of PokerRoad, the upcoming World Series of Poker, and, yes, whether or not math is idiotic.
PokerNews: A lot of us first became aware of Barry Greenstein as the man who gave away all of his winnings to charity, the "Robin Hood of Poker." I know charity continues to be important to you — you were just at the Jennifer Harman Charity Poker Tournament at the Venetian...
Barry Greenstein: Yes I was. Throwing off some money.
PN: I know today it isn't necessarily accurate to say you donate all of your winnings...
Greenstein: No, it's very inaccurate actually. When I donated initially, a lot of people thought I was some super rich guy who made money from Symantec [the software company for whom Greenstein worked]. What they didn't know was that I didn't make that much money at Symantec, and the money I donated then was just from poker winnings.
However, for me personally the games that I can make money in aren't there like they were before. Tournament poker has really cut into my income. Online poker has made it so we don't have as many good live games as we used to have. And not only that, the economy has not been that good. Like a lot of other poker players, I invest in the stock market and real estate, and, as you know, that's not done too well the last couple of years. So I lost several million in that.
So I really don't have the bankroll that I had a few years back where I could just give away my tournament winnings. In addition, in those days I didn't play that many tournaments. I ended up getting lucky and winning a few and giving away a lot of money, but I was in much better shape financially than I am now. So I am still involved with Children Incorporated [an international child sponsorship organization] and do a lot of things there, but that's about the extent of what I do. And even there I don't give the kind of money I was giving a few years ago.
PN: You have made it clear in other interviews that you don't base your success in life on poker or how many tournaments you've won. That said, you've won three WSOP bracelets, a couple of WPT titles, among many other big wins — what do you consider your greatest poker tourney triumph?
Greenstein: There's no question that my first World Poker Tour win [at the Jack Binion World Poker Open in 2004] was the greatest. I hadn't really been playing tournaments much. I didn't travel the first year of the WPT like a lot of people did. I wasn't into it. But then I got this idea about donating money to charity, and that was the impetus behind it all. I thought if I could just win that million dollars and give it away, to me, that's kind of a neat thing to do, as well as [a way to] help a lot of people. I thought other people would follow my lead. So I really had a lot of drive behind that whole plan that I had.
And then, well, I know now, looking back, how lucky I had to be to do it. I mean at the time — it happens a lot of times in poker, you think that well, you were the best player, you outplayed everyone. And I did do some good things, but still I won my races, and things still fell into place. You know, just because I planned on doing it, doesn't mean it's going to happen, especially in a poker tournament.
But it did happen, and I got to do some good things with that money and I was really proud of it. It was really great for my family, also, because up until then I was just someone playing poker and maybe even wasting my time where I could have been successful at other things. Once I accomplished that — and the accomplishment wasn't winning the poker tournament, it was being able to help a lot of people with that money — that was when my family really was proud of it. My family being my sisters and brother, my father, and my children. They really took ownership of that whole thing.
PN: It is interesting to consider how attitudes have changed over the years regarding poker and poker players. One doesn't have to look back very far in history to see how poker is viewed so much differently today. How do you see poker's current status in popular culture?
Greenstein: Well, I think the gambler has always been kind of the cool guy in movies and things like that. And poker has more legitimacy today. It's on television, and we're all kind of minor celebrities. I think people understand the negative side of gambling — whether it's gambling in poker or in the stock market or in business or whatever. People can lose their money. But the successful gambler has been, I think, respected even before the poker boom.
You know, [before] there was Omar Sharif or someone like that playing the gambler. Or James Bond gambling. And now, because people get to see poker on television, I think it's increased interest in poker and its standing in pop culture because a lot of people now understand it at a higher level than they did before. They know the rank of hands, they know when people have flush draws, they know when people are betting all of their chips, bluffing, or not bluffing.
Now a lot of people recognize me, of course, from being on television, and I certainly never had anyone say "you're a poker player, that's a bad thing." It's more like "my eight-year-old son looks up to you." I think [poker] is very well respected. The only negative response we see is maybe from the religious right or sometimes in Congress, and all that stuff is fake, anyway. That's just driven by money. You get Congressmen getting paid money to represent some of the people on the right, and then they pretend like it's a moral issue. But it's not. They probably go home and play online poker at night after acting like they don't like it.

PN: It's been about a year and a half since the launch of PokerRoad, and the site has grown considerably. How do you think it is going?

Greenstein: Well, it's going great as far as content [goes]. You know, we really feel we've carved out a great niche. Of course, you're with PokerNews, and on the poker news and reporting front, you guys are doing well over there. But our niche is entertainment — these radio shows and what we call web TV shows, and all the comedy stuff, and the forums. For what we do, we think it is the best content on the internet concerning poker. We also feel like we have the highest level strategy discussions with our Red Pro forum. Also, we are sitting here in Bobby's Room. You see all my friends: Doyle Brunson, Phil Ivey, Eli Elezra, and all of these people. If I asked them to do something for PokerRoad, say, during the World Series, they'll do it. And no one else has friends like that.

[Part 2 of PokerNews' interview with Barry Greenstein appears tomorrow.]
Join the competition and get your PokerStars marketing code from PokerNews.com - Which offers the best bonus & marketing codes available on the internet.