The PokerNews Profile: Theo Tran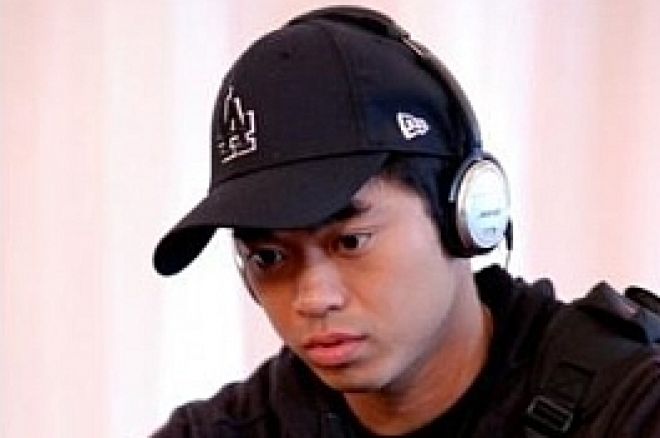 In the opening week of the 2008 World Series of Poker, Theo Tran made not one, but two final tables in large-field no-limit hold'em events. In the summer's first $1,500 No-Limit Hold'Em event, Tran finished fourth out of 3,929 entrants, making it the largest non-Main Event live tournament field in poker history. Only days later, he finished fourth again in the $2,000 No-Limit hold'em event, which drew a field of 1,592. Tran's combined total haul from both tournaments passed the half-million mark at $518,379, an auspicious start to his seven weeks at the Rio, where he'd cash four more times before summer's end.
Theo Tran was born on November 4, 1981 and grew up in Allentown, Pennsylvania. Tran loved gambling from a young age and started playing poker at age 13. A group of teens a few years older than him ran an informal dealer's choice game and Tran got in on the "action"—ten cent antes and quarter-sized bets. The older kids usually ended up claiming most of Tran's allowance. When Tran was 17, the film Rounders came out and he was inspired to take poker more seriously. He enrolled in college at the University of Pittsburgh, joined a fraternity, and started hosting his own game at the frat house. The maximum bet was only $2, but Tran started doing quite well in the game, sometimes winning up to $100 in a single night. After one of his fraternity brothers, a talented limit hold'em player himself, told Tran how impressed he was by his game, Tran's confidence in himself was buoyed enough for him to decide to take a year off from school and take a shot at playing professionally. Tran began making frequent trips to Atlantic City, but more often than not, came home penniless after tilting off what was left of his bankroll at craps or blackjack. With the encouragement of his parents, Tran returned to Pitt to finish off his last year of school.
When Tran went back to college, he discovered that his poker buddies were now playing significantly higher stakes at underground games around Pittsburgh. He decided to take a shot and ended up winning over $5,500 in a $15/30 limit hold'em game over the course of one spectacular session. Tran continued to succeed in the underground games, but often went busto not because of his skills at the table, but due to "life leaks" like sports betting. It was around that time that he started playing online as well, adopting the screen name that he still uses today "pittrounder." Tran graduated from Pitt with degrees in communications and psychology and headed home to Allentown to enter the job market. After getting extremely close to landing what could have been a lucrative position, Tran decided to take another shot at poker, packing his bags and moving to Las Vegas with $2,800 in his pocket. Day in and day out, he ground out a living playing cash games until tournament success came calling.
In January 2006, Theo Tran won the $500 NLHE with rebuys event at the L.A. Poker Classic, infusing his bankroll with $132,793 in winnings. Only a few months later, he notched a runner-up finish in the $1,000 No-Limit Hold'em event at the WSOP-Circuit stop at Caesars Palace, banking another $37,250. Tran went on to cash three times at the 2006 WSOP, his best finish coming in the $3,000 Limit Hold'em event where he finished fourth. The Commerce Casino, however, would be where he would pick up his next two first-place finishes, in the $300 No-Limit Hold'em event at the California State Poker Championships and the $500 No-Limit Hold'em event at the 2007 L.A. Poker Classic. After a 2006 where he earned over $300,000 playing tournaments, he'd more than double his yearly haul in 2007 and come incredibly close to taking down his first WSOP bracelet. After a spring that saw him make four final tables in events on the Vegas strip, he finished as runner-up to Michael Graves in the $1,000 No-Limit Hold'em w/ Rebuys event at the 2007 WSOP, banking over $387,000. Tran wrapped out '07 with another runner-up finish in the $1,500 No-Limit Hold'em event at the Doyle Brunson Five Diamond Classic at Bellagio, good for another $128,455. In early '08 he came within two spots of making his first televised World Poker Tour final table back at his old stomping grounds, the Commerce Casino, finishing eighth in the $10,000 buy-in main event of the 2008 L.A. Poker Classic.
After his pair of final-table finishes at the 2008 WSOP, Tran has continued to thrive in no-limit hold'em tournaments, most recently making two final tables at the recently completed Five Star World Poker Classic at Bellagio. The avid mixed martial arts fan continues to live in Las Vegas, where can often be found clubbing the night away at one of the Strip's nightspots, often with friends like David Williams, Nam Le and the Mizrachi brothers.
Check out the FullTilt first deposit bonuses on PokerNews.com - The number one source for everything poker on the internet.
Get Your Party Poker bonus code on PokerNews.com - Be sure to enter the Party Poker bonus code when registering a new account on PartyPoker.com