The Pigskin Diaries Vol. 17: Re-Raising the Roof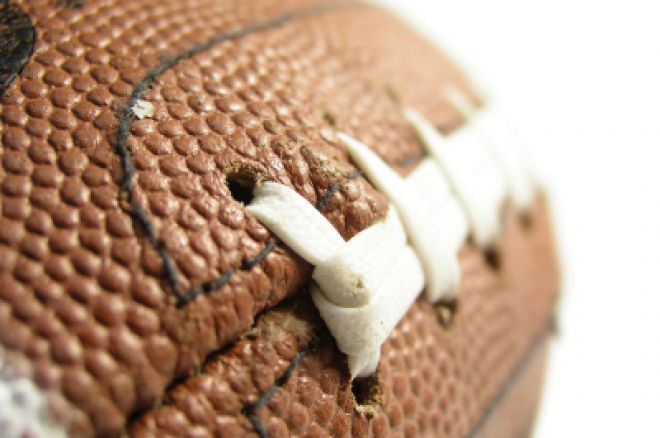 The roof of the Metrodome wasn't the only thing that collapsed last weekend as we ran our own record into the ground with a bevy of ill-conceived picks. We told you we were shooting the moon. In any event, we've put some duct tape on the rips in our wallet this week, and it's game time once again. This week finds another handful of crucial matchups that may as well be preliminary playoff games for those fighting for a division foothold. There are only a few weeks left to make a run at the betting window, too, and we've got some insight into the action on tap this weekend, beginning with an in-state Thursday-night clash.
San Francisco @ San Diego –10: Like so many games around this time of year, our Week 15 opener is a must-win for both sides, no doubt about it. The Bolts are coming off a Week 14 deconstruction of the Chiefs, but they still trail K.C. by one game with three to play. The spread makes our stomach churn a bit, since the 'Niners could or could not show up big on any given week seemingly at random, which tells us to stick to our statistical guns. That and a little common sense makes our decision relatively easy. The Chargers boast the league's most stingy defense, allowing 265 yards and about 19.5 points per game (and 14.0 over the last four). That includes holding the division-leading Chiefs to zero last week. Over the last half of the season, Philip Rivers has his offense clicking for around 30 points with relative consistency, and his passer rating is a stout 106.0 with 15 touchdowns at home in seven games. Just for further statistical good measure, San Fran has a -3 point differential this season while San Diego's is a +8. Put 'em together and what do you got? Bibbity bobbity boom, Bolts win by 11. This line is slippery so far, already moving a full point since this morning.
Houston +1.5 @ Tennessee: Well, yawn. In the first half of the season, it looked like this Week 15 matchup could have serious division and playoff implications when it finally arrived. Now that it has, it's a bit of an anticlimax as both teams have dropped six of their last seven games to post matching 5-8 records, and both are just one Jacksonville win away from being eliminated from contention in the AFC South. This is a rematch of the game three weeks ago in Houston when Titans corner Cortland Finnegan and Texans receiver Andre Johnson dropped the gloves like hockey players immediately after a fourth-quarter snap. While the NHL embraces that sort of behavior, in the NFL, it gets you an ejection and a bill for $25,000 from the Commish. The two figure to be lined up across from each other once again this week, certainly something to watch for. Another thing to watch for? Arian Foster. He ran all over the Titans three weeks ago (30 carries for 143 yards), and the Titans are bad and getting worse at stopping the run, allowing an average of 160 yards over their last four. The Texans are the worst at defending the pass but sixth-best at stopping the run, and they'll be fine with shutting down Chris Johnson's legs and taking their chances with Kerry Collins' arm.
Jacksonville +5 @ Indianapolis: One of these teams has a chance to clinch the AFC South this weekend, and for the first time in memory, it's not the Colts. The 8-5 Jaguars can lock up a home playoff game if they can complete the season sweep in Indy on Sunday; they won 31-28 at home in Week 4. Both teams have some serious matchup problems, and for the Colts, his name is Maurice Jones-Drew. The bombshell of a back is the NFL's second-leading rusher this year, and he's broken the century mark in the last six games. In fact, Jacksonville as a team is rushing for an average of 193 yards in the last six games, a big plus in their column against the Colts' near-last rushing defense. The Colts, on the other hand, are dead last in rushing offense, but they will have a guy named Peyton Manning picking apart the Jags' 28th-ranked secondary. He may have Austin Collie back this week, too, and it looks like running back Dominic Rhodes will be on the field wearing the blue horseshoe for the first time in almost exactly two years. Despite being one game back, the Colts hold the tie breakers and still control their own playoff destiny. A win would be a huge step towards winning their seventh division title in the last eight years while a loss would almost certainly mean their first early off-season in nine. The Colts are certainly favored to take care of business in this must-win, but this is not the same Jaguars team that they've been abusing for years. Nor are they the same Colts team. Jacksonville might not be a Super Bowl contender just yet, but they have the weapons necessary to keep this one close. Real close. The last six times these teams have played (going back to 2007), the games have been decided by four points or less.
Arizona @ Carolina -3: If this is your one o'clock game on FOX, you might prefer to shovel snow or go Christmas shopping with the in-laws or something. With a combined 5-17 record, the Cards and the Panthers meet up in Carolina this weekend with serious implications not at all on the line. It looks like we'll have rookie quarterbacks John Skelton and Jimmy Clausen facing off, which makes taking the under on 38 points seem like the safer bet this week. In fact, we'll take the under on the scheduled high of 38 degrees for game time as well, and that should keep the points down too. Also keeping the points down? The fact that the Panthers have scored just 164 of them through 14 weeks, 61 fewer than any other team. The good news for both of these teams is that they're taking high-powered running backs up against poor rushing defenses. Carolina is a steady three-point favorite, and that's uncharted territory. The last time they were favored in a game, Chicago came to town and beat them 23-6 — how laughable does that look in retrospect? — and they're a whopping 2-11 against the spread overall this year.
Buffalo +5.5 @ Miami: Miami hasn't won back-to-back games since the first two of the season, a feat they badly need to duplicate when they host the Bills this weekend. The 7-6 Fins are two games out of the wildcard spot thanks, in part, to their 1-5 record at home in 2010. Quarterback Chad Henne has been giving his coaching staff plenty of sleepless nights lately, but his defense has managed to keep the season alive, holding opponents under 14 points during the last five games. They'll face a Buffalo offense that has been coming back to life under Ryan Fitzpatrick, who has thrown a touchdown in every game this season and 21 of them total. He'll have his work cut out now, and he'll have to finish the season without Lee Evans who went down with a season-ending ankle injury last week. Evans had not missed a game in his seven-year career, but the end of the streak at 109 games means his Bills will have a tough time pacifying that Dolphins defense. Look for them to make Fitzpatrick's life miserable on Sunday, but this one should still be a sweat. Since their bye in Week 6, the Bills have lost just one game by more than three points. The Steelers, Ravens, and Bears all beat them by that same margin, and there's just no reason to believe the Dolphins will do significantly better than that. They need a win, and they should get a win, but it's not a gimme by any means.
Philadelphia +3 @ New York Giants: The Giants have won all three games since the Eagles beat them on November 21, and the two teams are now tied atop the NFC East with three games to play, so this one could be for all the marbles. At first glance, it's pretty much a push on paper with the home team getting the three-point nod. Both teams average more than 140 rushing yards and 240 passing yards per game, and both boast two of the league's top four offenses. Philly's pass defense is a bit suspect at times, but the same could be said about Eli Manning's passing game of late. He leads the league with 19 interceptions this year, and his pass progression took a serious hit last Monday night when his big target, Steve Smith, went down with a season-ending knee injury. Philadelphia's DeSean Jackson has a leg issue of his own, but the coaching staff thinks he'll be able to play through his sprained foot. It's going to be cold and stiff in the New Meadowlands, though, and snow showers are listed as a 2:1 dog right now. A blustery day could instigate some more errant lobs from Manning, while that unmoving spiral Michael Vick throws tends to be a little more true in the elements. Regardless of the weather, however, this majority of this game is likely to be played on the ground. The Eagles held the Giants to just 61 rushing yards in Week 11, but the tandem of Brandon Jacobs and Ahmad Bradshaw are on a heater, averaging more than 6 yards per carry in the last three games. Both of them had 100+ yards and a touchdown last week, albeit in the dome weather of Detroit. On the other side of the ball, LeSean McCoy put up a season-high 149 yards last week at Dallas, and his third-best performance of the season came in the earlier matchup against these Giants. It's the biggest matchup in the NFC this week, and it's a near wash that slightly favors Michael Vick. He happens to play for the Eagles right now, so that's where our money is.
Washington @ Dallas -6: The fact that Dallas hung with Philadelphia last week speaks volumes for the way they are turning the herd around here in the second half of the season. They've lost just two of their five games as Jason Garrett's team, both by a field goal, and both to good teams. The Redskins are (still) not a good team, and they do not play well against Dallas in recent history. It's been nearly four full games since they've scored an offensive touchdown against the Cowboys. The Skins also field the league's worst defense, and they just fired their punter Hunter Smith after he bobbled the game-tying extra point with no time left on the clock last week. Even more noteworthy, however, is that coach Mike Shanahan was oddly dodgy when the media asked him to confirm that Donovan McNabb was the starter this week. We think McNabb's a go, but it appears that even he doesn't know at this point. The Redskins are pretty much a wreck right now, and we don't think it's too much of a stretch to believe the rejuvenated Cowboys will beat them by a touchdown.
New Orleans @ Baltimore -1: It took overtime for the Ravens to beat the Texans last week after opening up a 21-0 just before halftime and leading 28-7 in the third quarter. Their once-mighty defense allowed a ghastly 489 against them, however, and they've looked unusually inconsistent. They are still the Ravens, though, and they've still got a top-ten defense. They're going to need it this week too as they host a Saints team that has found their offensive rhythm in the second half of the season. They're averaging more than 30 points in their last six games, and Drew Brees will likely top 4,000 yards passing during this game, his fifth straight season doing so. The success is coming from balance, and the Saints' running game has put up at least 100 yards in four of the last five to help take some pressure off of the quarterback. They haven't faced a real quality team since they beat Pittsburgh in Week 8, though, and the Ravens should be ready to make a statement in this one. They need to, as their playoff life hangs in the balance. It'll be a barn burner, and if it were any more than a one-point spread we might be betting the dog. It's just one point though, and that's the margin by which we like the Ravens to squeak out a win. The line opened at -2.5 but moved early, so you may want to see if it'll slide even further if you're still unconvinced.
Atlanta -7 @ Seattle: Turnovers could be the name of the game in what figures to be a cold and precipitous battle of division leaders in the Pacific Northwest. For the visitors, their 11-2 record puts them a couple wins from locking up the best record in the NFL and home-field advantage throughout the playoffs. They've taken the ball away from opponents 24 times this year (including 17 interceptions), and their +11 differential in that regard ranks them among the league leaders. The Seahawks are somehow tied atop the NFC West with a not-so-mighty 6-7 record and having put five of the last seven in the loss column. Matt Hasselbeck has thrown four touchdowns and eight interceptions in his last three games, and his team has turned the ball over a total of 16 times in the last six games. Overall, they are -7 in turnover differential, 27th in the league. There's more bad news for Seattle, too. In the seven-game winning streak the Falcons are riding, Matt Ryan has thrown 13 touchdowns, four interceptions, and is averaging close to 250 yards per game. Seattle ranks third-to-last in pass defense. Then there's Michael Turner. Gasp, there's just too much for Seattle to handle in this one, and Atlanta figures to have a big day.
New York Jets @ Pittsburgh -6: It's forecast to be a balmy 20 degrees and snowy at Heinz field on Sunday afternoon when the division-leading Steelers host the 9-4 Jets who are likely banking on a wild card to punch their playoff ticket. The slumping 9-4 Jets at that. The visitors have dropped two in a row, and they haven't scored an offensive touchdown in nine quarters. Nine points in the last two weeks, and quarterback Mark Sanchez has looked like a freshman all over again. The Steelers are doing much better at first glance, but they, too, have had their struggles. They beat the Bengals without an offensive touchdown of their own last week, and the two weeks prior they squeaked out three point wins. They're winning, though. We don't have confidence in them putting up big points, but we have an awful lot of confidence in Troy Polamalu and that defense shutting down the Green Machine. The Jets' front line will be without its anchor, tackle Damien Woody, as well, further hindering their ability to create running lanes and plug the pass-rushing lanes effectively. The Jets do not have history on their side, either; they are 0-7 all time at Pittsburgh. For further insult, they'll also be without the services of their strength and conditioning coach Sal Alosi who was suspended without pay for the rest of the season after tripping an opposing player on the sidelines last week. It's no fun to be a Jets fan right now, and this doesn't look like a good week for a bounceback.
Denver @ Oakland -7: The Raiders are undefeated in their division this year, 4-0, one of those wins a 59-14 drubbing of these Broncos in their own stadium in Week 7. They are hit-and-miss in 2010; however, they've dropped three of the last four heading coming into this one. Good news for them: they rank third in the league in rushing offense, while the Broncos are second-to-last in defending said rushing offense. The Broncs would like to say they're better prepared for this rematch, but that wouldn't be truthful now would it? Josh McDaniels is out as coach, and the offense he used to call has been sputtering with 20 points or fewer in nine games, and just 19 total in the last two weeks combined. They're -8.2 in point differential this year, and there's not much reason to think they'll best their average to cover the spread this week. It's hefty, but we'll give up seven points to take Oakland for the season sweep.
Betting lines provided by Bodog and accurate as of 10:00 a.m. PST. Sign up for an account on Bodog to get in on the action before the season expires and get an $1,100 bonus!