Top Ten Stories of 2010: #7, Smith, Laak, and Hansen Win Bracelets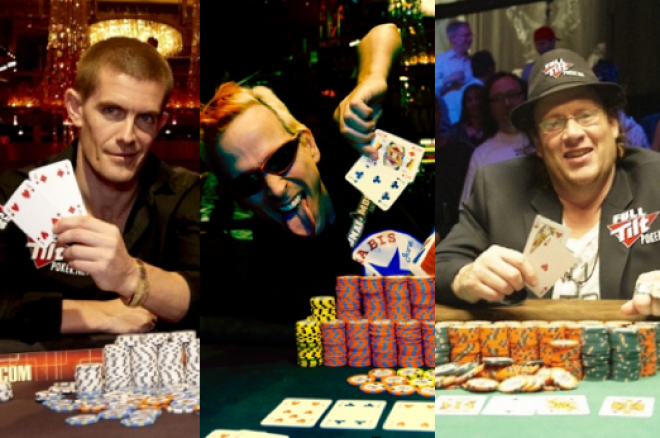 Every year, just before the World Series of Poker gets under way, every major poker media outlet releases some sort of compilation of the best players in the world who don't own a bracelet, and every year, those accomplished pros who have yet again made the list, hang their heads in envious shame.
Now of course, tournament variance is simply unpredictable, but pressure can be a large deciding factor. When the world is looking at you to prove yourself, players can go one of two ways. It is up to them whether they simply resign themselves to a cursed destiny of having even-weighted wrists for life, or to rise to the occasion, forget naysayers, and focus. In 2010, three poker greats, Gus Hansen, Phil Laak, and Gavin Smith, were the latter, and finally, captured gold.
While the headline for all the wins were the same: "Pro finally wins first WSOP bracelet," each respective one had its own theme. The first to win one was Smith. He snagged his this summer in the WSOP $2,500 Mixed Hold'em event. His win was about accomplishment shared with loved ones.
As Smith played down from the final table to heads-up, the stands continued to fill to the brim with anxious onlookers hoping their dear, humble friend would finally get his chance in the WSOP spotlight. When last card was dealt, and Smith had won, a flood of close friends surrounded him, and the overwhelming emotional gratitude moved him to tears. For winning the title, Smith was awarded $268,238, but it's likely that this moment for him is priceless.
While putting a price on things or actions is something Laak likes to do on a regular basis, his win was more about silencing the critics. In 2005, Laak came in second for a bracelet to Johnny Chan in the $2,500 Pot-Limit Hold'em event, and that very same year, his now serious girlfriend Jennifer Tilly won a bracelet in the $1,000 Ladies Event. Over the years, Laak has had to listen to the so-called "haters" giving him grief for lack of a WSOP title, but none as persistent as his best friend and bracelet winner Antonio Esfandiari. However, after Event 1 of the World Series of Poker Europe which was the £2,650 No-Limit Hold'em Six-Max tournament, he put a stop to it, and also added £170,802 to his bank account. Now, for anyone who has had the pleasure of knowing Laak, it's easy to see that he is far from an egomaniac and is one of the nicest guys around, but finally being able to stick it to those who may have doubted him had to feel good.
Perhaps the man with longest running and most surprising appearance on the list of pros without a bracelet has been Hansen. The man has won nearly everything else. He has three World Poker Tour titles and also took down the Aussie Millions in 2007. He pioneered the way for loose-aggressive maniacs around the world and accumulated millions of dollars on the tournament circuit. So, when he annihilated his opponents in Event 4, the £10,350 Heads Up Event at the WSOPE, his win was about finally breathing a sigh of relief. For his exhale, he took home £288,409.
With these three players officially off the hook for 2011, who will the fans look to next year to get the proverbial monkey off their backs? Will it be Andy Bloch who has had second-place heartbreak? Perhaps the Frenchman Bertrand Grospellier. Or, could the bracelet bets push Tom Dwan to a win. There's only one way to find out and that is to sit back and watch, and, of course, PokerNews will be there covering the action throughout the upcoming year.
Don't forget to Follow us on Twitter.