2011 World Series of Poker Schedule Released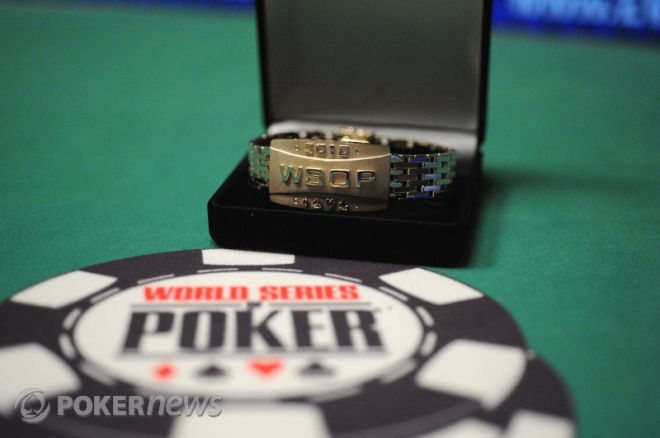 It's time to dig out the Rolodex and start sweet-talkin' your backers again. The 2011 World Series of Poker schedule was released on Monday, and it's going to make for another busy (and expensive) summer inside the Rio All-Suite Hotel and Casino in Las Vegas.
The 42nd Annual WSOP boasts a full schedule of 58 events — up one from last year — packed into the 50 days spanning May 31 to July 19. As usual, the summer kicks off with the $500 Casino Employees event, and the familiar $1,000 Ladies' and Seniors' Championships are slotted in as Events #22 and #34, respectively. Things get shaken up a bit from there on out, however, and there are a few noteworthy changes in store for the open events this time around.
Event #2 is a familiar event that's received a face-lift as the Heads-Up No-Limit Hold'em Championship graduates to a $25,000 buy in. It's capped at 256 players, and if it fills up, which it will, the champion will earn just over $1.5 million and the first open bracelet of the 2011 season. Other new additions to the schedule include a pair of first-time six-handed events: the $2,500 10-Game Mix event (Event #29) and the $5,000 Pot-Limit Omaha (Event #35). Both figure to be resounding successes in their first years, and the 10-Game means that the dealers will be spreading Badugi for the first time ever at the WSOP. This year also sees the return of the $2,500 Omaha/Stud Hi-Lo event, slotted in at #47 after a one-year absence from the schedule. All told, 24 of the 58 events feature disciplines other than hold'em.
Including Event #2, there are 12 events distinguished as "Championship" events. Ten of them carry a $10,000 buy in, and they run the game-selection gamut from pot-limit hold'em to H.O.R.S.E. It also appears that the Chip Reese Memorial Trophy has found itself a permanent home as the $50,000 Poker Player's Championship returns, grammatical idiosyncrasies and all. Rather than opening the Series this year, however, the Player's Championship finds itself tucked away cozily as Event #55, a fine lead-up to the $10,000 Main Event.
Other tidbits
As was the case in 2010, all events are scheduled to begin at noon or 5 p.m.
Late registration will remain open for four levels for Events #1-57 with the standard two levels during the Main Event.
The new late registration rules apply to the daily deep-stack events and mega-satellites, as well, but these events will also include re-entries for the first time.
Speaking of re-entries, the rebuy events are still banished from the schedule for 2011, though there are two Triple Chance events, Events #12 ($1,500) and #50 ($5,000).
There are five $1,000 events, one fewer than last year. Only the first and last (#8 and #54) will have two starting days whereas the other three will likely see the Pavilion bursting at the seams for massive Day 1s.
A daily 9:00 a.m. $75 mega-satellite has been added. It's going to be quite an unpopular hour for most poker players, but it's a great way to earn a $500 tournament chip plus $50 in cash.
The Ante Up For Africa event is absent from the schedule for the first time in five years. We understand the staff intends to add another charity event in its place, but the details are still TBD for now.
Preregistration will open for all 58 events on February 7.
PokerNews is thrilled to once again be providing the official live updates from the tournament floor for all 58 bracelet events, and all signs point to another exciting summer. You can peruse the full 2011 WSOP schedule here.
We are tired of tiny freerolls, no doubt you are too. If so then check out our $34,000 Monster Pot Freeroll series with Poker770 – only a $20 deposit and 20 poker770 points to qualify.