PokerNews Interview: WSOP Vice President and Tournament Director Jack Effel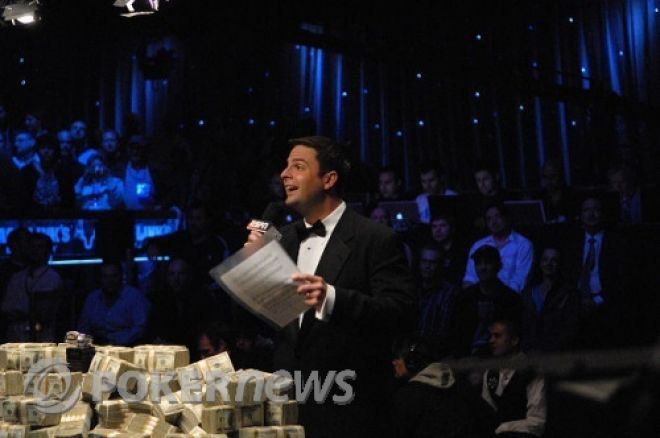 Jack Effel is the World Series of Poker Vice President and Tournament Director. The Dallas native is also a poker historian and entrepreneur, and often meshes those two characteristics together when approaching both the WSOP and the WSOP-Circuit. Effel recently went to Twitter to field suggestions from players for the 2011 WSOP and is always willing to lend an ear on the tournament floor.
PokerNews had an opportunity to catch Effel at the WSOP-C Main Event at Choctaw, which is an hour from his hometown of Dallas. Effel discussed the importance of having an event so close to Texas, the growth of the WSOP-C, his use of Twitter and the upcoming schedule for the 2011 WSOP.
Jack, let's start with the World Series of Poker Circuit Main Event here in Choctaw where there were 808 entrants. Did you expect this kind of number?
I can't say it's exactly what we expected, but I can tell you this event is very near and dear to me because I grew up in Dallas. I knew, from all of the poker players in this area, that it would be popular – how popular we didn't know. Also, there's not a lot of space on the circuit calendar to add events and we're going up against some other major events so we were a little worried the turnout wouldn't be great, but we knew it would be decent.
In the first event we had over 900 players, in the Main Event we had over 800 players and most of the other events averaged over 500 players. In the first 15 days of this series there were over 10,000 players, which is huge for an event that hasn't been around for a while. I see a lot of faces from back in the day, there's a lot of history here and they could've chosen to go elsewhere, but decided to play here and I'm very pleased with the turn out.
It's very fitting that we're playing a major Texas hold'em tournament just an hour from Dallas. Can you see more events being held here in the future?
Well, there have been poker games in Texas since the late 1800's and of course great Benny Binion had his private poker games in the 40's before he moved to Las Vegas to open the Horseshoe in '51. Those were the biggest games in the world back then and you have to remember that not a lot of people played Texas hold'em. It was a limit hold'em game everywhere. I actually got to play no-limit hold'em for the very first time in 1992. It was in a $1-$2-$5 game, and at the time it was the only one in town that they played no-limit. Every other game was dealer's choice where they played limit hold'em, Omaha 8 or better and Omaha hi. Now that's all changed with the Moneymaker effect. Regardless of the poker boom I knew this was going to be a success though because this is where the majority of poker players once were in the country.
The WSOP-C was completely revamped entering this season. What were some of the major factors concerning all the changes and do you see it expanding further?
The WSOP-C was revamped in an effort to revitalize one of our most prestigious products outside of the bracelet events – the WSOP ring. We wanted to ensure consistency, we wanted players to be able to go from stop to stop and see the same structure, payouts, rules and staffing. You know, Coke always tastes like a Coke, so that's what we did with the new schedule. We also knew that it was going to take something more than that, it was going to take a little more creativity in order to draw players from all different levels. So we changed the Circuit to become more of a grassroots tour for the local players in each area and we made the Main Event affordable for everyone, but still attractive enough to many of the mid-level pros. On top of that, you add the National Championship with multiple ways to qualify including winning a Main Event, being a casino champion for a particular property or final tabling one of the four Regional Championships. We knew we couldn't have a $10,000 event at every stop - there's already too many around the world. So we thought if we had four meaningful $10,000 events then we could strategically schedule them, giving the pros an opportunity to come out and play.
Now we can successfully bring together players from the bottom tier all the way to the top tier and everyone between so everyone has a shot to get to the $1 million free roll, National Championship in Las Vegas at Caesar's Palace on May 27-29. It's going to be a televised event and of course the winner receives the most coveted prize in poker, a WSOP gold bracelet, which is something that has never been tied to the WSOP-C before. To wrap around and answer your question, the WSOP will continue to grow. This year we're here at Choctaw and we're going to the Palm Beach Kennel Club in Florida and Chester, Pennsylvania. Chester is a new, growing poker mecca that's going to have numbers comparable to this event and in Florida players are going to be coming from everywhere on the East Coast. They've been starving for a major poker event for a very long time down there. We don't have to operate in every jurisdiction in the world, but if we feel that there's a property we want to align with then expanding the WSOP-C is an automatic no-brainer. There have been several guys who have told me to bring a Circuit event to their property, and all I can tell those guys is that I've jotted it down and we'll look at the possibilities when we make next year's schedule.
You used Twitter to reach out to the players for ideas and suggestions regarding the 2011 WSOP. How much did that feedback influence your decision?
You know, when Twitter first came out I was a little skeptical. Then, when I started messing around with it, I realized this was a great way to communicate with the poker world. It's easy, short and I can be readily accessible. As much as I love to talk to everybody in person – and I do that every opportunity I get – I can answer more things, quicker with Twitter. Also the questions people ask, other people have those same questions, so when you can retweet something and provide an answer to a question then not only are you answering it for that person, you may have just answered it for several thousands of people.
Moreover I want listen to the players' ideas and feedback. What's good for them, what's not good for them, what they think we can do better etc. We've always had a comment card, but it's hard to pull them all together, get the data, put it in the spreadsheet, take a look at it, categorize it and do all those things. Now, someone can simply ask a question and you can answer it instantly. The WSOP is the most prestigious tournament series on the planet and I want it to be the best all-around. If someone is doing something better than me, I want to know about it. If there's something that players want that I haven't been giving them – and I can give them – then that's what I want to provide. I want players to say that what I'm giving them is the best.
What kind of changes can we look forward to at the 2011 WSOP then?
[Laughs] You're asking this question a little prematurely, I have to be real careful about how I answer this. What I can tell you is that this year is shaping up to be the biggest and best ever. As always we're going to have a great offering of events. Almost every major discipline and every kind of format imaginable will be on the schedule – just like it always is. I can also tell you there's going to be a little spice here and there that you're going to recognize and say, 'hey that's pretty cool, they actually listened to the players.' The bottom line is there's going to be something for everybody and there's going to be a few little events that are going to be charms for certain players who have been looking for certain events.
Poker continues to grow despite the economy, especially at the WSOP, and we expect more players this year based upon past performance. I couldn't say that optimistically if the numbers didn't say we've continuously grown the past few years, but they do. Obviously there's always a chance that anything can happen, but the numbers speak for themselves and even someone whose not numbers-oriented can clearly see our growth from year to year. If you're skeptical about coming out to the WSOP, don't be, because I can assure you there's going to be something for you. And, for the small limit guys that what an opportunity to get in for a cheap price, I may have something for you too, so stay on the lookout for the upcoming schedule. (The schedule was released after this interview, and PokerNews has your look at it here.)
For Updates from Choctaw or any other WSOP-C Main Event, make sure you follow the PokerNews Live Reporting Team and for up-to-the-minutw news, follow us on Twitter.
Have you seen our new $40,000 Freeroll Series from Lock Poker? Lock Pro Supremacy not only has three $7,500 Freerolls but it also has 25 $100 Lock Pro Bounties in each tournament, so you can boost your bankroll even if you don't make the money.