PokerNews Op-Ed: Where will Hellmuth & Duke Go? Who'll be the next Team UB Pro?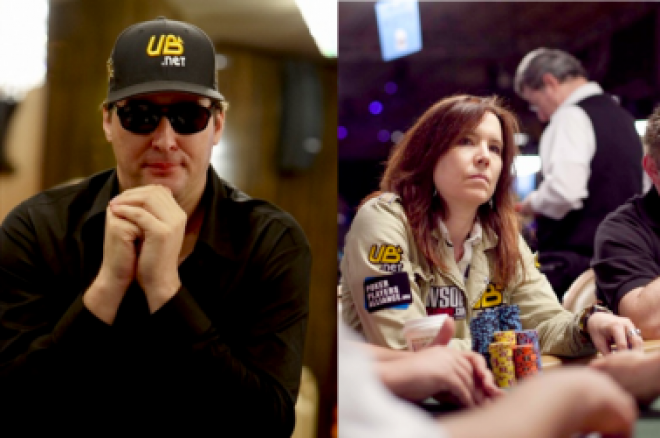 Just before 2011 rolled around, the poker industry received news that two of poker's most recognizable faces, Phil Hellmuth and Annie Duke, were parting ways with UB.com, or maybe it was the other way around ― the details aren't clear. Supposedly it was a mutual decision and amicable split. The questions on everyone's mind is where will they go next and who will take their places?
Hellmuth to WSOP.com?
Hellmuth's departure did not come as much of a surprise because he hadn't been wearing his usual UB gear since November. On December 30, Hellmuth finally confirmed via Twitter that he was leaving his longtime sponsor: "Making a BIG move...leaving UB. Truly lots of great memories, but it's time to move on...Mutual decision...Looking forward to BRIGHT future!"
Hellmuth also elaborated on the move in his blog: "Over the last few months, rumors have been floating around that UB.com and I have parted ways. Today, I'd like to confirm that yes, it's true. I no longer wear the UB patch. UB.com and I have chosen to end our longstanding relationship. This was a mutual decision, and a difficult one for both parties to make. But I truly believe it's the right move for me and for the rebranded UB.com. I sincerely wish everyone at UB.com from management to the frontline staff to every player who loves this game as much as I do the very best."
Now that Hellmuth is a free agent on the poker market, everyone has been wondering where he will end up next. Poker experts seem to agree that wherever Hellmuth goes, he'll want to be the top dog. After all, he has a big personality and enjoys the spotlight. With that said, Full Tilt Poker wouldn't be a good fit since it has numerous superstars such as Phil Ivey and Patrik Antonius. Likewise, PokerStars has Daniel Negreanu as its big representative, which is a shame considering that the site is the go-to place for poker tournaments, Hellmuth's specialty.
The number one destination being whispered through the poker grapevine is WSOP.com. Caesars Entertainment has long wanted to offer online poker on their popular site, which is does in some markets, but must bide their time until online poker is legalized and regulated in the United States before going mainstream. If and when that happens, would there be a better pro to serve as the face of the company? The overwhelming consensus is no. Hellmuth is the all-time World Series of Poker bracelet winner, with 11, and also has the most cashes with 79 in-the-money finishes. It seems like a logical fit.
Duke's Future Up in the Air
Unlike Hellmuth, Duke's departure from UB came as a bit of a surprise. She had chosen to stick with the company even through the huge cheating scandal, so her abrupt exit after the better part of a decade was quite shocking. She announced her decision via Twitter and offered a longer explanation on her blog:
"It's bittersweet, but I've decided to leave UB. I have nothing but positive things to say about UB and my experiences with the brand, management team, and dedicated employees who work hard every day to deliver a terrific online poker experience for players like you. I've sincerely enjoyed wearing the UB patch, but it's time for me to move on. So why am I leaving UB? In a nutshell, professional and personal growth. I'm going to explore and pursue other business opportunities on a full-time basis."
So where will Duke end up next? The two leading contenders seem to be Full Tilt Poker, where her brother Howard Lederer is a Team Pro, and WSOP.com. The former is a possibility although she did pass on the opportunity earlier in her career in favor of UB, while the latter makes sense considering that she has long been involved with the WSOP Academy; however, since WSOP.com is currently restricted to limited markets, it is unlikely she would be brought on board until they do so (the same could be said about Hellmuth, although he could still be used to promote all things WSOP).
Another possibility is that Duke doesn't sign with anyone ― at least for awhile. The former Celebrity Apprentice star and NBC National Heads-Up Champion is certainly a recognizable face and will no doubt be in demand; nonetheless, she may opt to take a break from the hectic world of sponsorship to focus on her family, her recent engagement to Joseph Reitman, and business ventures, which include her own business, MyMixedNuts, and her new web show, The Annie Duke Show.
Possible Team UB Pros?
Obviously there are some open spots on Team UB's roster and in an exclusive interview with PokerNews, Joe Sebok announced that the newest addition would be announced early on in 2011 and would be quite shocking:
"I will tell you that the newest member is going to be a big surprise and is really going to shake our team up. People won't see this one coming. This signing is a big statement saying, 'UB is here. We aren't going anywhere, and also we are going to be shaping the online poker experience for a long time to come.'"
Who could this "big surprise" be? Most people seem to think it will be Prahlad Friedman, which would certainly be a big statement considering that he was one of the biggest victims of the cheating scandal, losing hundreds of thousands of dollars. However, if UB were to sign Friedman, wouldn't it be a symbolic statement that the man most cheated by the site is now confident enough to join the UB team? Initially Friedman joining UB seems like a stretch, but keep in mind he did tweet on November 23:
"I said I would never sign with a pokersite. Should I ever reconsider? What yall think? I would have to get over the fact that I'm 'selling out'. I'm the only poker player in the world that hasn't wanted a deal that I know of."
With change in the air, the poker world is reacting sharply to the Friedman/UB rumor. Lex Veldhuis tweeted: "Ub signing @PrahladFriedman is the most ironic thing I've heard in a while. How can you call people with deals sellouts and then do this."
On January 1, Negreanu also tweeted a harsh raction: "So disappointed in @prahladfriedman signing with the devil who stole millions from him.He was so 'anti sellout' then he did the unthinkable."
Who knows, maybe the whole Friedman rumor will turn out to be just that. Maybe UB has another pro in mind. After all, Peter Jetten tweeted on New Years Eve: "Not much of a New Years resolution type, but I do have some big plans for next year, and a big announcement for next week." Could that big announcement be a new sponsorship deal? Maybe, but I don't think his signing with UB would satisfy Sebok's claims that it is "going to shake our team up" and that "People won't see this one coming." I guess the poker world will find out next week.
Note: Jetten later tweeted: "Not UB obvvvvvvvv"
For all the latest in the poker world, be sure to follow PokerNews on Twitter and like us on Facebook.
The views expressed in this article are those of the authors and are not necessarily reflective of views of the PokerNews.com.