Russ Hamilton Heckled in Gulfstream Poker Room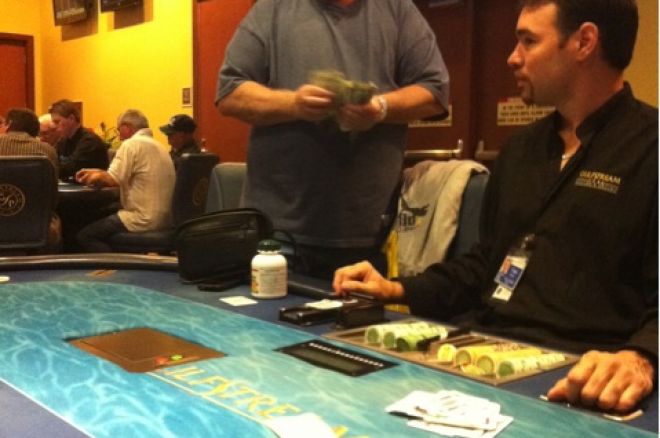 While it has been a few years since news of the largest cheating scandal in poker history broke, the topic is still fresh in the minds of most poker aficionados. This is especially true of the contributors over at the TwoPlusTwo Forums, who rarely miss an opportunity to discuss the man behind the superuser accounts.
Russ Hamilton, the 1994 World Series of Poker Main Event winner, is the main culprit accused of cheating online players out of $20 million on UltimateBet and Absolute Poker and has long been public enemy number one in the poker world. Since the cheating scandal broke, Hamilton has refused to address the allegations and is rarely seen in the poker world. That all changed over the past couple of weeks when he was spotted playing at the Gulfstream Park Casino in Hallandale Beach, Florida.
On Wednesday January 19, 2011, a TwoPlusTwo member known as "Slifdog" started a thread titled "Russ Hamilton verbally eviscerated, breaks down into an obscenity laced tirade" and reported the following.
"Last night my buddy Billy and I decide to take a break from our regular SoFl live casino and take a trip to gulfstream for a session. We finally get called for the 5/10/20NL (no buy-in cap) game and I get sat in the 10, Billy gets sat in the 8 seat . . . I give Billy a look and he is wondering what is wrong with me. Billy hasn't yet looked at this guy in the face, he is too busy contemplating the 10K in front of the fat rat (Billy is a relentless table selector and likes to play deep stacked). I mouth to Billy without making a sound 'that is mother f_cking Russ Hamilton' and Billy immediately clues in and decides that on this day, this wretched man is going to feel sorry for what he did."
"Billy proceeds to engage Russ in conversation. Russ is clueless for the first few pleasantries, but then Billy starts to get under Russ's skin with an array of subtle verbal abuses that imply that Russ is karmic-ally screwed unlovable rat with no chance of having real friends and that Russ will have to always look over his shoulder and fear for his safety. Billy did it in a really clever style, nothing was a direct threat or insult, but it was clear that he was abusing the jerk. Finally, after I bluffed Russ off a hand with 8 high and showed, Billy said something to the effect of 'tougher game when you cannot see your opponents cards' and Russ snaps."
"'You are a f_cking d_ck.... a f_cking d_ck. If you believe everything you read your are just stupid, just a stupid f_cking d_ck. You do not know what you are talking about, you were not there. You just read about it and think you know . . .', says Russ with a beaming bright red face and the veins on his neck popping out . . . As I was packing my chips, a sweaty foreheaded Russ was so upset, his heart pounding so hard, that I swear I could hear the blood struggling to squeeze through his mayonnaise encrusted veins."
The man who needled Hamilton in the above account is none other than Billy Sharkey, who runs a video blog on YouTube called "Confessions of a Not So Professional Poker Player". As the TwoPlusTwo thread grew in popularity, Sharkey decided to elaborate on the incident on his video blog.
The TwoPlusTwo community has overwhelmingly commended Sharkey on his actions; however, there are some who question the credibility of the story. Regardless of the story's accuracy, Hamilton's appearance at the Gulfstream Park Casino has been confirmed through photographic evidence, the most popular of which came from Jonathan Aguiar who took a picture of Hamilton and posted it on Twitter (the same photo that accompanies this article).
Aguiar, who goes by "Fatal Error" on TwoPlusTwo, also posted: "I was at gulfstream until about 1:30 am . . . I had already lubricated the situation by whispering some pretty terrible things in russ's ear on my way out of the game. Got a pic of russ buying in with some of that UB dough tho (he lost about 5k)."
Florida has quickly become a hotspot for poker and it seems even Hamilton was intrigued enough to make an appearance; so much so that some Gulfstream Park Casino players say Hamilton has become a regular in the room. The Gulfstream Park Poker Room is open from 10 a.m. to 4 a.m. Sunday thru Thursday, and open 24 hours on Friday and Saturdays. You can also keep up on any developments by following along in the TwoPlusTwo thread.
*Photograph courtesy of Jonathan Aguiar
PokerNews has taken to the social media world, so be sure to follow us on Twitter and like us on Facebook.