PartyPoker Win Tonight: 42 Daily Freerolls for iPads, Laptops, 3D TVs and More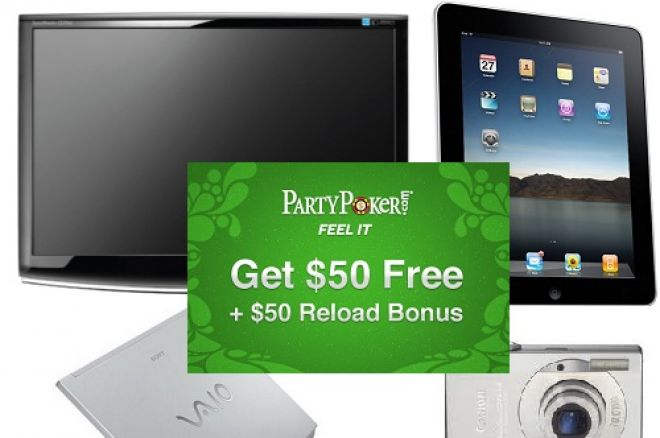 Christmas has come incredibly early on PartyPoker with a fantastic new freeroll series for new players. Win Tonight is a series of 42 consecutive freerolls starting on February 14 until March 28 (All at 20:00 CET) and all feature some of the most sought after electronics gifts on the market to the winner – as well as cold hard cash to anyone that makes the final table.
We have cameras, Sony Vaios, PS3s, iPod Touch, PSPs, Samsung TVs and of course iPads amongst the prizes each and every day. The best thing about this promotion is that you can play in every single event for free, providing you register a new account and make a minimum deposit of $25 or more between 14 February and 27 March.
Just check out the daily prize schedule below: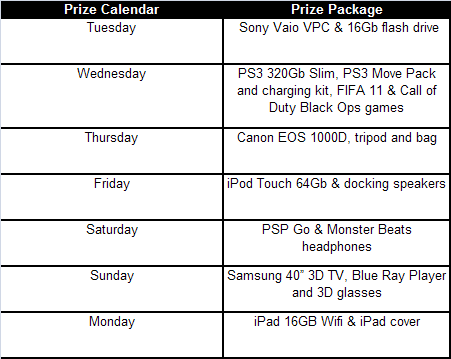 Add to that the Best Bonus in Online Poker
Like the sound of that? Well there is more. If you sign up to PartyPoker via PokerNews you can get the best bonus in online poker. First of all, we have a free $50 bonus where you don't even have to deposit. Just sign up via our walkthrough using bonus code PN50FREE and you will get the first $25 in your account for free.
Then you can choose to try and play your way to the next $25 OR you can make instant use of our exclusive $50 reload bonus using bonus code PNEWS50. Whichever method you choose, you will be better off with PokerNews because our combined bonuses clear twice as fast as our competitors.
So to recap:
A Free $50 Bonus
An Exclusive $50 Reload Bonus
(Both of which clear faster than anywhere else)
And of course 42 days of Exclusive Freerolls to win iPads, Laptops, 3D TVs and more.
Its time to sign up to PartyPoker via PokerNews and start competing for these must have prizes.