World Series of Poker Circuit Rincon Regional Championship Day 2: Chasing Kwinsee Tran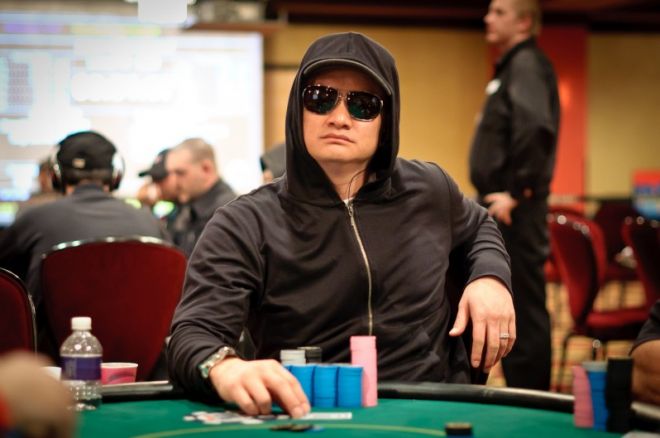 Monday marked Day 2 of the West Regional Championship at the World Series of Poker Circuit Harrah's Rincon. Ninety-one players turned up to play on Day 1 and another seven joined the action before registration closed, rounding out the field at 98 total runners. While small turnouts are never a great thing for a tournament prize pool, nobody seemed to mind the one-in-eleven shot at making the final table and the entry into the National Championship that comes along with it. With a lot of satellite qualifiers and relative amateurs in the field, it's fair to say that there was plenty of value to be had.
Ali Eslami came into the day with the chip lead and kept pace with the charging field for the duration to bag up 227,500 — good for third place. Kyle Bowker was in second place when Day 2 began, and he, too, is through to the penultimate day with 168,100. Things did not go so well for the third- and fourth-place stacks of Cary Katz and Tim Murphy, though. Coming into the day with well over 100,000 chips in his bag, Murphy was out within two levels. After being whittled down to a shade of his former big stack, he put the last of his chips in with
on the turn of a
board. He was still drawing against Tim West's
, and the river
was a swing and a miss to send Murphy back to the dugout. Katz was also relegated to the bench before day's end.
That pot pushed West into the lead, a spot he would occupy on and off throughout the day. There's still a lot of poker to be played, but West is likely to be one of the betting favorites at the window. "Tmay420" is riding a serious heater, fresh off the biggest score in his poker career. Last week, he took down the $5,000 Main Event at the Wynn Poker Classic for more than $350,000, pushing his career cashes over $1.25 million. He's doing well in this encore performance, bagging up 216,900 to put himself in fourth place overnight.
West got most of his chips from Murphy, but Phil Hellmuth also helped him a little. West had
when Hellmuth called all in for about 25,000 with
. The
flop was no good for The Brat, and the turn and river brought the
and the
to put an early end to his day. When West was moved beside Dwyte Pilgrim late in the day, the two became instant buddies. There figures to be plenty more time for chitchat between them on Tuesday as Pilgrim is one of only three players with more chips than West. Mr. WSOP-C himself bagged up 236,500 chips.
Not everyone is so lucky as to have chips to bag. Victor Ramdin lost a flip on the river midway through the day with pocket queens against Eslami's
to follow Hellmuth to the exit. They were soon joined by Sam Stein, David Baker, David Williams, Jordan Morgan, Allen Kessler, and the last lady standing, Denise Molloy. John Hennigan, Bobby Suer, Zachary Clark, and Nick Binger all bought in Monday morning, and all three were out by the time things got serious later in the evening. Suer's tournament was particularly short, running his set into an overset on the second hand of the day.
Things went much better for one of the other very late registrants. Daniel Negreanu hopped a flight from Las Vegas to San Diego early Monday morning, and his 30,000-chip starting stack gave him 50 big blinds to start play. Kid Poker bided his time for a couple of levels before the cards started to find him. During the 100/500/1,000 level, Negreanu busted a short stack when both players flopped top pair on the
flop. Negreanu's
was superior to his opponent's
, and that knockout moved him up past 50,000. Just a moment later, that number climbed to 96,000 when Negreanu's
bested Saul Frank's
in a preflop all in. Later in the day, he made Broadway in a sizable pot against Gregory Brooks, then he eliminated a player who was holding
when his
flopped a set. He was in the chip lead and closing in on 300,000 at the dinner break, but his momentum tailed off as the evening wore on. At the end of Day 2 (Negreanu's first day in the event), he bagged up 173,800 to put himself just above average with two days to play.
When Negreanu relinquished the chip lead after dinner, that opened the way for a couple of other players to get their hands on the big stack. Eslami managed to retake control when he doubled into the lead with
against Bowker's
on a
board, and he stayed the course near the top of the counts throughout the later levels. Eslami will have to settle for being in the chase pack for now, though, because Kwinsee Tran overtook him with a big knockout of Steven Burkholder. Tran kept on pushing through the rest of the day, finishing up in the lead with 269,100 chips.
The furious action of Day 2 leaves 18 players with chips in their bags for the overnight soak. They'll be back inside the Bordeaux Room on Tuesday at noon PDT (1900 GMT) to play it down to a final table. When they return, they'll be stacked up as such.
| Table | Seat | Player | Chips |
| --- | --- | --- | --- |
| 14 | 1 | Kyle Bowker | 168,100 |
| 14 | 2 | Scott Montgomery | 103,100 |
| 14 | 3 | Steve Brecher | 157,900 |
| 14 | 4 | Dana Kellstrom | 164,600 |
| 14 | 5 | Joe Parker | 200,000 |
| 14 | 6 | Dwyte Pilgrim | 236,500 |
| 14 | 7 | D.J. Blanchard | 140,700 |
| 14 | 8 | David Peters | 200,500 |
| 14 | 9 | Jesse Martin | 18,500 |
| | | | |
| 15 | 1 | Ali Eslami | 227,500 |
| 15 | 2 | Tim West | 216,900 |
| 15 | 3 | Miller Dao | 186,600 |
| 15 | 4 | Romik Vartzar | 139,000 |
| 15 | 5 | Daniel Negreanu | 173,800 |
| 15 | 6 | Kwinsee Tran | 269,100 |
| 15 | 7 | Dylan Wilkerson | 166,000 |
| 15 | 8 | Todd Terry | 108,600 |
| 15 | 9 | Alejandro Garcia | 59,000 |
Be sure to keep it locked to the PokerNews Live Reporting page because our team will be back inside the ropes bringing you all the action as the field plays down to a final table.
In the meantime, you should follow us on Twitter and like us on Facebook to keep up with news from all around the poker world!